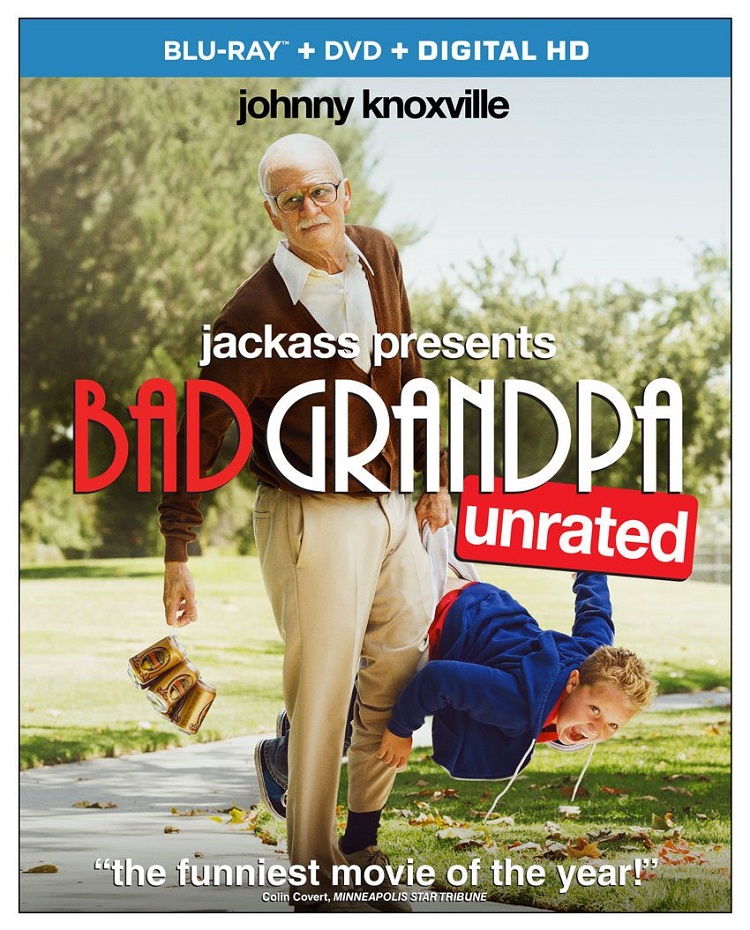 Bad Grandpa finds Johnny Knoxville branching out on his own from his onscreen Jackass pals, like a musician putting out an album apart from his group. Unfortunately, like unsuccessful solo projects, this movie stumbles when it tries something different from what made the brand a success.
Knoxville plays his recurring character 86-year-old Irving Zisman, who is featured in the expected series of outlandish public pranks that should delight fans. With the help of prosthetics, he gets his penis stuck in a vending machine and his balls drop out his underwear while trying to impress the ladies in an all-African American strip club. The gross-out gags are toned down this time out; the most extreme being Zisman sharting on the wall of a diner.
Bad Grandpa deviates from the Jackass formula by offering a story, similar to Sacha Baron Cohen's Borat. As the movie opens, Zisman's wife has just died. At the funeral, his daughter shows up in need of help. She is headed to jail because of drugs and needs Zisman to take grandson Billy (Jackson Nicoll) to the kid's father out of state. Zisman is reluctant because his new widower status allows him a chance to hook up with women, an uncomfortable conversation for those in attendance as it plays over the funeral parlor's sound system. Zisman relents, allowing for the pair's interstate shenanigans, which include transporting the "body" of his wife.
It makes sense that the Jackass producers wanted to try something different, but what they present in Bad Grandpa doesn't completely work. The pacing is bogged down by most of the scenes focusing on the story and had me yearning for more pranks and stunts. Also, Zisman is such a crude, selfish jerk, the viewer will want him to leave Billy, who is the movie's highlight. Nicoll is very funny in his scenes where he says outrageous things to unsuspecting adults, such as discussing his mother's drug use, and latching on to passers-by as a new parent. His appearance at a girl's beauty pageant during the climax is the movie's highlight.
I enjoyed the first three Jackass movies and would recommend them to anyone with a similar sick sense of humor. I can't say the same with Bad Grandpa. Rather than seeing it in the theater, it would work better at home with the ability to fast forward.