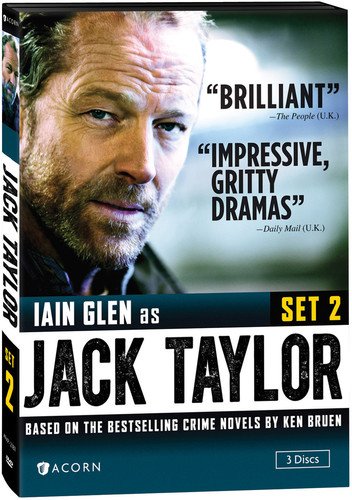 Jack Taylor (Iain Glen) is a bit of a lost soul. He wants to do good in this world but his big mouth and love for the drink keep getting in the way. He was in the Gardaí (a sort of Irish National Police) but was kicked out after he assaulted a politician he caught speeding. Now he works as a private detective and while he's good at catching the bad guys, he's close to useless on the business side of things. He's partnered with Cody Farraher (Killian Scott), a much younger and less experienced lad who idolizes Jack and whom Jack begrudgingly teaches crime-solving to. He's also helped by Kate Noonan (Nora-Jane Noone), a friend from the police force who has a sort of love/hate relationship with Jack. They often exchange information on various cases to help each other out. Set 2 contains three feature-length movies: The Dramatist, Priest, and Shot Down, which aired in March of 2013.
The Dramatists comes seven months after the events of the previous movie, The Magdalen Martyrs. Jack is still reeling from his mother's stroke and how he blinded a local hood, Ronan (Fionn Walten), in one eye on a previous case. He's sober but just as irritating as ever. The new case involves someone who is killing young university students. The killer dresses them up and stages them from the play Deidre of the Sorrows.
The police are working the case, but Jack is hired buy his old friend Professor Professor Gorman (Niall Buggy). Jack and Kate's relationship is strained because her boss is not happy with their friendship and continually warns her to say away from Jack. Meanwhile, Cody pretends to be a student at the university and uncovers some nasty secrets.
This was the first time I've seen a Jack Taylor movie and I enjoyed getting to know the characters. It wasn't too difficult to figure out their relationships though there are three previous movies that I missed. The theatrical setting was fun and they mystery intriguing, but the solution was a bit hackneyed, and I found myself ready for it to be resolved about half an hour before it actually was.
Priest involves the old crime drama stand-by of child molesters and murder. It begins with a priest returning to Gallway (the small Irish city the show is set in) only to find himself beheaded. Jack is hired by Father Malachy (Paraic Breathnach), who reveals that years ago he discovered the dead priest in the act of molesting two young boys and he suspects that one of those two may have acted in revenge. Before the story is over, one of those boys finds himself murdered and Jack must act quickly to determine if the lone survivor is killing everybody involved or someone else.
It may be the fact that I now have a young daughter but I increasingly find these pedophile stories to be over done and rather distasteful. It's a good ratings boost, I suppose, but it's gotten tired and predictable.
Shot Down takes place several months after the events of Priest. Jack has been wandering the country, taking work where he can, due to the terrible events at the conclusion of the last story. Out on a bender, he stumbles upon a small girl, Hazel (Róisín Mangan), who leads him to her dead mother. The girl belongs to a group of gypsy-like Travellers who begrudgingly accept Jack's help after the police do very little investigating as they are most prejudiced against their kind. The truth lies somewhere with Hazel who has seen more than she'll let on. Jack must first deal with various rivals between the Traveller clans and a police force not willing to help before he can find a way to open Hazel up. With a little help from an old friend, he just might solve the case.
I liked this one the best out of these three. Traveler stories are fairly rare, which makes them a bit fresh and more interesting than the standard fare. The acting is especially good in this episode, and even though it barely featured any of the regular cast, there were lots of interesting characters to get to know.
To be a successful episodic crime drama, you need one of two things: interesting main characters or on-the-edge-of-your-seat plotting. A great character can keep you coming back even when the storylines are trite, and a well-written story can make you overlook thinly drawn characters. Unfortunately, Jack Taylor has neither of those two things, but is kept afloat by the performance of Iain Glen. His brooding but sympathetic take on the character kept me watching even though he had very little originality to work with. It is beautifully shot and well made and has enough going on to keep me watching on a lonely Saturday night, but not enough to make me seek it out again.
As I've been reviewing quite a few foreign dramas over the last many months, I've developed a simple ratings plan for them that involves whether or not I like the series well enough to add the DVDs to my collection or to give them away never to see them again. Jack Taylor, Set 2, I'm afraid, will be finding a home in someone else's collection.
Jack Taylor: Set 2 will be released June 24, 2014.