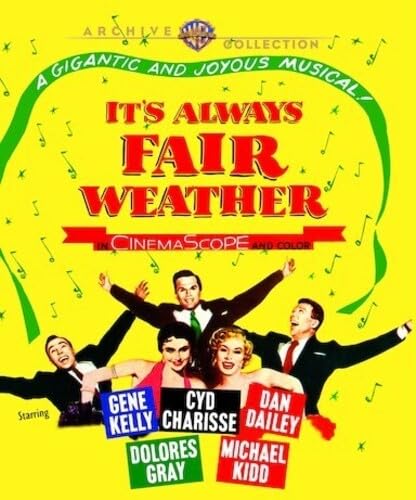 Even if you're the type of person who generally loathes (or at least has trouble sitting through) musicals, you might actually find something to like about MGM's 1955 flop It's Always Fair Weather. For starters, It's Always Fair Weather marked the end of that strange era where larger-than-life movie musicals roamed the nation, thereby sparing many a poor sap (or sapette) any further misfortune of being dragged into an auditorium to see people sing and dance their blues away. But whereas that was the remedy in other (successful) musicals, It's Always Fair Weather proudly stood out from other song-and-dance titles on the forecast because it took a different, much darker stance ‒ which is something to sing and dance about in itself.
Often cited as the "cynical musical," this fascinating approach to a very tired formula is one of the greatest unsung (ha-ha) titles of the genre. Originally intended for the stage as a follow-up for the 1949 hit On the Town ‒ which starred Gene Kelly, Jules Munshin, and some guy named Frank Sinatra ‒ It's Always Fair Weather instead became a major CinemaScope production at the behest of star/co-director Gene Kelly. With one of his co-stars from On the Town no longer a "recognizable" name on theater marquees, and the other fellow way too popular and uncontrollable to wrangle into another movie musical (I'll let you do figure out which guy was which), actor Dan Dailey and choreographer Michael Kidd were brought in to fill the gaps.
Here, three buddies who served together in World War II ‒ Kelly, Dailey, and the Kidd, all of whom turn in impressive performances in addition to some truly dynamic steps ‒ make a pact to reunite in ten years when they return to the US following V-Day. Of course, as just about anyone with a brain who has attended at least one high school class reunion can tell you, time can change more than just your age. Meeting again in 1955, our anti-heroes discover they not only no longer have anything in common, but that they also despise what they have each become (their own selves included) inside and out. But that all changes once the lovely Cyd Charisse shows up and immediately begins to stir something inside the heart and head of lead Kelly's now-soulless character.
Though Kelly himself soullessly snipped most of his co-star's solo numbers out of the final cut, the end result of It's Always Fair Weather is something that should definitely be seen ‒ especially if you have a nasty habit of being called a pessimist by friends and colleagues. In particular, Gene Kelly's impressive dance routine on rollerskates (I guess he knew even back then that he would someday wind up in Xanadu) ‒ as well as Ms. Charisse's unchallenged song-and-dance number in a boxing club, complete with a singing/dancing chorus of a group of beat-up old men ‒ is the sort of thing even people who don't care too terribly much for musicals can get behind. It's farcical, yes, but it still manages to seem much more plausible and palatable.
Alas, "Gene Kelly's Blues" (as I like to call it) failed to attract the attention of the wearisome souls it was made for, mostly because it confirmed their deep suspicions as to just how pitiful their lives were, especially once rampant commercialism invaded their homes on a nightly basis via the TV set. In fact, It's Always Fair Weather is one of the few films from the time to not only acknowledge the existence of television on-screen (as it was seen ‒ and moreover, feared ‒ as the enemy by movie studios), but to also take liberal jabs at its condescending forms of advertising and false sense of reality (something we're currently paying the piper for). And yet, despite a lackluster reception at the box office, It's Always Fair Weather is definitely worth checking out.
Also appearing in this title from Gene Kelly and co-director Stanley Donen are the talents of Dolores Gray (in one of her few motion picture roles), Jay C. Flippen (as the mostly unseen bad guy), as well as a venerable host of familiar faces (and voices) including bit actor John Indrisano and the patron saint of sardonic quips himself, Mr. Frank Nelson, who frequently appeared as a cheeky nemesis on The Jack Benny Show. Needless to say, It's Always Fair Weather didn't fare very well at the box office. In fact, it flat-out flopped when people quickly realized it wasn't the happiest of tales (though, when viewed from the extremely cynical point of view most people possess in this day and age, the movie seems as uplifting as it was originally supposed to be!
Completely unloved at the box office, It's Always Fair Weather later found itself popping up on TV (oh, the irony) and on analog home video via heavily cropped and washed-out pan-and-scan prints. Even when the title hit DVD in 2006, it was as part of the short-lived Classic Musicals from the Dream Factory collections. All of the special features from that release are included on this Blu-ray, which consist of an informative making-of featurette, two excerpts from MGM Parade, a pair of cartoons from the era (one of which is so dark, it feels right at home here), and the aforementioned musical numbers, which are presented mostly without any soundtracks save for the pre-recorded songs written to accompany the scenes.
But don't let a few missing words in the deleted scenes rain on your MGM Parade, kids, because It's Always Fair Weather, now available on Blu-ray from the Warner Archive Collection, might be just the thing to brighten your day.
Recommended.