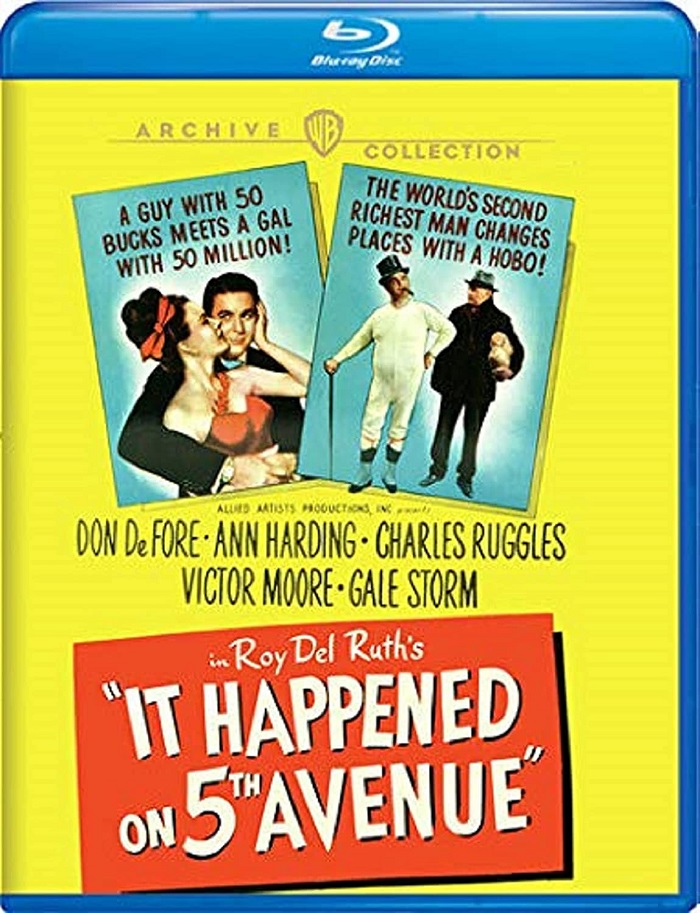 You know how sometimes you stumble across a movie you had no intention of watching but end up really liking it? This is one of those. With no big stars or recognizable director, the film succeeds thanks to its amusing, uplifting script and solid performances from its B-list actors. Frank Capra was originally attached to direct, but opted to film It's a Wonderful Life instead, so regrettably this little gem is comparatively unknown now. If it had Capra and Stewart, it would undoubtedly be a popular classic, but thankfully it survives as an under-the-radar treasure.
The film follows an old hobo named Aloysius who has perfected a scam of moving into mansions while their wealthy owners are away. His favorite winter haunt is the 5th Avenue home of the second richest man in the world, Michael J. O'Connor, who reliably spends every winter at another home in Virginia. When he meets a young man named Jim who has been evicted from his apartment by the same rich man, he invites him to stay in the mansion. This leads to a string of other characters also moving in, including in disguise the actual owner, his ex-wife, and their daughter. Romance develops between Jim and O'Connor's daughter, as well as between Mr. and Mrs. O'Connor, giving us a double romantic payoff along with lots of laughs. Director Roy Del Ruth plays up the class struggle and revels in Aloysius keeping the disguised rich folks in line and under his complete control. Mostly though, the story is sweet, heartwarming, and wholly enjoyable nearly 75 years later.
I didn't recognize any members of this cast except for the main hobo played by Victor Moore, only because I saw him recently in one segment of another recent Warner Archive release, Ziegfeld Follies. He somehow manages to make the hobo character sweet and lovable, becoming a saintly father figure to the other characters. The rest of the cast do solid work with their characters, most notably Don DeFore as the goofily expressive romantic lead, Jim, but I couldn't help wondering how huge this worthwhile film would have been if it had been stacked with top-tier talent instead.
The film was shot in black and white and formatted to 1.37:1 aspect ratio. It has been restored for this release, and it looks great, with crisply defined contrast and no dirt or scratches. Audio is presented in a clean DTS-HD Master Audio 2.0 format.
The only bonus feature is a 1947 hour-long radio broadcast of the story starring almost all of the movie's principal cast. It's interesting as a curiosity to experience the tale in a different format, and the cast members prove to be adept at transitioning their roles to the radio.
It Happened on 5th Avenue is now available for purchase. For more information, visit the Warner Archive website.