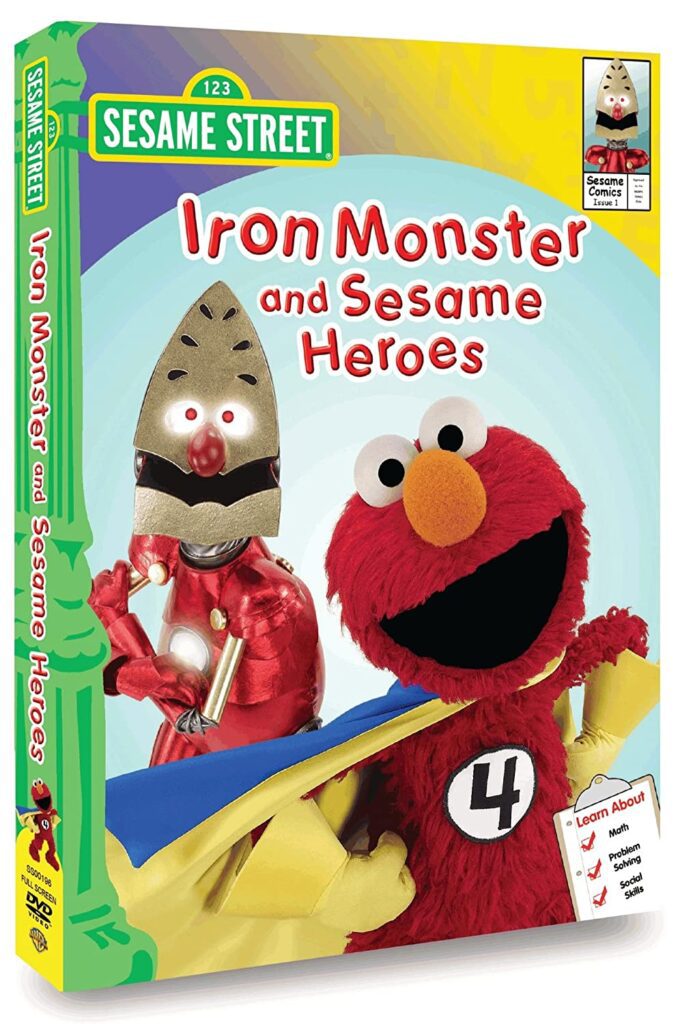 Written by Chad Derdowski
Sesame Street has a longstanding tradition of poking fun at popular culture, including television programs, game shows and film. And with superhero films being all the rage these days, it was only a matter of time before the folks at Sesame Workshop got around to using these familiar archetypes to their advantage – and to the advantage of millions of children around the world. Iron Monster and Sesame Heroes, the latest DVD release from Sesame Workshop and Warner Home Video, features four tales of the spandex and cape variety and as usual, they find a way to educate while entertaining.
Of course, fans of Sesame Street know that the most famous street in the world has long been home to its very own caped crusader in the form of Super Grover. But when Grover's cape isn't ready at the laundromat, he reinvents himself as "Iron Monster" in order to solve laundry-related problems. Clad in a familiar red and gold suit of armor (with an actual iron for a helmet), Grover helps customers make change for a dollar and subtract stains from their clothing in typical bumbling fashion. He might be cute and furry and loveable, but he's never really been much of a superhero.
In another episode, Telly regales Elmo and Abby with stories from his favorite comic book, The Furry Four. Using the power of imagination, the friends become the fantastic characters and begin their search for a fourth member who fits the criteria designated by the characters in the book. Further episodes on this 57-minute disc include tryouts to fill the position of Super Grover's new sidekick and a segment involving Oscar the Grouch's buddy Slimey Worm, who adopts his own superheroic identity. These episodes focus on math and creative problem solving issues.
Also included is an episode of "Bert and Ernie's Great Adventures" in which the duo find themselves transformed into superheroes. Personally, I'm a huge fan of the "Great Adventures" segments on Sesame Street, as they offer stunning sculpted clay animation as well as the opportunity to see our old friends Bert and Ernie outside of their familiar apartment confines.
This isn't the first Sesame Street DVD I've reviewed and with two young kids in my household, it definitely won't be my last. As always, Sesame Street provides an entertaining and wholesome approach to learning while showcasing diversity. It might not be the show you grew up with, but the more things change, the more they stay the same. The street is still the place where people gather and life's most important lessons are taught.
As a comic book and superhero fan, I'm definitely appreciative of the approach they've taken with this DVD. My three-year-old daughter, perhaps not too surprisingly, has similar tastes and it's great to be able to sit down and watch this program together. She enjoys seeing her favorite characters reinvented as superheroes while I chuckle at the in-jokes aimed at older comic book fans such as myself. And of course, the added bonus is that I'm tricking her into learning at the same time.
I found Iron Monster and Sesame Heroes to be one of the more entertaining Sesame Street DVD releases of the past few years and would highly recommend it to any parent. Even if superheroes aren't really your thing, it all comes down to two simple words: Slimey Worm. I can't get enough of the guy and I'd buy a whole DVD dedicated to him. Next to Barkley (who sadly, isn't featured on Sesame Street anymore), Slimey Worm has got to be one of my all-time favorites. It's amazing how much personality can be packed into one tiny little piece of cloth.
Anyway, if you've got small children, you can't go wrong with Sesame Street. And unless your kids have been living under a rock for the past few years (which probably amount to the entire duration of their lives), it's pretty likely they're into superheroes. It's sorta like when the chocolate met the peanut butter; just a little furrier. Iron Monster and Sesame Heroes is a delicious blend of humor and education that shouldn't be passed up.