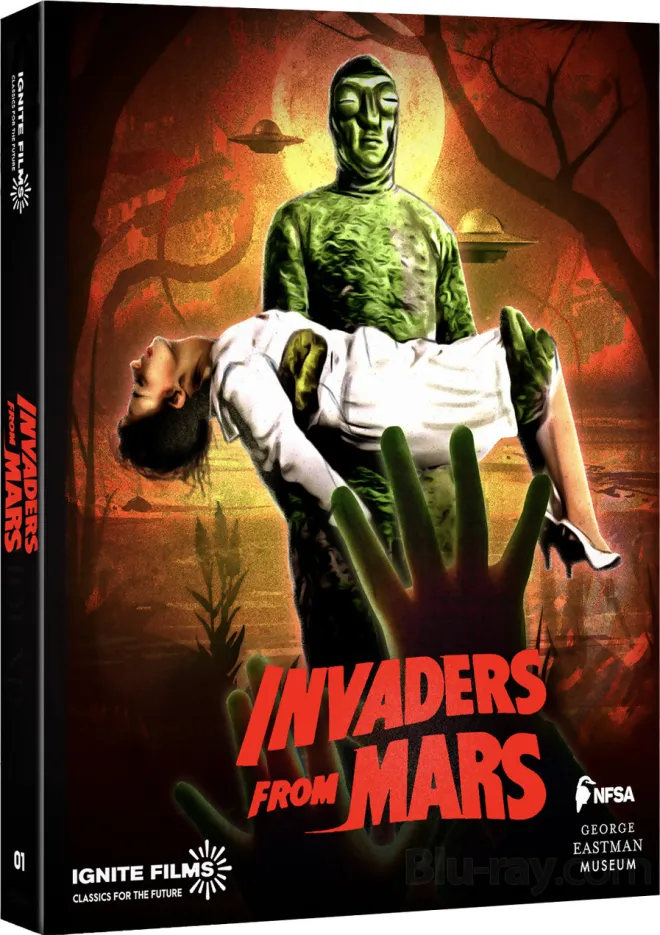 Invaders from Mars (1953) concerns a young boy named David MacLean (Jimmy Hunt – who carries much of the film on his shoulders and is in nearly every scene) who, one early morning during an electrical storm, witnesses the landing of an alien spacecraft in the fields behind his house. When his father (Leif Erickson) goes out to investigate, he returns with a small, strange, red cross embedded in the back of his neck and a rather sour attitude toward his family. It turns out that Martians have come to Earth and brought their Mutants (inexplicably pronounced MOO-tantz) to help them attack and take over a small American town. Contact with the aliens can put you in their control, and it isn't long before adults, and even children, are doing the bidding of the evil Martians. When it first arrived in theaters, this must have been horrifying to younger audiences to see people acting so strange. In fact, the first death in the film is a young child.
Director William Cameron Menzies had three and a half weeks to shoot the film on a shoestring budget. Given that information, Invaders from Mars is a strong film. There are signs of a low budget, and it is fun to look for cost-saving measures; both the police station and the science lab use the exact same set but are differently unsettling in their German-expressionist glory. The Mutants' skin has an obvious zipper running up the backs. Their costumes also accidentally  bear more than a passing resemblance to Jim Carrey's version of the Grinch. To make the film long enough to work as a feature, there are around ten minutes of stock footage of soldiers and tanks on trains. At one point, some of the soldiers even wave directly at the camera.
Overall, the restoration of the film is impressive: the colors are vibrant and the sound is clear in the dialogue, music, and effects. While the original ending of the film is satisfying, the extras include a European ending added for those audiences that does a better job of concluding the story. 
Bonus Features:
Theatrical Trailer – Typical 1950s over-the-top (IT COULD HAPPEN HERE!) trailer.
Re-release Trailer – Updated to remove verbal hyperbole and replace it with visual hyperbole.
William Cameron Menzies: The Architect of Dreams – Interviews with star Jimmy Hunt, William Cameron Menzies' biographer James Curtis, and recollections of Menzies' eldest granddaughter Pamela Lauesen.
Terror from Above – New featurette with acclaimed film-makers Joe Dante, Mark Goldblatt, Robert Skotak, John Landis, and preservationist Scott MacQueen. Filled with excellent anecdotes about the film and how big an influence it was on Dante and Landis when they were children.
Jimmy Hunt Saves the Planet – New interview with actor Jimmy Hunt who starred in Invaders from Mars shortly before quitting acting for good.
Restoring the Invasion – Scott MacQueen discusses the film restoration process. An excellent companion to MacQueen's essay included in the packaging.
Extended Planetarium Scene – European audiences wanted a longer film and asked for an extended discussion to be added to the planetarium scene. All talking heads, but what they talk about is interesting.
Alternate Ending – European audiences also demanded a more "realistic" ending, and, to be fair, the alternate ending is a bit smarter than the original.
Invaders from Mars: A Nightmare of Restoration – A comprehensive essay by preservationist Scott MacQueen regarding the process of restoring a classic on its 70th anniversary.
TCM Festival Intro – John Sayles' introduction to The Invaders from Mars at the TCM Classic Film Festival in Hollywood.
Image Gallery – Collection of still images containing advertising and pictures from the set.
Invaders from Mars may not stand up to today's standards of storytelling and special effects, but the direction and acting help it to hold its own even seventy years after its release.