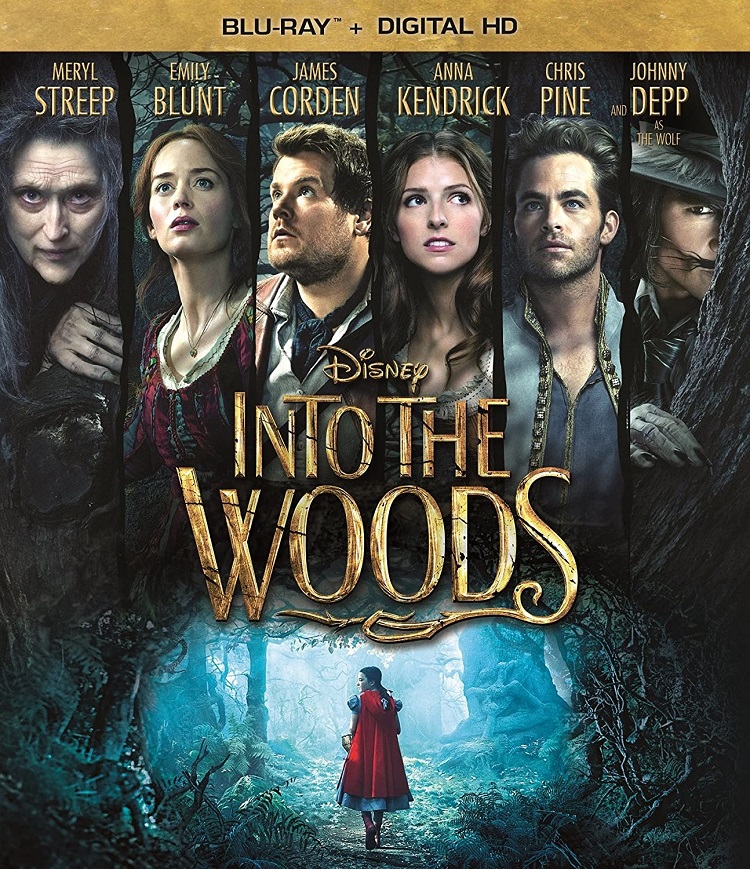 A funny thing happened on the way to posting this week's pick. Yesterday, I wrote the words you will read below, which is all about how I've developed mixed feelings for the theater. I was hopeful over Into the Woods, but was afraid that I wouldn't like it and be forced to turn in my theater-geek card. But before I could post it I had to put my daughter to bed, and when I returned, my wife had stolen the computer and refused to relinquish it until way past my bedtime. A day has since passed and in that time I managed to actually watch Into the Woods (well most of it, small children kept me from getting to the end) and I found that I really liked it. The music is grand and the lyrics ridiculously clever. The story is marvelous and the production just fab. The cast is great and Meryl Streep is, well she's bloody Meryl Streep playing a mad witch, could there be anything better?
But I'm leaving the words I wrote last night intact because enjoying one movie based on a Sondheim musical does not a theater geek make. And here we go…
When I was in ninth grade I took a drama class mainly because all the cool kids also enrolled. Which, come to think of it, is kind of strange as it seems in most schools the drama nerds are, well, geeks. But in small town Oklahoma we didn't have a whole lot of choices. It was drama, art, chorus, or wood shop. I wasn't very good at drama. I was way too shy to even attempt anything really theatrical. The only part I remember getting was a very small role in Up the Down Staircase (if memory serves they actually split the already small role into two parts so I had to share with some other kid who was just as bad as me). I do remember really enjoying being in drama though. The cool kids were there and we had a really great teacher and she made it all really fun (even if I did have to talk more than I preferred).
The next year I took shop and stopped pretending to be anything like cool. Most of the misfits were in that class and I got to build a few crappy projects but mostly hung out in the drafting room pretending to be thinking of my next project. I didn't really think about drama again until college. I've talked about my time work-studying at the university dinner theater before so now all I'll say is that it was some of the most fun I ever had in my life. It also allowed me a fuller introduction to the world of theater. Add to that the fact that the head of the English department often scored us free tickets to the Alabama Shakespeare Festival and I was pretty constantly ensconced in the world of the stage. I loved every minute of it.
Then I graduated, moved onto regular life, and never got on the stage again or helped with theatrical endeavors at all, except for the random ticket purchase. I still held a love for the theater and I did try to see what I could. For our honeymoon, the wife and I went to Stratford, Ontario where they have a world class Shakespeare Festival and we saw as many shows as possible. Year later, I was able to see several shows on the London stage. Including Les Miserables, which is where I came to a sad revelation:
I'm not really as big a theater nerd as I thought.
I hate to say this but I was actually kind of bored during long parts of Les Miserables. Maybe it was the nonstop singing and the fact that I'm not really a lyrics guy (and thus I likely missed large parts of the plot) or maybe my seats were uncomfortable. But really I just had a hard time getting into it. Oh, the really big songs I dug, and the staging was pretty spectacular, but mostly, yeah, just bored.
Around that time, the wife and I watched a lot of productions being staged by the university where she was employed. Again, I was mostly bored. Thinking back on various productions I've seen in my life, and I have to admit there were certainly lots of bored moments. It pains me to say that because I've built a part of my life around the idea of being a theater guy. I don't want to push this thought too hard, because while I have been bored on many occasions sitting in some cushioned seat near a darkened stage, I've also really enjoyed many other moments. Seeing As You Like It brought to life at the Globe Theatre in London, or watching my date be pulled on stage during a production of Five Guys Named Moe was pretty wonderful. But I also have to admit that I generally find film much more interesting and entertaining.
Which brings us to Into the Woods – a big Hollywood movie version of a classic stage musical. Can I like a movie version of a theater show? Generally, the answer is "yes." Films often bring in all the fun and charm of a Broadway musical with the intimacy and artistry of film. I've never seen any version of Into the Woods and am very unfamiliar with Steven Sondheim's work, but everyone seems to love this show. With Meryl Streep, Emily Blunt, Anna Kendrick, Chris Pine, and Johnny Depp starring in it, I can safely say that I may not be a true theatre nerd, but this looks fantastic. [And now you can read Mat's review. – Ed.]
Also out this week that looks interesting:
The Hobbit: The Battle of the Five Armies: The concluding of Peter Jackson's big Hobbit trilogy (and of course they have packaged all three movies into a nice box if you prefer.) I'm a big fan of what Jackson did to the Lord of the Rings films, but after seeing the first of his Hobbit flicks, I lost all interest in the series. I suspect now that all three are on home video I'll sit down with them at some point, but I'm in no hurry. Like the other Middle Earth films, this one will come out in an expanded edition in a few months with lots of extra scenes you didn't get in the theatre, plus plenty of other extras as well.
The Thin Blue Line (Criterion Collection): Errol Morris' documentary about a wrongly convicted man who was sentenced to death for a murder he did not commit. After the film's release, the case was reviewed and the sentence was overturned. I've long heard how powerful this film is and I'm happy to finally get a chance to see it with Criterion's usual wonderful delivery. [Read Shawn Bourdo's review.]
Gates of Heaven / Vernon, Florida (Criterion Collection): Two more documentaries by Morris. Gates of Heaven is about pet owners who go all out when their animals die, holding funeral services, etc. Vernon, Florida was originally going to be about the tendency of that city's citizens to cut off their limbs in order to get insurance money, but after Morris was threatened by those same citizens, he made it more about the general quirkiness of its entire population. Seriously. [Read Greg Barbrick's review.]
Fast & Furious 1-6 Collection: I've seen none of these films and have no desire to (though other Sentries have reviewed the series here) but if you want them packed up in a nice tire case, here's your chance.
Unbroken: Angelina Jolie directs this based-on-a-true-story tale of Louis Zamperini, a WWII pilot who survived in a raft for 47 days after his bomber was shot down and then was sent to a series of prisoner-of-war camps. I've never been much for Jolie in front of the cameras and the reviews of this film have not made me believe she's much better behind it, but the story sounds interesting. I'll likely watch it if my mother rents it or something. [Read Luigi Bastardo's review.]