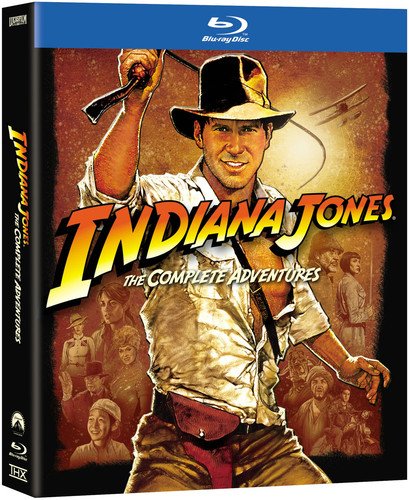 Through four films and a television series, Indiana Jones has become one of the great heroic icons of all time. In 1980, George Lucas and Steven Spielberg wanted to create an episodic adventure story that hearkened back to the serials of the 1930s. With Raiders of the Lost Ark, they not only bested their source material but made one of the greatest films in the history of cinema. It was followed relatively quickly with two sequels (Indiana Jones and the Temple of Doom & Indiana Jones and the Last Crusade) neither of which lived up to the original, but both of which give more than enough enjoyment for repeat viewings. In 1992, The Young Indiana Jones Chronicles became a television series that explored the character's youth. It only lasted one season but several made for TV movies were created in subsequent years. Lastly in 2008, a fourth film, Indiana Jones and the Kingdom of the Crystal Skull was made. It moved the timeline to the '50s and the style of the film resembled the creature features that were popular in that decade. It was a critical failure, and I like to pretend it doesn't exist, but there are a few fun moments in it.
Even with its flaws, the Indiana Jones films and series are an integral part of my life and an essential piece of any film-lover's collection. All four films (sadly the televison series is not included) are now available in a Blu-ray box entitled Indiana Jones: The Complete Adventures and it is now my Pick of the Week.
Also out this week that looks interesting:
The Game (Criterion Blu-ray): David Fincher's mind-bending thriller get the high-definition treatment from Criterion. Extras include a new digital transfer, audio commentary, an hour's worth of behind-the-scenes footage, an alternate ending, and a booklet with an essay by film critic David Sterritt.
Get a Life: The Complete Series: There was a time when Chris Elliott was my hero. He did periodically hilarious bits on the David Letterman Show and he was great in Groundhog Day and for some reason they gave him his own series though his quirky comedy wasn't anything that would easily captivate a mass audience. That's probably why it lasted only one season. I honestly don't remember any of it except that it relied heavily on the absurd and my teenage self found it hilarious. Its finally out on DVD and I'm interested to see if my adult self will like it as well. Extras include a conversation with the producers and creator of the show, a new featurette, commentary with psychologist Dr. Walsh analyzing Chris Peterson's mental issues, alternate audio sans laugh track on select episodes, and commentary on every episode.
Steve Martin: The Television Stuff: A three-disk compilation of Steve Martin's stand-up television specials, commercials, and other television appearances.
The Cabin in the Woods (Blu-ray/Digital Copy): I'm not a huge Joss Whedon fan, but I've heard good things about this meta-spoof of horror films.
The Best Exotic Marigold Hotel: I don't know much about this movie but it's loaded with excellent English actors which is enough to pique my interest.
Ed Wood (Blu-ray): What is probably my favorite Tim Burton film get the high-def treatment and is full of extras including: a music video composed by Howard Shore, multiple features, deleted scenes, and commentary from Burton.
Black Sunday Remastered Edition (Blu-ray): I was just telling someone my Italian horror knowledge is regrettably small and that it is absolutely deficient in the works of Mario Bava and here comes his first masterwork getting a high-definition upgrade on Blu-ray. It includes the uncut Eurpeon version, which is the first time it has officially been released in the USA, plus an essay by Tim Lucas.
Modern Family: The Complete Third Season: By any reasonable measure this show should not have succeeded, or at least been any good. Its concept (three ridiculously politically correctly diverse families have adventures) feels like the cover of a university catalog what with its random ethnicity, evenly numbered sexes and a tossed in gay couple for good measure, and yet the shows works extremely well. It's cleverly written and well acted and has become one of my favorite comedies on the tube.