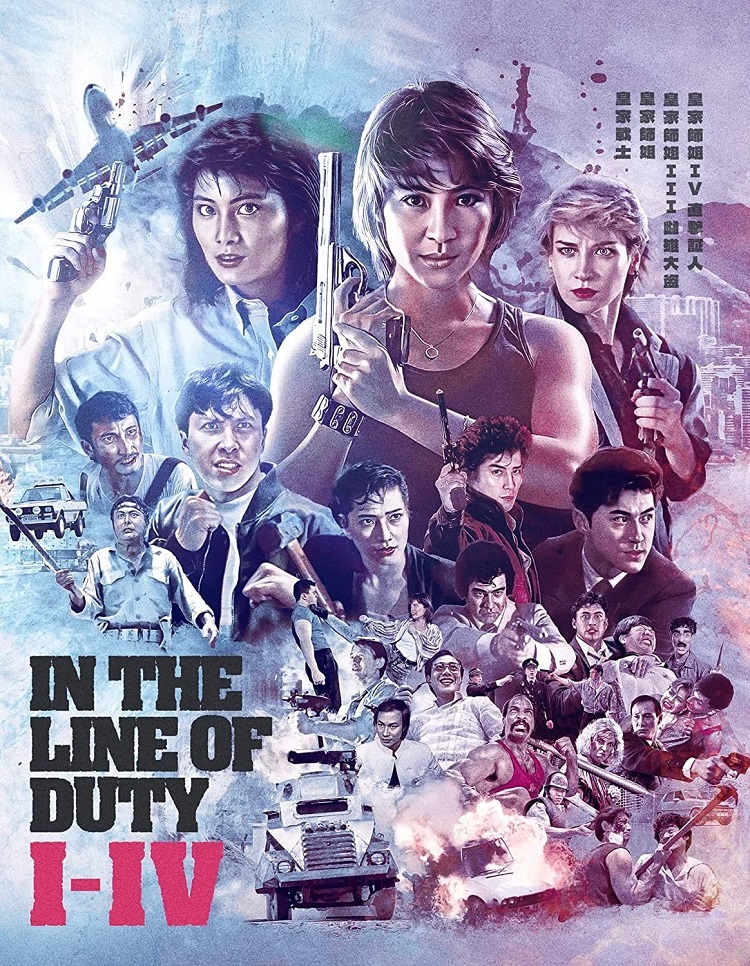 Michelle Yeoh recently became the first Asian actress to win an Academy Award. She won it for her starring role in Everything Everywhere All At Once. I've not actually watched that movie yet, but I love Yeoh. In response to her historic win, the Criterion Channel put together a collection of her early Hong Kong films lovingly entitled "Michelle Yeoh Kicks Ass." I've just started digging into that, but so far it is awesome.
This week 88 Films is releasing a set of four films entitled In the Line of Duty: I-IV which kind-of, sort-of star Yeoh and is only kind-of, sort-of a series at all. Let me explain. In 1985 Yeoh and Cynthia Rothrock starred in Yes Madam! as detectives from Hong Kong and Scotland Yard out to solve a murder involving some secret microfilm. Along the way, they use their guns, their fists, and their feet to smash and crash all sorts of bad guys. It is a ton of fun and became a huge hit. It basically created the girls-with-guns genre and made Yeoh an international star. A year later, Yeoh starred in Royal Warriors in which she plays a different Hong Kong policewoman who also kicks ass with her kickboxing skills. Two years later, another movie was made and was called In the Line of Duty. It has no connection to the other two films except that it is about a female Hong Kong cop (who is decidedly not played by Michelle Yeoh) who uses martial arts skills to catch the bad guys. In the Line of Duty IV was made in 1989 (the first two films being retroactively entitled In the Line of Duty I & II respectively). The action was moved to Seattle and Vancouver, but it stars Hong Kong actor Donnie Yen so it still counts). The only real connective tissue to all the films is that it involves cops using martial arts and they were all made by D&B Films.
Technically, there are several other films that belong to the In the Line of Duty film series but they are generally considered to be lesser films and didn't rate enough to be included in this set. What is included (namely the four films and various extras including audio commentaries, interviews, and behind-the-scenes footage) sounds pretty amazing. I should note that this release is basically a re-release as 88 Films put out the exact same set a few years ago. Apparently, it went out of print and so this is nothing but a reprint of that release, but I missed it then and I want it now, so it gets my Pick of the Week status.
Also, out this week that looks interesting:
Max Fleischer's Superman (Warner Brothers): Just a few years after Superman hit the stands as a comic, these 17 animated shorts were released. They were the first time Superman made it to the big screen (or the small one for that matter) and greatly influenced all subsequent versions of the Man of Steel. I've never seen any of them but the screenshots look really cool. Read Gordon S. Miller's review.
Targets (Criterion): Peter Bogdanovich's crime thriller stars Tim O'Kelly as an ordinary man who embarks on an unprovoked killing spree and Boris Karloff (in one of his last roles) as an iconic horror actor who is disillusioned by real-life violence.
Operation Fortune: Ruse de Guerre (Lionsgate): Jason Statham and Aubrey Plaza star in this Guy Ritchie-directed spy thriller about an agent who is recruited by a global intelligence alliance, Five Eyes, to track down and stop the sale of deadly new weapons technology.
Ant-Man and the Wasp: Quantumania: My ability to keep up with the MCU is slowly dying. There are so many movies and television shows that it has started to feel like homework just watching them all. I quite liked the first two films in this series, but the reviews for Quantumania were pretty bad and I just haven't had the energy to bother with it. For those that do, this comes in a variety of packages with various extras in 4K, Blu-ray, and digital formats.
Shanghai Joe (Cauldron Films): 1970s exploitation flick about a Chinese immigrant who fights to free Mexican slaves from their cruel masters. The trailer looks amazing.
Convoy Busters (Cauldron Films): A ruthless cop uses ruthless methods to find the killer of a young girl in this Italian exploitation flick from 1978.
Yakuza Graveyard (Radiance Films): Kinji Fukasaku directed this story of a cop taking on the yakuza.
The Longest Yard (Kino Lorber): This Burt Reynolds prisoners play football comedy gets the 4K treatment from Kino Lorber.
Samurai Wolf 1 & 2 (Film Movement): The synopsis for these films call them a mix between spaghetti westerns and a samurai flick filled with savage violence. Color me sold.
Honey (RaroVideoUSA): When I was in college me and some guy friends went to Blockbuster Video looking for a movie to, um, stimulate us. Blockbuster, with its family-friendly policies, was not at all the place to find what we were looking for. To tell the truth, I'm not entirely sure we would have rented a true adult video even if they had them, and I really don't know what our endgame was because we weren't the sort of people to, um, get stimulated together. But we were young men without women and we wanted something. We wound up with this which was more art-house than porn-house and we all got more bored than stimulated. I'm really curious to watch it now to see if it is an actual good film or not. The synopsis says it is a surreal erotic fantasy about a young woman who checks into a bizarre, labyrinthine hotel. I can see why we rented it, and why we turned it off, but also that sounds pretty interesting.