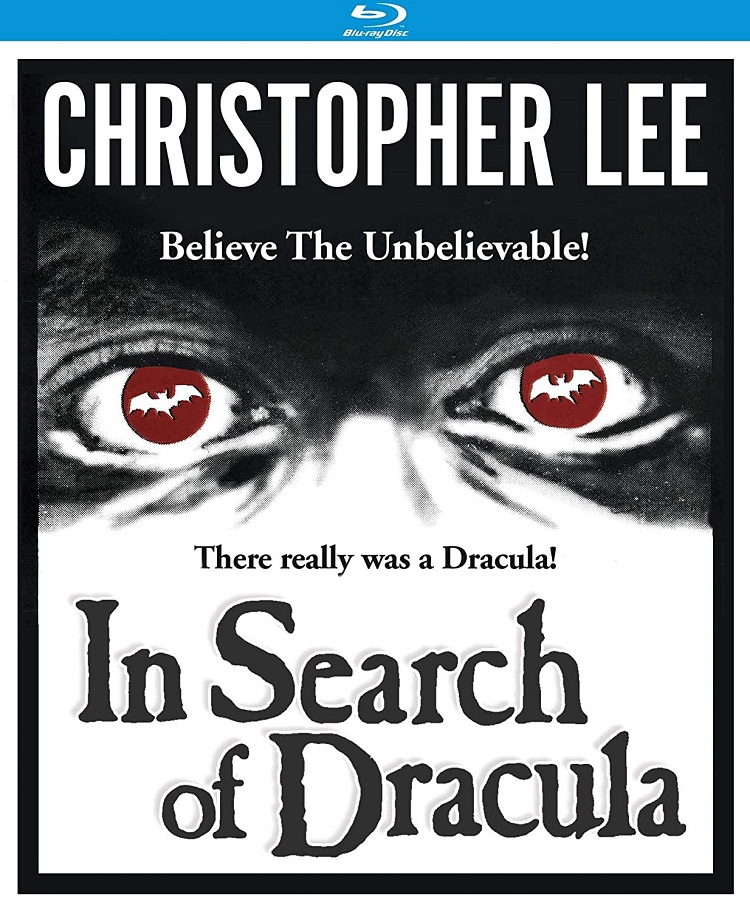 In Search of Dracula, originally released in 1975, and directed by Calvin Floyd (Terror of Frankenstein, The Sleep of Death), has been remastered in 2K by Kino Lorber. A feature-length exploration of the infamous count and the history of the vampire, the documentary features archival footage, artwork, location photography (principally of Transylvania), as well as film clips from popular vampire films.
Narrated by actor Christopher Lee, the film is both informative and entertaining. Before he was Saruman, Christopher Lee starred ten times as Dracula, starting in 1958 with Horror of Dracula (widely considered one of the best Dracula films), and through 1976's Dracula and Son. Many of them were produced by the famous British horror film company, Hammer films. Lee's other vampiric appearances include Dracula: Prince of Darkness (1966), Dracula Has Risen from the Grave (1968), Count Dracula (1970), One More Time (1970), Taste the Blood of Dracula (1970), Scars of Dracula (1970), Dracula A.D. 1972 (1972), and The Satanic Rites of Dracula (1973).
In Search of Dracula is based on the best-selling book of the same name by Raymond T. McNally and Radu Florescu, first published in 1972. Lee's narration points out that Bram Stoker's book, Dracula, which was originally published in 1897, has inspired plays, films, and countless adaptations through the years. He goes into particular detail of the life and history of the man who inspired Stoker – Vlad Tepes, or Vlad the Impaler, as he was more widely known.
Most vampire-legend aficionados will have heard of Vlad the Impaler, but they may be unfamiliar with just how rampant the fear of the undead was in long ago Romania and Transylvania. In Search of Dracula depicts local superstitions, legends, and folklore of how to avoid or destroy suspected vampires, through reenactments and film clips. Strangely, as if the inimitable Count wasn't interesting enough, In Search of Dracula veers off the main topic to talk about the legend of Frankenstein towards the end of the film. It is an inexplicable but interesting detour. Lee manages to bring viewers back to the main topic by film's end and incorporates clips of other's interpretations of the Count, including the silent classic Nosferatu as well as Bela Lugosi's famous turn.
In Search of Dracula has a running time of 82 minutes. It is filmed in color with an aspect ratio of 1.37:1, 1920x1080p. English SDH subtitles are available. Special features include an audio commentary by film historian Lee Gambin and John Harrison and trailers for other Kino Lorber releases, including The Crimson Cult, The Oblong Box, Scream and Scream Again, Arabian Adventure, and House of the Long Shadows.