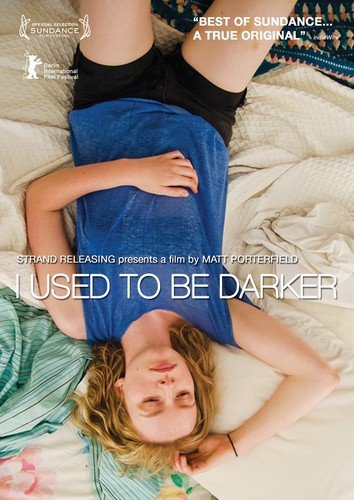 A patient, musically-driven motion picture about the breakdown of a marriage, I Used To Be Darker analyzes the fallout of said marriage through the eyes of various involved parties. In particular, it utilizes the point of view of a young runaway from Northern Ireland (Deragh Campbell) as she drops in for the worst possible moment.
I Used To Be Darker is the third film by director Matt Porterfield. Together with co-writer Amy Belk, Porterfield set out to depict divorce in an authentic fashion. It feels like a deeply personal project, one that takes its time to set scenes and knows the importance of objects, moments, and music when it comes to forming the tapestry of human existence.
Campbell's Taryn has run away from home in Northern Ireland and finds herself in Ocean City, Maryland. After some trouble, she calls her Aunt Kim (Kim Taylor) and Uncle Bill (Ned Oldham) in hopes of having a place to stay in Baltimore. They oblige, but they're going through a divorce at the moment and Kim is literally packing up her stuff when Taryn calls.
And when Bill and Kim's daughter Abby (Hannah Gross) returns from college, Taryn's presence becomes all the more awkward. Rather than decompressing about what's happened between her parents, Abby puts the focus – and anger – on Taryn. This leads to some delicate situations.
Music plays a very important role in I Used To Be Darker. Porterfield uses music that only comes from on-screen sources, which opens the door to many opportunities. Considering that both Bill and Kim are musicians, there are a few full songs that each character gets to perform.
Not only is this a tremendous opportunity to hear some fine music, it also provides evidence as to the differences between characters. Bill sings a song and plays guitar by himself and the camera fixes on him for a full three minutes, while Kim later performs with a full band.
And yet Porterfield insists that the audience understands why the couple was together in the first place. A scene in which Kim and Bill share a drink is convincing, especially as they work out what to do about Taryn and the pissed-off Abby. They still aim to serve as parents and life goes on, which is an important consideration when all seems uneven.
There is much affectation and performance to I Used To Be Darker, especially from Abby who has all the tools to act out. She performs theatrically (and spontaneously) for friends and coolly ignores a question about how she memorized all her lines.
How Taryn is impacted by the dissolution of Kim and Bill's relationship is interesting because of the position she's in. She isn't all that close with the family and, apart from a case of bad timing, she doesn't seem to have a stake in the matter. Yet she plays a proxy child of sorts, volleying between Kim and Bill and looking for a place to belong.
Whether the use of music or the presence of a principle cast new to the art of film, I Used To Be Darker is a very special experience in a lot of ways. It is a careful, compassionate motion picture, but it is also instilled with energy and life. Its snapshots of relationships, whether crumbling or forming afresh, are rich and rewarding indeed.