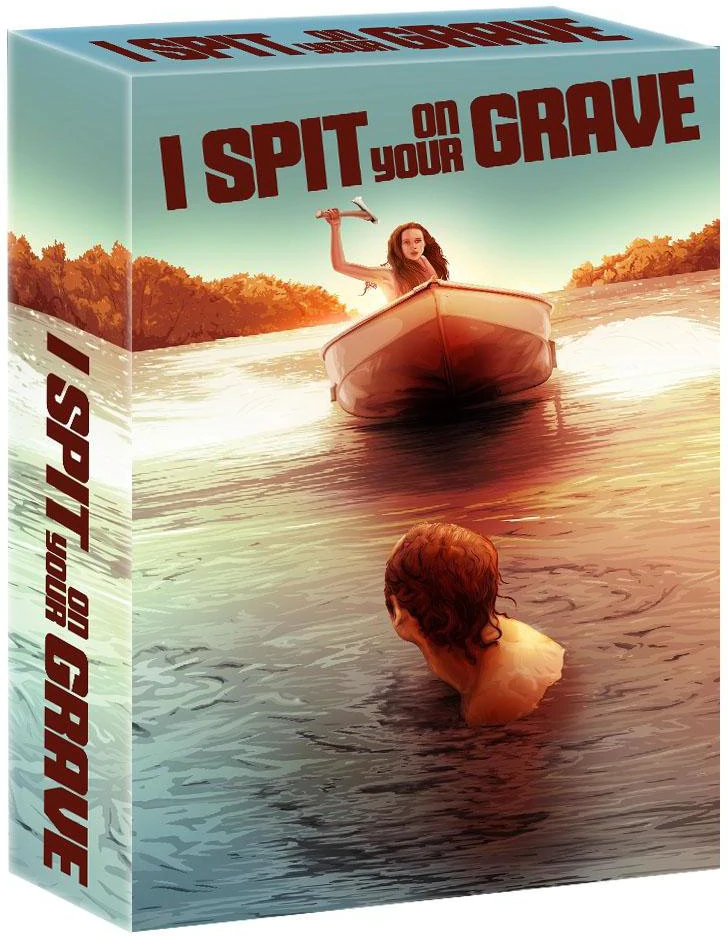 If you discuss some of the most controversial films ever made, Meir Zarchi's 1978 still-divisive, cult-classic I Spit on Your Grave (aka Day of the Woman) should always come up at some point. It's one of those definitive love-it-or-hate-it movies that refuses to lay down and die. Whatever your viewpoint is about its merits (which it actually has), it continues to have a life, even after 42 years. Because of its eventual resurgence, especially as a feminist statement, it has spawned a franchise, which includes a 2010 remake (that has its own sequels, from 2013 & 2015) and its own 2019 direct sequel, I Spit on Your Grave: Deja Vu.
I Spit on Your Grave (1978):
If you don't already know the premise of the original film, it stars Camille Keaton (grand-niece of silent screen comedy legend Buster Keaton) as Jennifer Hills, a beautiful and independent young woman who leaves New York City for Connecticut to write her first novel in peace and solitude. That peace and solitude is short-lived as she encounters four local lowlifes: Johnny (Eron Tabor), Stanley (Anthony Nichols), Andy (Gunter Kleeman), and Matthew (Richard Pace), who proceed to rape, sodomize, and leave her for dead. To their dismay (and the audience's relief), Jennifer isn't dead. Instead, she conducts a horrific plan of revenge against them, where they will never forget the Day of the Woman.
As with many highly button-pushing films, it was released to a massive ray of revulsion and pushback. Critics called it sickening, trashy, and an assault to American filmmaking, and Siskel & Ebert (two of the most respected film critics of all-time) called it the 'Worst Movie Ever Made', which caused it to be pulled from theatres. However, with the arrival of video (VHS), it was reborn and given new life. In this case, there seems to be a new reflection on it. Some continue to call it a piece of misogynistic crap, while others defend it as a misunderstood cult classic of female empowerment. As for me, I have to side with the latter. After all, it was based on a real-life incident where Zarchi (the film's director) came across a woman who had been brutally raped. He went to help her, covered her up in his jacket, and took her to the police. This inspired him to make the film in the first place.
When you watch the film now (if you decide to), you can see how raw, gritty, and unpolished it is. Yes, you can say that the rape scenes go on too long, and I would agree with you, but they still look real. It's like you're actually watching someone get raped and suffer the aftermath of it. The revenge scenes: Jennifer hanging Matthew (after he orgasms), castrating Johnny, striking Andy in the back with an axe, and disemboweling Stanley with a boat monitor, still have quite the impact. Keaton (who is very good as Jennifer) had rape victims come up to her and tell her how the film meant to them. You have to give it that, especially as a depiction of victimized women who get the strength to become survivors. It's not a film to enjoy; it's actually a one to study (for better or worse). It's also a realistic view of the country's abuse of the city, and the city's revenge on the country. You may admire or despite it, but it will never fade away.
I Spit on Your Grave: Deja Vu (2019):
This direct sequel (also by Zarchi) has Keaton returning as Jennifer, who is now a successful writer (of a book detailing her harrowing story) and single mother, who has a daughter named Christy (Jamie Bernadette), a famous supermodel. When they leave the restaurant they meet in, they encounter "fans", who proceed to kidnap and take them back to the country. The kidnappers turn out to be the relatives of the villains from the original film, who are overseen by a savage and unhinged woman named Becky (Maria Olsen), Johnny's wife. In this case, Jennifer and Christy have to fight for lives against this group of very ruthless degenerates hell-bent on their own revenge.
This was a really rough sit. I did not like this movie at all, I'm sorry to say. First of all, it was way too long (2 hours 28 minutes) and the villains in this one are even more annoying and disgusting than those from the first film. They didn't have a shred of dignity or subtletly to them whatsoever. They seemed to be caricatures or parodies of backwoods people, to the point of extreme cartoon. Even the two inbred guys from Deliverence (1972) would tell these people to take it down a notch or twenty. The only saving graces of this movie are a few flashbacks from the first film, the return of Keaton as Jennifer, and Bernadette as Christy. The first half of the movie has Jennifer killed by Becky (which did catch me offguard) and Christy (now the new victim) raped. The second half has Christy getting sweet revenge. It's basically a remake of the original, extended to two and a half hours. I wouldn't watch this again, but if you're curious about it, then go for it. Just good luck, and you'll need several long showers after it.
Growing Up with I Spit on Your Grave (2019):
While this documentary may not be the best ever made about the making, release, reception, and rebirth of a film (whether cult or otherwise), I still admired this analysis of the original film's history. Made by Terry Zarchi (son of Meir, stepson of Keaton), this film about the creation and overall impact of Zarchi Sr.'s still disputable cult classic contains never-before-seen footage and exclusive interviews with cast and crew, a detailed look at how the original came to be, and why it continues to have this unexpected and infamous life, beyond video nasty, censorship, and angry critics.
Despite being a not-so fully embraced franchise, the people at Ronix Flix have assembled a pretty neat collection. If you're looking for the remake and its sequels, then look elsewhere, because the only films that matter in it are the original film, Deja Vu, and Growing Up.
The special features for I Spit on Your Grave (1978):
NEW Location Featurette
Audio commentary with Zarchi
Audio commentary with film critic Joe Bob Briggs
Interview with Zarchi
The Values of Vengeance – Meir Zarchi Remembers I Spit on Your Grave
Alternate Main Title
Theatrical trailer
TV Spots
Radio Spots
Still Gallery
Special features for I Spit on Your Grave: Deja Vu (2019):
NEW Audio commentary with Briggs
Cast Interviews
The Making of I Spit on Your Grave: Deja Vu
Behind-the-Scenes Footage with Zarchi and Cast
Theatrical trailer and teaser
Special features for Growing Up with I Spit On Your Grave (2019):
Deleted Scenes
Zarchi Jr.'s 8mm film starring Keaton
NEW On-Set Photo Gallery from the 1978 film
Home Movies – Camille and Meir's wedding
Trailer
There is also a booklet with new essays by journalist and former Fangoria Editor-In-Chief Michael Gingold and critic Meagan Navarro, with exclusive photos; two posters, and a magnet.
In closing, this collection should be a great addition, but mainly for hardcore fans of cult/horror films. Again, no matter what you think of these films, they exist and they're here to stay. There are people who take them seriously. If you're not one of those people, then this set is definitely not for you. As for me, this will be in my home entertainment collection, despite the bad taste Deja Vu left in my mouth.