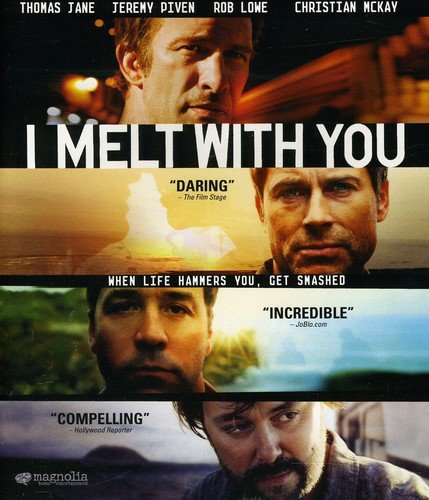 Anyone who has ever experienced failure knows what it feels like. Sure, it's relatively easy to get over a slight case of minor disappointment (like going to see an Adam Sandler movie and expecting something good), but what about those more disparaging events — you know, the ones that really get under your skin? I Melt with You focuses on that breakdown of life many individuals undergo at some point in life — though the way the movie's protagonists handle their respective situations is not at all recommended by the Surgeon General, the Pope, or anyone with even an inkling of common sense.
The premise is a bit on the "Oh, okay" side. Four men — portrayed with grace and empathy by Thomas Jane, Rob Lowe, Jeremy Piven, and Christian McKay — who have been friends since college, reunite once a year to reminisce, and to go on a week-long drug and alcohol binge — an act that is just as terrifyingly grueling as it sounds. There's an English teacher who can't seem to connect with the kids (Jane), a physician who has stooped to selling prescriptions (Lowe), an investment banker who has been embezzling a dollar or two here and there (Piven), and the sensitive bi-sexual guy who holds a staggering amount of guilt for a lost loved one (McKay).
But the foundation for their annual get-together isn't just to act like archaic fraternity brothers from the '80s: there's something ultimately mysterious behind it. Now, thanks to the countless "old friends with dark secrets" films we've seen so many times in the past, our immediate hunch is that these fellows have committed some dastardly crime such as murder. Fortunately, screenwriter Glenn Porter has taken a cue from Marco Ferreri's surrealistic French classic, La Grande Bouffe, and brought in an element for I Melt with You that comes completely out of left field. I really can't say much more, kids — else I'll spoil it for you.
Said factor is so ridiculously brilliant, that it will undoubtedly alienate a number of "mainstream" moviegoers right then and there. But don't let it stop you from seeing this incredible indie flick. The lead performers are outstanding, and director Mark Pellington succeeds in creating a two-hour-plus feature that both boggles and captivates the mind. For you adult movie lovers, the great Sasha Grey appears in one of her first post-porn performances as a college lass who joins the men during one of their party nights (and who basically turns out to be the catalyst for the entire second half of the film). Carla Gugino also appears as a sheriff, and Tom Bower plays a boatman.
The striking visuals of I Melt with You are vividly brought to life in Magnolia Home Entertainment's Blu-ray release, which presents the movie in a beautiful 1080p transfer with a rockin' DTS-HD Master Audio 5.1 track that really brings out the movie's soundtrack (which includes Love & Rockets, Adam and the Ants, Filter, Bauhaus, and a haunting new rendition of "I Melt with You" by Modern English). Special feature-wise, the disc boasts two audio commentaries (with assorted cast and/or crew), deleted scenes, a couple of lengthy featurettes/interviews, galleries, and several trailers.
Highly recommended.