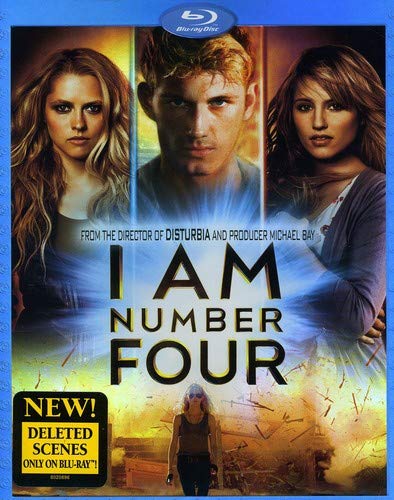 Proving that its middling box office performance was no fluke, I Am Number Four arrives on home video this week with very little to recommend. Based on a young adult novel and featuring a script by TV vets Alfred Gough and Miles Millar (Smallville) along with Marti Noxon (Buffy, Angel), the film predictably carries all the weight of an episode of any of the CW network's teen-centric series. It doesn't get any help from its director or leads either, with D.J. Caruso (Disturbia) failing to elevate the project above its tired high school clichés and stars Alex Pettyfer (Beastly) and Dianna Agron (Glee) displaying all the charisma and chemistry of fence posts. Even the special effects from the legendary Industrial Light and Magic are far from special, looking like they were crafted by the B team and/or on a highly constrained budget. The only rays of light in the entire production are the electrifying but limited performance by co-star Teresa Palmer, and to a lesser extent, the impressive contribution by Callan McAuliffe as a geeky friend.
Pettyfer plays an alien with the highly original chosen name of John Smith. He's hiding out on Earth with his watcher (Timothy Olyphant) as they attempt to evade evil alien thugs intent on killing them. He has some mystical super powers that are just starting to manifest, and he's psychically connected to eight other alien youths scattered around the planet that have other complementary powers that are supposed to be combined with his to defeat the bad aliens. Unfortunately, the baddies realize this and are hunting down the kids one by one…and they've already killed the first three. That means that John is constantly on the move, never able to build lasting relationships with humans his age, leading to a severe case of alien alienation on top of his typical teen angst.
When John and his watcher end up in an idyllic small town, John finally tires of their constant flight and insists on holding their ground against the aliens, even though that puts his new human friends Sarah (Agron) and Sam (McAuliffe) in imminent danger. There's also an overbearing school bully to fight, of course, in this case the star quarterback and son of the sheriff. Basically, John is dealing with standard teen issues but supersized, learning how to control and improve his powers while evading alien and human opponents and falling in love with and protecting Sarah. When the bad aliens come knocking, John gets a surprising assist from Number Six (Palmer), a real badass who has already mastered her powers and deploys them with sassy aplomb. Unfortunately, she doesn't fully materialize until the final scenes, which is really a shame because I Am Number Six would have been a far more entertaining film.
The 3-disc Blu-ray combo pack includes Blu-ray, DVD, and Digital Copy discs. The Blu image quality isn't especially impressive, but that's mostly due to the flat shot compositions and some muddy lighting. The sound is decent thanks to some nice channel separation in the effects sequences conveyed by the 5.1 DTS-HD Master Audio track. The bonus features are nothing special, with six deleted scenes introduced by Caruso, along with some seemingly out-of-place bloopers and a fun but brief feature on Palmer's involvement as Number Six, as if even the producers finally realized that she was really the only actor worth highlighting.
Number 6 Hallway Fight:
"http://www.totaleclips.com/player/Splash.aspx?custid=907&playerid=69&bitrateid=314&formatid=10&clipid=e90148&affiliateid=-1″