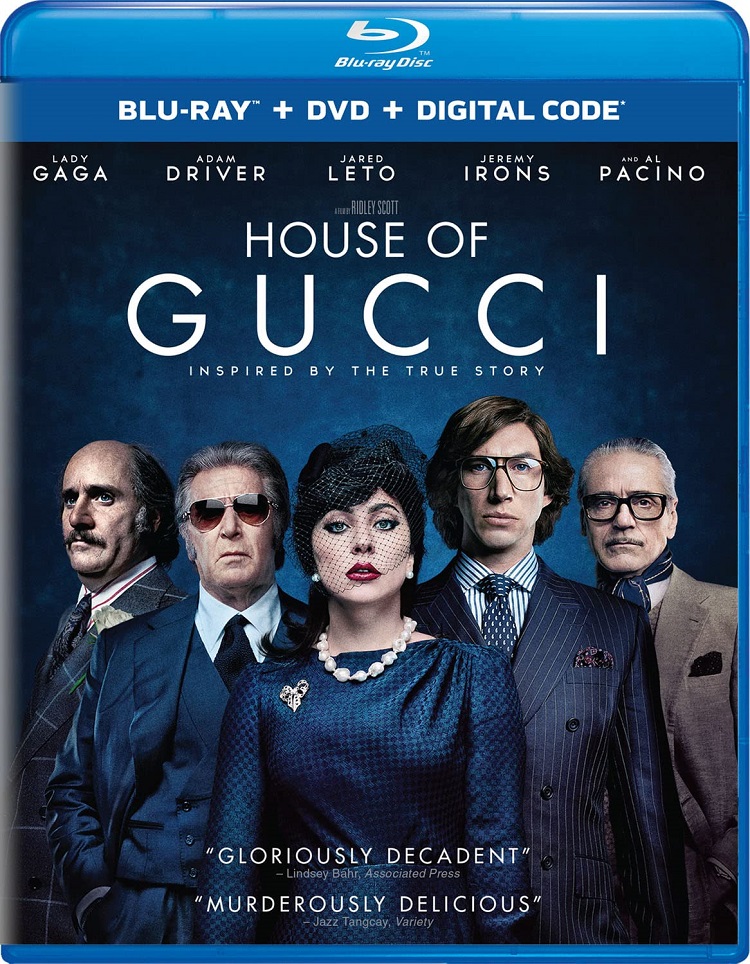 For more than a century, the Gucci name has been synonymous with high-end fashion, luxury, and wealth. Founded by Guccio Gucci in 1921, it was a family-run corporation for much of its life and continues to thrive to this day. As is so often the case, however, with family businesses come family problems, and Gucci in this regard was no different, with greed and ego and differences in opinion about the company's direction leading the way. Directed by Ridley Scott, House of Gucci attempts to take its viewers into this rarefied air of the world of high-end fashion.
Based on the book of the same name by Sara Gay Forden, House of Gucci stars Lady Gaga as Patrizia Reggiani, a small-time secretary with big-time ambitions who works for her father's trucking company and Adam Driver as Maurizio Gucci, a shy and somewhat nerdy law student who, at this point, has rejected his family's fashion dynasty for a different life. Both his and Reggiani's lives would soon change drastically though when, at a party, she mistook him for a bartender and, after hearing his last name, got stars (and dollar signs) in her eyes.
The couple begins a whirlwind romance with Maurizio introducing her to his father Rodolfo (Jeremy Irons) and announcing his intention to marry her. Rodolfo is not impressed and essentially tells Maurizio that she is a gold digger and beneath him and that he will cut him out of the family business if he goes through with it. Maurizio does not listen, of course, and, sure enough, ends up ostracized from the Gucci family and taking a job with Reggiani's father's company. We see the couple living a modest, normal life with Maurizio ironing, when he receives a phone call from his uncle, and co-Gucci owner, Aldo (Al Pacino) to come to his birthday party. Aldo senses he and his brother are getting older and wants Maurizio to make amends and take his rightful place in the family business. Though he loves him, he sees his own son Paolo (an unrecognizable Jared Leto) as incompetent and wants someone more trustworthy to carry on the brand. While Maurizio has hesitations about going at first, Reggiani sees this as a way back in to the family and urges him to go to the party.
At the party, Aldo gives the pair a wedding gift — tickets on a Concord to New York — so he can indoctrinate them in the Gucci lifestyle and show them what they have been missing. Reggiani fits right in, relishing the chance to get free designer clothes and loving the lavish lifestyle she married Maurizio for in the first place. As the story progresses, Reggiani gets more and more power hungry, seeing herself as a Gucci, getting insulted by the fact that her hired help has a knockoff Gucci handbag. That Maurizio and Aldo shrug it off just makes her all the more frustrated and determined to reshape the company to her liking.
While attending a Versace fashion show in 1983, Maurizio learns that Gucci has fallen out of favor and that none of the top designers want to work for them. Reggiani suggests that Aldo and Paulo have to go and that they should buy out their shares. Maurizio resents that she has turned his family against one another but still finds investors willing to buy them out, making him the majority shareholder. Maurizio enlists the aid of American fashion designer Tom Ford to revamp the company, and he does, helping make Gucci relevant again. This success goes to his head and the once reluctant fashion heir now relishes the lifestyle it affords him. The damage was done to his relationship with Reggiani though and the couple ends up divorcing with Reggiani seeking advice from an unscrupulous TV psychic (Selma Hayek) about what to do next.
The movie is presented in 1080p High Definition Widescreen (2.39:1) and looks great. The costumes and set designs really transport the viewer back to 1970s and 1980s Italy. Audio options include DTS-HD Master Audio 7.1 and DVS Dolby Digital 2.0. There are a number of featurettes about the making of the film, the style and fashion, about Lady Gaga, and about Jared Leto's remarkable onscreen transformation into Paulo, which required four hours a day of makeup and prosthetics.
House of Gucci is not a perfect film. It struggles to determine whether it should be camp or serious and in the end ends up being a little of both. The actors all speak in thick Italian accents, some more convincingly and consistently (Pacino, Gaga) than others (Irons) and the movie takes some liberties with the real story. That said, the performances from Gaga and Driver in particular are strong and the movie does a good job of showing how greed and ego can tear apart even the most powerful of families. The movie is worth a viewing for those unfamiliar with the story or for fans of Gaga and Driver.