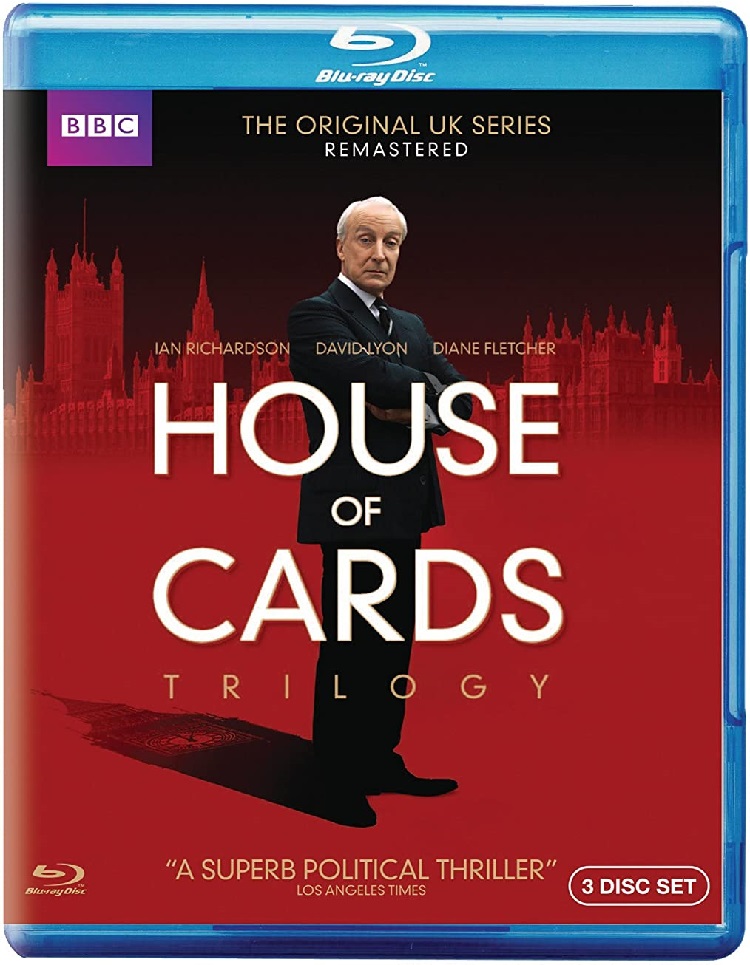 Have you finished your binge marathon viewing session of the new Netflix series starring Kevin Spacey? If so, you're ready to dive into this original UK adaptation of the Michael Dobbs novel. Don't have Netflix? That's fine, this is likely the superior product, if for no other reason that the completely mesmerizing lead performance by Ian Richardson.
While Richardson never gained much fame here, if you're of a certain age you know him from one classic commercial line: "Pardon me, would you have any Grey Poupon?" Now imagine that stuffy Brit as a conniving politician intent on getting his way at any cost. As the first miniseries opens, Richardson's character Francis Urquhart (FU to his friends) is the well-respected but not exactly formidable Conservative party Chief Whip, a team player who has devoted his career to maneuvering his party into power. When his crony is elected as Prime Minister, he expects a choice cabinet position in return but is crushed when the PM overlooks him. Urquhart's rage and pride lead him to make himself his only priority, beginning a series of power plays that threaten the newly elected PM. Along the way, he meets and confides in a perky young reporter, using her to control the press and continue his political climb. He also loses interest in a coke-addled political ally, cutting ties quite dramatically. It's fascinating to watch Urquhart pull all the right strings to position himself as a viable replacement leader, especially as played out by the steely-eyed and authoritative Richardson.
The second miniseries, To Play the King, finds Urquhart comfortably in control as the ruling PM, but sensing trouble on the horizon from the idealistic new king who fails to fall in line with the PM's lead. The king's liberal leanings, especially as they pertain to the treatment of the country's downtrodden lower classes, come into direct opposition with Urquhart's Conservative party, setting up a showdown between the crown and Parliament. Does Urquhart have the juice and moxie to overthrow a ruling monarch? Let's just say this isn't the last miniseries. This time FU teams up with a brilliant and attractive employee who becomes his closest confidant and more, but when she learns some damning history about him from his long-time right hand man Stamper, his carefully crafted plans are threatened. As it turns out, FU doesn't respond well to threats.
The last miniseries, The Final Cut, finds Urquhart winding down his fourth term of office as PM, coming to the realization that he has no equals and he has become one of the all-time greats. Meanwhile, the young lions of the political party are circling for the kill, eagerly positioning themselves for power in the wake of FU's inevitable downfall. He still has a few tricks up his sleeve, but is also intent on crafting an attractive exit package for himself via some financial shenanigans in Cyprus. Unfortunately, Cyprus also holds one of Urquhart's deepest secrets involving action he saw there as a young soldier, and when a young woman comes to town from there asking questions about that specific event he's forced into damage control. We know he's due comeuppance of some sort, but it's hard not to root for the beguiling aristocrat to get a gracious final act.
Each of the three miniseries is comprised of four hour-long episodes, making the entire series a fairly hefty viewing experience. The series utilizes the recurring device of having Urquhart speak directly to the camera, narrating his own devious machinations to the audience. While ancillary characters come and go, Richardson's constant mastery and consistency over the five-year span of the project give it an incredibly strong through-line that is all the more evident when watching it over a couple of days. I can't stress enough just how spectacular Richardson's work is here, as he entrances viewers from the first frame to the last with his charisma and intelligence. This is a performance for the ages, and one that surely must have intimidated Spacey as he circled the new remake.
The newly remastered series shines on Blu-ray, not quite to the level of a theatrical film but certainly well above what one might expect of an early-mid '90s British TV show. The series was completely shot on film, which was certainly the right choice, but retains the fullscreen aspect ratio of the era. Certain scenes show evidence of shoddy camerawork resulting in blurriness under the hi-def microscope, but the overall image quality is crisp, vibrant, and completely free of imperfections.
Bonus features include an hour-long documentary about the buildings and inner workings of the actual British Parliament, as well as an amusing excerpt from an interview program featuring series screenwriter Andrew Davies where he's constantly brought to task by audience members about his far-fetched but too close for comfort portrayal of the king in the second miniseries. The audience completely pillories him, seething about his portrayal of the king who they know was based on the real (and apparently well-loved) Prince Charles. It's surprising that Davies put himself in that position in the first place, and all the more amazing that he keeps taking the abuse and attempting to answer the questions of the angry masses.