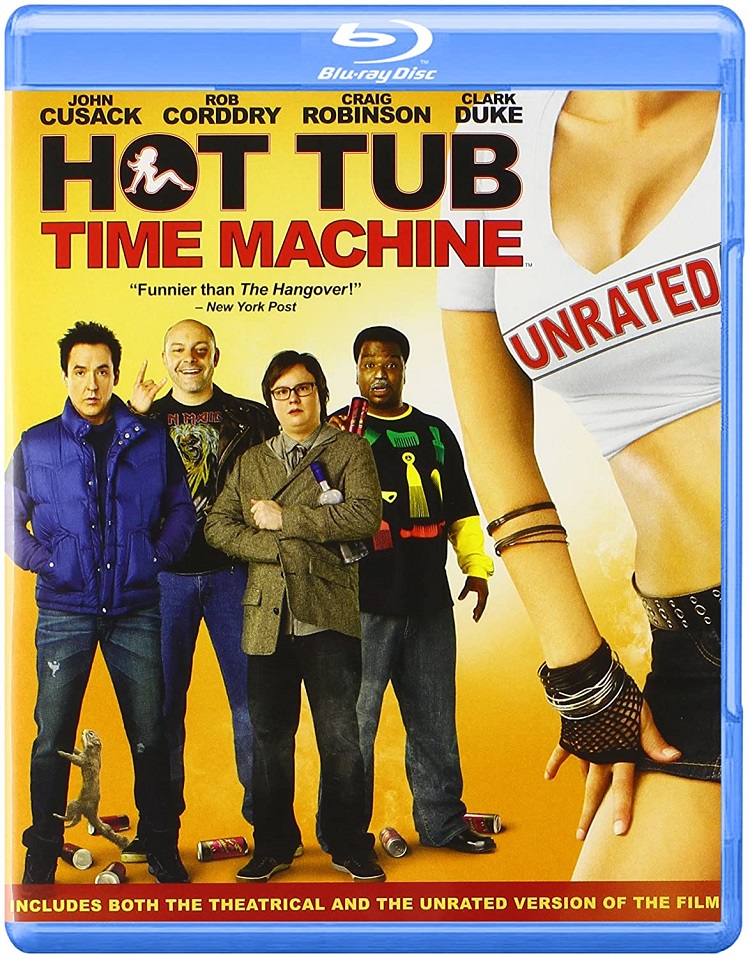 Hot Tub Time Machine is rated R for sexual content, nudity, drug use, and pervasive language, which are pluses in the right company when done right, and director Steve Pink and his team most certainly do it right. While certainly not a movie for everyone to be sure, HTTM is wildly over-the-top, filled with so much raunchy silliness (or silly raunchiness) it is sure to become a cult classic among the "let's get wasted and laugh our asses off" set.
After Lou (Rob Corddry) ends up in the hospital, he is reunited with former friends Nick (Craig Robinson) and Adam (John Cusack) who used to hang out with him. All three aren't very happy with their current stations in life, so they head to Kodiak Valley, the scene of epic parties from their youth. With Adam's nephew Jacob (Clark Duke) in tow, they discover their old hotel is now completely run down, but they decide to make the most of it.
After a wild night of partying in the hot tub, they awake to find themselves back in 1986 with Lou, Nick, and Adam in their bodies of that time. They meet the hotel repairman (Chevy Chase), who is aware of what is happening and speaks in riddles. They determine they need to follow the same paths in order not to change anything, but Adam wants to try and make it work with his girlfriend. His decision could disrupt the timeline, a major problem for Jacob, who hasn't been born yet.
HTTM riffs on the '80s and knowingly takes from Back to the Future. This is most notable with the casting of Crispin Glover in the role of a one-armed bellhop, who has two of them back in 1986. Many of his scenes are filled with a great deal of suspense and laughs as he finds himself in precarious situations. The entire cast is very funny with Corddry getting the crudest laughs. This was my second viewing and I laughed throughout and just as hard as my two friends who were watching it for the first time. Some of the moments lost a bit of their shock factor, though not all, and were replaced with anticipatory giggles. Plus, I could not get enough of the random appearances of the bear-suited person.
The video is presented in 1080p/AVC MPEG-4 with an aspect ratio of 1.85:1. The bright neon colors of the '80s are rendered well and pop off the screen. Blacks come through strong and inky while the whites, more than usual in a movie but it does take place during Winterfest '86, are equally impressive. Naturally, those two strong components lead to a very good contrast on display. There's a good bit of textures on display and the objects are well defined.
The English DTS-HD Master Audio 5.1 track delivers classic '80s tunes blaring throughout the surround system. The bass is very strong as it offers the roar of a car engine being revved and the awesome storms taking place. Dialogue is consistently clear and well balanced with the other elements, even the soft whispers of "great white buffalo." Really a much better job than you'd expect a comedy would need.
There's only around two inconsequential minutes between the rated and unrated versions and it's hard to see what was added. One scene where the foursome was shaking hands was the only thing that stood out.
The extras are slight. "Promotional Theatrical Spots" (7 min) feature four brief EPK pieces: "Production: Acting Like Idiots"; "Chevy Chase: The Nicest Guy in Hollywood"; "Totally Radical Outfits: Dayna Pink"; "Crispin Glover: One-Armed Bell Hop". A more in-depth feature would have been better appreciated. The "Deleted Scenes" (12 min) here are one of the rare instances of actual amusing bits cut from a movie. They may have thrown off the pacing but are worth watching.
I have to reference the disc's opening Blu-ray commercial that is idiotic. It mentions digital copies allow for portability but then shows a mom loading it onto a desktop and a kid talks about watching with friends who each have a handheld device rather than watching it on the Blu-ray player.
Hot Tub Time Machine is also a laugh machine, so round up your friends and your favorite adult beverages for an enjoyable ride.