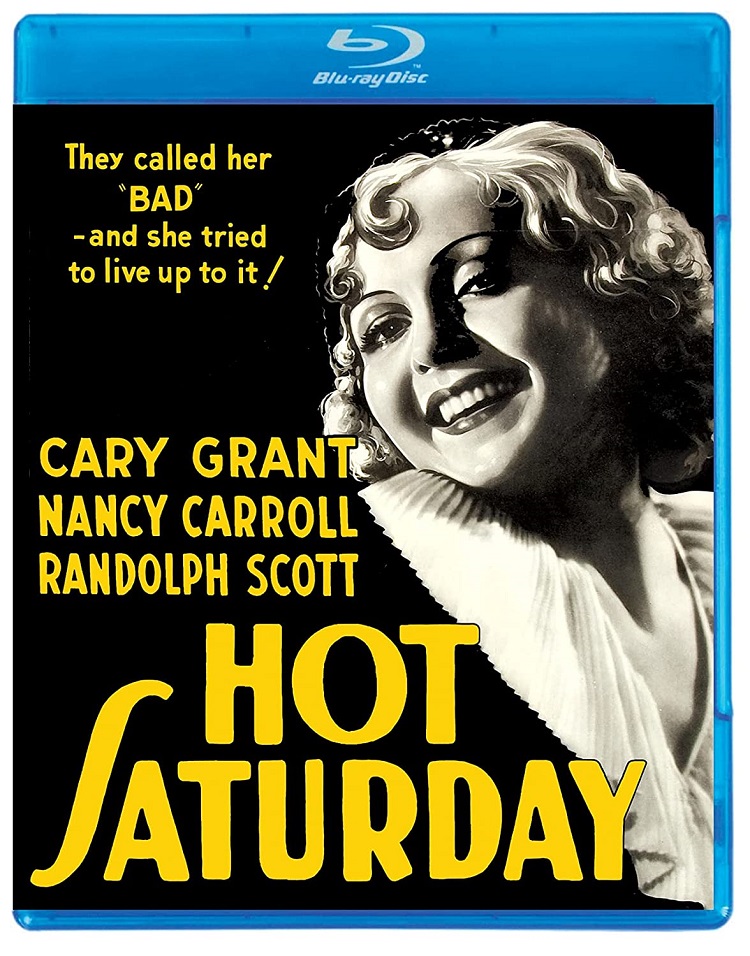 Had Hot Saturday (1932) been made just a few years later, it would have been a completely different film. It was the first film where Cary Grant played the leading man (it was just his seventh film ever if you want some indication of how quickly his star would rise). In just a few short years, he would become The Cary Grant, one of the biggest movie stars on the planet. And while he does get top billing in Hot Saturday, it is definitely Nancy Carroll's film and it is doubtful Grant would have appeared in it without major script changes once he had achieved worldwide fame. That plot would have had to be changed regardless of who starred in it once the Production Code was implemented in 1934. With its copious amounts of drinking, innuendo-filled dialogue, and attempted rape, the censors would have gone wild. But what really would have flagged this film was that a woman had complete agency of herself and her decisions and by the film's end, she makes a choice that flew in the faces of contemporary morality.
The film takes place in a sunny small town where a title card tells us that everybody knows everything about everybody. Ruth Brock (Nancy Carroll) works at the bank with several other unencumbered young people. Their favorite pastime seems to be deciding who is going to go with whom to the lakeside dancehall on Saturday night. Ruth is asked out by several boys but she doesn't seem too interested. When the very rich, and very suave Romer Sheffield (Cary Grant) comes in and flirts with her, she is all business.
He's currently the star of the local gossip mill as he's a bit of a playboy. While inside the bank flirting with Ruth, his current girlfriend is sitting outside in the car. He invites Ruth and all of her gang out to his house for a party. They all drink heavily, canoodle a little, and generally have a grand old time. Romer and Ruth take a walk together and have a nice conversation which starts the raising of eyebrows.
Later. everybody except Romer takes off for the dancehall. Ruth takes a boat ride with Connie (Edward Woods), who gets more than a little handsy. When he starts to get really forceful, she jumps ship and runs into the wood. She finds herself back on Romer's porch where the two sit and talk for most of the night. When she's spied being returned home by Romer's chauffer in the wee hours of the night, the rumor mill goes into overdrive.
The next morning Ruth finds that she's lost her job, and everyone in town looks at her differently. Enter Randolph Scott as Bill Fadden, Ruth's schoolgirl chum. He's rugged, and handsome, and sweet, and madly in love with her. He's also been away for the last seven years and thus hasn't heard any of the gossips about Ruth and Romer. After some more ill looks from her friends and a few slaps from her mother, Ruth runs into the arms of Bill. He's a geologist now and is camping in a cave. To get to him, Ruth has to run up a mountain in the pouring rain. Upon arrival, she crumbles into Bill's arms. Being the ever so sweet man that he is, Bill strips every stitch of Ruth's clothes off of her, and covers her up with a blanket. When she awakes (naked and alone inside a cave with a man she hasn't seen in seven years), she takes the gesture kindly and asks Bill to marry her.
But soon enough Bill does find out about the gossip and he must make a decision. She must make one to, about whether she's going to live the life she wants, or the one society has set out for her. The road she chooses may surprise you. It certainly would have surprised and offended many of those in the audience in 1932 and wouldn't have even been allowed in a movie just a few years later.
The Cary Grant persona we've all come to know and love isn't quite solidified in this picture, but it's getting there. You can see him still molding it. He's wonderful but this is in every way Nancy Carroll's film. She's magnificent. Completely full of life and charm, yet utterly believable in the film's more dramatic moments. I've recently become a big fan of Randolph Scott from the westerns he made with Budd Boetticher in the 1950s. It was fascinating to watch him here, much younger and softer. It was this film that caused Scott and Grant to become dear friends. They lived together as roommates for years causing a great many rumors of Grant's sexuality.
Hot Saturday is fascinating because of how modern it feels in that pre-Code way, and how it is a snapshot of Cary Grant becoming the persona that would make him a star, and for how it began the Grant/Scott relationship that is still getting gossiped about today. As an actual movie, it is less interesting. It is a bit of a lark, mostly fun to watch but rather quite forgettable.
This Kino Lorber Blu-ray comes with an audio commentary from film historian Lee Gambin and a bunch of trailers for other films from this era.