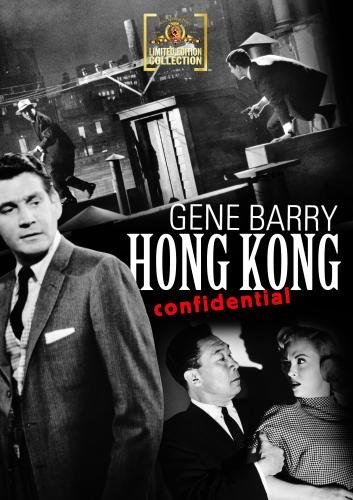 By 1958, Gene Barry had already established himself as something of a star among moviegoers, having won The War of the Worlds and chased down a moonshining Robert Mitchum in Thunder Road — to say nothing of wooing Angie Dickinson at China Gate whilst starring alongside jazz icon Nat "King" Cole. Despite all those accomplishments, Gene's own singing talent had never been fully exploited by the entertainment industry. And then, somewhere around the same time his spell as Bat Masterson hit television airwaves, Gene Barry would hone in on some of the skills he would perfect in Burke's Law as a suave Intelligence agent who masquerades as a lounge singer in the Orient.
And, for that bit of casting alone, I award Hong Kong Confidential a bronze medal for being one of the greatest B-Noir Cold War quickies made prior to the James Bond era. The fact that this Allied Artists release employs a broad-voiced narrator to keep its audience in the loop, was penned by the writer of The Alligator People (Orville H. Hampton), and was directed by Edward L. Cahn — man who brought us such '50s sci-fi gems as It! The Terror from Beyond Space, Zombies of Mora Tau and Invasion of the Saucer Men — upgrades its medal to silver. The casting of goddess Allison (Attack of the 50 Foot Woman) Hayes as the femme fatale of the story makes this one pure gold, kiddos.
Speaking of gold, that's what this one's about. A kidnapped prince somehow thrusts Agent Casey Reed (Barry) into action, who soon has the goods on a gold-smuggling scheme by some dastardly deviants (led by Hayes). Coming up with the bright idea of disguising the real deal within the confines of cheapo souvenir jewelry, Reed gains the trust of the heavies — belting out the blues in one dimly-lighted lounge after another in order to keep up his appearance. Forgotten starlet Beverly Tyler plays Gene's "nice" girl, Michael Pate is on-hand as a fellow secret agent, and there are bit parts brought to shadowy life by familiar faces baring the names Philip Ahn (TV's Kung Fu) and Walter Woolf King (A Night at the Opera).
Oh, did I mention he sounds like Walter Matthau when he sings? We just passed platinum and went straight on to the diamond level, baby!
Obviously, MGM didn't know what a gem they had here with this one, releasing it as part of their Manufactured-On-Demand line of DVD-Rs with no special features whatsoever (and you know the trailer for this must be worth its own weight in gold). There's no matter, though: the A/V aspects of this delightfully goofy Cold War relic are as pristine as you'd expect to find in an "official" release — so pour yourself a martini (or a whiskey, if you want to keep up with the intoning charms of Agent Casey Reed) and enjoy the fun.