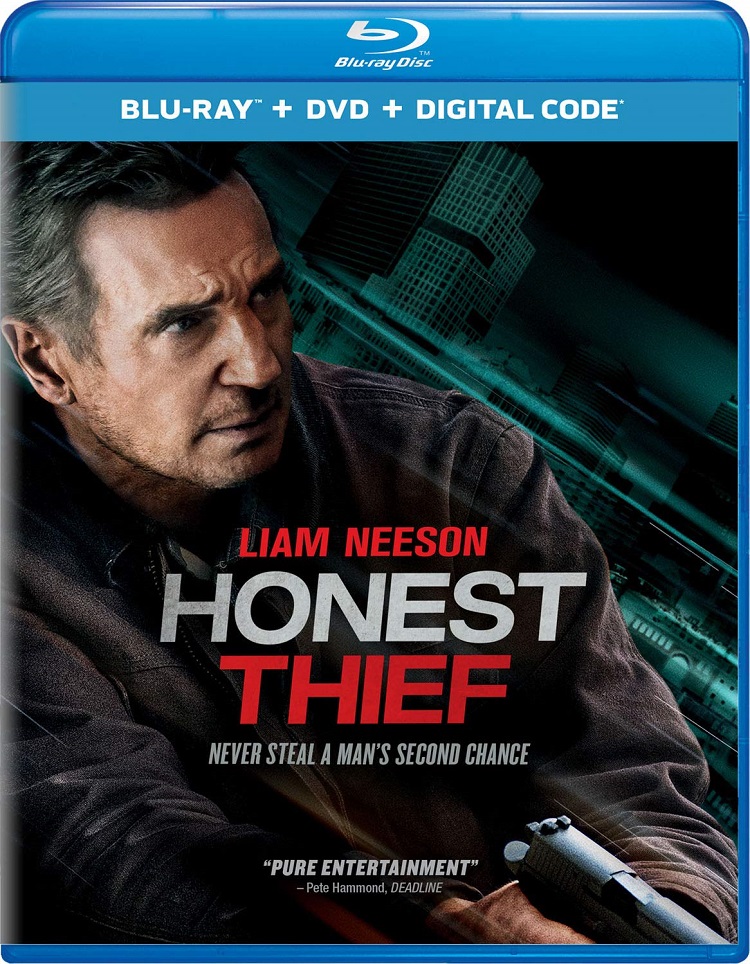 Honest Thief is a simple crime drama with a plot that resolves unsurprisingly as one who has viewed any of the recent spate of Liam Neeson-led action films, or most movies for that matter, would expect. But for those who like to see good guys triumph over bad guys, the script by director Mark Williams and Steve Allrich presents a satisfactory story.
Tom Dolan (Neeson) has been dubbed the "In-and-Out Bandit," a nickname he hates, because he is a successful bank robber, having stolen over $9 million in cash from 12 banks across 7 states. After dating Annie (Kate Walsh) for a year, a time in which he stopped robbing banks and kept his past from her, he determines she's the one he wants to spend the rest of his life. He offers to turn himself into the FBI along with all the money, and in exchange, he wants a reduced sentence of two years maximum at minimum security prison within an hour from Boston, so she can come visit.
Agent Sam Baker (Robert Patrick) takes the call, but after having already received numerous confessions from the In-and-Out Bandit, he is skeptical. He sends agents John Nivens and Ramon Hall (Jai Courtney and Anthony Ramos) to investigate Tom at his designated hotel room. Upon finding the money where Tom claims, John suggests he and his partner keep it and he intends to kill Tom to cover their tracks. Before the money is found, the script hints that John is a bad guy when he needlessly puts down his partner for professing his love for his children. Matters become complicated when Sam arrives on scene to follow-up. Tom goes on the run to clear himself while Sam's partner, agent Sean Meyers (Jeffrey Donovan), tries to make sense of what's happening.
The writers make sure the audience is sympathetic to Tom through an exposition dump as he explains to Annie that his father lost his job but couldn't retire because of the company CEO's embezzlement. This led to his dad's suicide, so Tom stole from the bank where the CEO kept the money. He liked the feeling, so he kept at it, but it's hard to believe he never spent or gave away any of the money.
The plot has some good twists as the bad agents and Tom work to get the upper hand, though it's clear from the outset who will win. Was very happy with the way Williams and his stunt team staged the fight scenes. It was refreshing to see the combatants look like regular people scuffling rather than great martial artists that appear in every other movie. The same goes for the gun fights. They aren't master marksmen, just people firing weapons.
The video is has been given a 1080p/MPEG-4 AVC encoded transfer displayed at an aspect ratio of 2.39:1. The colors appear in strong hues with a slight teal lean in scenes like those within Tom's hotel room. The image delivers a sharp focus, good depth with a shot, and is clean and free from defect.
The audio is available in DTS-HD Master Audio 7.1. Dialogue is clear. Mark Isham's score fills the surrounds as do the effects. There's great scene ambiance. Police sirens can be heard far off in the distance and it took me a moment to realize it was on the soundtrack. The subwoofer rumbles in support but distorts the bottom end during when the effects or music get too loud.
Honest Thief is a serviceable action movie. By no means a must-see, but if all wants is to see Neeson once again using his wits and his fists to come out on top, this will satisfy that urge. The Blu-ray delivers a complimentary high-definition presentation. Much like the movie, the Blu-ray comes with nothing extra.