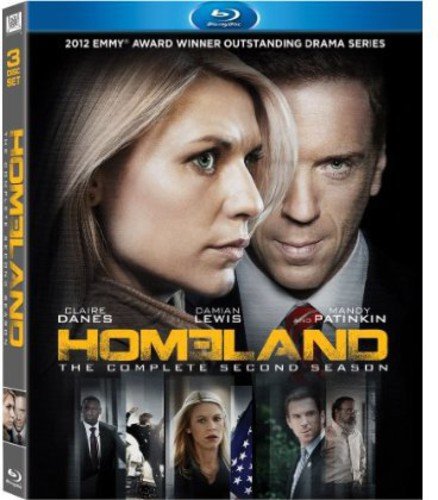 The line between a great show and a really good one is a thin one. For me it is all about resonance – the ability of a show to stick with you long after it's gone. That and a show's ability to say something about the world outside of its fictional space. Shows like The Sopranos, The Wire' and The West Wing not only were immensely entertaining, but also shone a light on our own culture and who we are as a people.
Really good shows can be very well made, and entertaining but fail in either their ability to stick with me after they are off the air, or have nothing truly meaningful to say. Shows like Lost and 24 fall into this category. As does, sadly, Homeland. Though it strives for greatness and nearly accomplished it with Season One (reviewed by Gordon S. Miller), the second season proves that it doesn't know how to move beyond your typical action-movie tread.
The biggest problem Homeland faced coming into its second season was dealing with the "is Brody or isn't he a terrorist?" question that they handled so adeptly throughout the first season. By now, we know he strapped on a suicide bomber vest and aimed to kill Vice President Walden, but stopped short after a phone call from his daughter. At the end of the season, he convinces head terrorist Abu Nazir that the vest malfunctioned but that this puts him tight with the VP who may very well become the President of the United States.
The second season begins several months later. Brody is now a senator and on the short list to become Walden's pick for vice president, but he is still in regular contact with Roya who is an ally with Nazir and instructs Brody on how to behave. Pretty quickly though, contrivances are made, plots are twisted, and believability goes out the window. They stretched that rope pretty tight last season and this time it breaks under the strain of plausibility. One man simply cannot change sides so often for it to make any logical sense.
Speaking of implausibilities our former CIA hero Carrie Mathison is now out of the Agency and teaching ESL, but of course she quickly gets pulled back into terrorist plots and involved on the Brody scene.
It is all very well made, and truly exciting in some scenes. The acting once again is some of the best on television. For most of the season, I kept thinking that things were getting a bit ridiculous, but I was having so much fun I really didn't care. But by the last two episodes, I found myself yelling at the screen for the plot holes and character behavior that didn't make any sense at all.
It is ironic that a show known for its fast-paced excitement, for its ticking-time-bomb plotting. and impending terrorist attack around every corner finds some of its best moments in its very human interaction. Mrs. Brody consoling her daughter when something horrid happens, or Brody and Carrie saying goodbye. In these small moments, we learn more about the characters and feel more empathy for them than in any of the big shocking scenes.
To be sure, Homeland: Season 2 is good television. The production values are incredible and it is a wild, entertaining ride. Yet while the producers seem to be aiming for something more, they fall into too many action/thriller tropes that defy plausibility and left me wondering where the brilliance of Season 1 had gone.
The Blu-ray looks and sounds fantastic. I didn't notice any problems at all and was continually pleased with the picture and audio. The extras are decent but nothing to get excited about. There is a brief teaser prologue to Season Three that shows us what Brody is up to now. A Super 8 diary from Damian Lewis basically shows us moving images of everybody who works on the show and has Damian (in his normal, British accent) gushing about them. There are two brief documentaries about shooting in Israel and making the season finale, none of which are particularly insightful, but are enjoyable enough. Lastly there are a handful of deleted scenes.
Homeland: the Complete Second Season is a very good show that aims for greatness, but falls continually short.