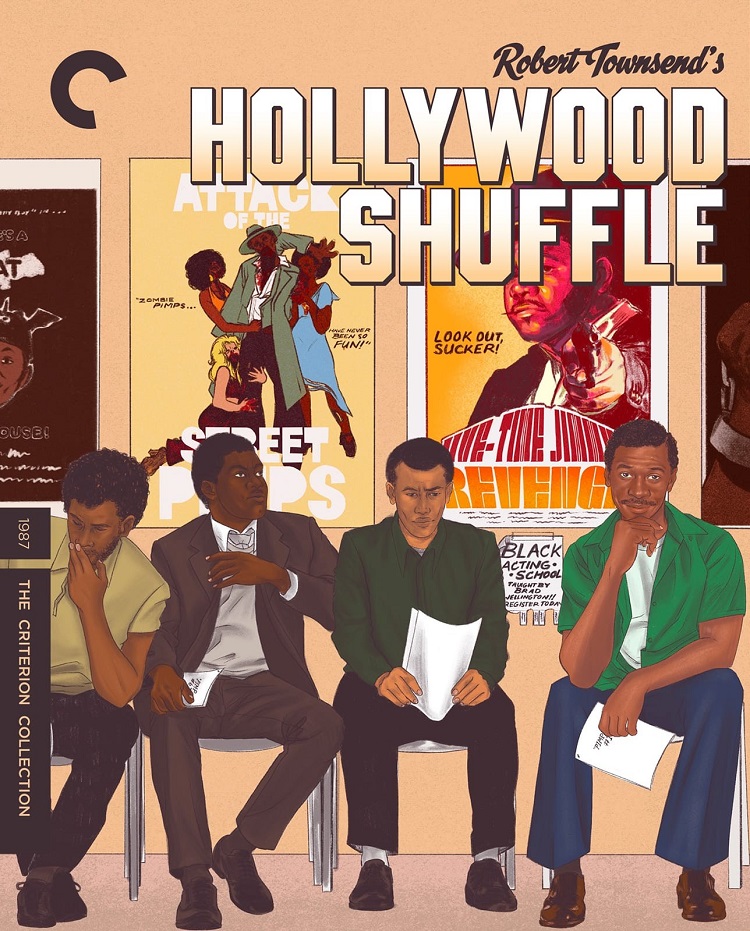 When struggling actor Robert Townsend was frustrated by the stereotypical and racist roles he was being offered as a black man, he became a quadruple threat and created Hollywood Shuffle. Made for $100,000 generated from his acting jobs and credit cards and shot in 12 days over 2.5 years, Hollywood Shuffle is a satirical expose of the industry told through struggling actor Bobby Taylor (Townsend) and a collection of sketches.
Bobby (Townsend) is up for a part as a gang member in Jivetime Jimmy's Revenge. When his grandmother (Helen Martin) overhears him, she's doesn't like the jive talk dialogue and thinks he should get a respectable job at the post office. His co-workers at the hot dog stand, like Donald (co-writer Keenen Ivory Wayans), tell him he'll never make it as an actor. At the stand, he meets B. B. Sanders (Brad Sanders), who plays the goofy Batty Boy in the hit sitcom There's a Bat in My House, but the encounter is less than inspiring as Sanders is only focused on the business and not the art.
Bobby gets the part and is excited about where it might lead (Shakespeare, action hero). However, when shooting his first scene, with his family on the set, he questions the impact it will have on his nephew and others.
The comedy sketches are presented as Bobby's dreams. He thinks of a Black Acting School where white teachers get the black students to act more black; "Sneaking Into the Movies", a spoof of Siskel & Ebert where they review a few movies like Attack of the Street Pimps; and "Death of a Breakdancer," a film noir detective movie.
Hollywood Shuffle does a very good job making an insightful case through humor about how rough it was for a black male actor in 1980s Hollywood. Unfortunately, that same desire to get Hollywood to see past stereotypes didn't extend to the filmmakers themselves when it comes to homosexuals. Dom Irrera plays the writer of Jivetime Jimmy's Revenge, who needlessly lips other than as a signal to the viewer. During "…Breakdancer," Sam Ace is angry that a "faggot" calls him after a drunken encounter at a Christmas party. On the commentary track, Townsend doesn't acknowledge either.
The video has been given a 1080p/MPEG-4 AVC encoded transfer displayed at the film's original aspect ratio of 1.85:1. The liner notes reveal "this new digital transfer [supervised and approved by director Robert Townsend] was created in 4K resolution on a Lasergraphics Director film scanner from the 35 mm original camera negative." The image looks clean and free from damage. The color footage comes through in solid hues. Blacks are inky. The image offers fine details and stable grain. The black and white sequence of "…Breakdancer" was shot on 16 mm and the grain looks like scurrying ants.
Also from the liner notes, "The original monaural soundtrack was remastered from the 35 mm DME magnetic track." The dialogue is clear. Udi Harpaz's score and the effects are balanced well together in them. The track is hiss free and shows no signs of wear or damage.
Audio commentary by Robert Townsend. It's very interesting to hear to him talk about the inspirations for the film and specific scenes.
Doing the "Hollywood Shuffle" (24 min) – Actors Rusty Cundieff, Anne-Marie Johnson, and Bobby McGee talk about the film and the industry.
Robert Townsend with Elvis Mitchell (27 min) – First airing October 22, 2022 on KCRW, a conversation from Mitchell's radio show The Treatment.
Hollywood Shuffle is a great directorial debut and a testament to believing in oneself. It deftly blends humor and drama, and it has something to say without being preachy. At its core, it epitomizes the notion that if one doesn't see the movies they want being made, then go make them. Criterion delivers a pleasing high-definition presentation with modern extras that look back upon the film.