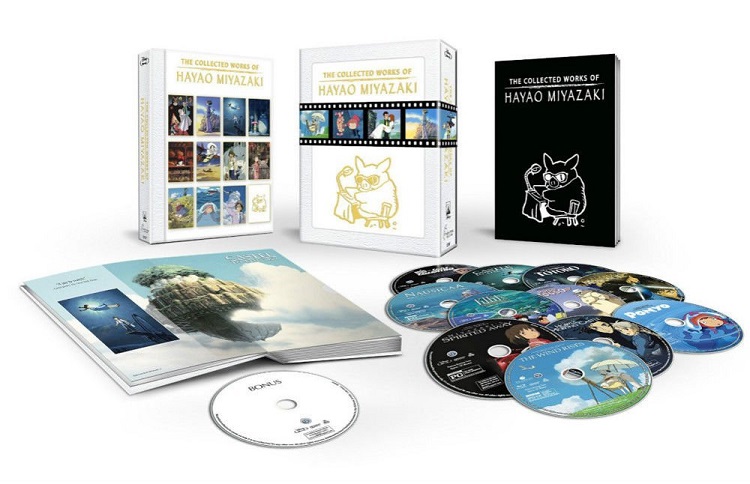 Before heading out to brave the sales-hunting crowds or shopping from the comfort of the Internet, some of us thought we'd offer recommendations for our loved ones–er, that is, to our readers on items that would exciting gifts.
Greg Barbrick
Trumbo (2015) will definitely be in my top ten this year, and watching it reminded me of the neglected classic Spartacus (1962). Although I do own a double VHS edition of it, the new Blu-ray is what I hope to see under the tree this year. The film was director Stanley Kubrick's first big-budget feature, following his critically acclaimed Paths of Glory (1957). Kirk Douglas starred in Paths, and worked again with Kubrick as Spartacus. The screenwriter was Dalton Trumbo, who was blacklisted at the time. The blacklist came to an end when President John F. Kennedy crossed the American Legion picket line see this movie.
From what I gather, the bonus features go a long ways to contextualizing this 55-year old picture for today. Besides its historical importance though, Spartacus is an incredible feast for the eyes, rivaled only by Lawrence of Arabia (1962) in terms of sheer epic power, at least for me. For some strange reason this one is overlooked as one of the greatest sword-and-sandal epics, as well as being such a milestone in Kubrick's career. For those reasons and many more, Spartacus is at the top of my home-video wish list this season.
Luigi Bastardo
Once again, that time of the year has descended upon us when we stop being thankful for what we have, and start looking for new items to be thankful to have next year. And this year, Universal Studios Home Entertainment has rounded up two new releases to promote for the holidays season.
We begin with a venerable plethora of classic comedies from one of cinema's most lovable misanthropes: W.C. Fields. Here, in a five-disc set aptly entitled the W.C. Fields: Comedy Essentials Collection, Universal brings us a whopping 18 films from the legendary wisecracking alcoholic of film. The collection, which is timed to celebrate Fields' 100th anniversary in the world of motion pictures, starts with the master's Paramount comedies (including several pre-Code titles), and concludes with his famous foursome for Universal (including 1940's The Bank Dick. Co-starring alongside his many witticisms are such classic film heroes and heroines Bob Hope, Bing Crosby, Dorothy Lamour, Bela Lugosi, Mae West, Shemp Howard, Gary Cooper and Cary Grant (to name a few). A vintage documentary on the late great comedian is included as a bonus item in this, an ideal gift for that cantankerous rogue in your life (and seeing as how I already have it, you're going to have to find something else to give me).
While as far removed from W.C. Fields as can be, Jim Carrey's manic style has definitely earned the rubber-faced comedian a slot in film history, which is available for all to see in Universal's new Blu-ray/Digital HD release of Dr. Seuss' How the Grinch Stole Christmas: Grinchmas Edition. One of the last films where director Ron Howard still used actual sets and props (see: the CGI-laden trailer for In the Heart of the Sea), this live-action adaptation of the classic Dr. Seuss tale has been newly remastered for improved High-Definition picture and sound (sorry, but that Faith Hill song is still in there) for this 15th Anniversary release. Co-starring in this holiday family favorite are the heavily made-up talents of TV greats Jeffrey Tambor, Christine Baranski, Molly Shannon, and Taylor Momsen as Cindy Lou Hou. Anthony Hopkins narrates the Christmas tale with a twist, which ‒ along with the W.C. Fields: Comedy Essentials Collection ‒ is available now to make this holiday all the more memorable for the film aficionado in your household.
Mat Brewster
The Larry Sanders Show: The Complete Series was previously issued by Shout! Factory in 2010. Though it's still available for purchase on Amazon, that set has been discontinued and will no doubt disappear soon. If you're the sort of person who wants lots of extras including deleted scenes, commentaries, cast interviews, and a big 60-page book, then you should rush out and get that set before it's gone. But if you are like me and you want to see what all the fuss is about without dropping a hundred bucks in the pot, this new set from Mill Creek will more than set you up. From what I can tell it just has the the entire series without any extras. But the price is much cheaper, and presumably it will continue in production for some time.
The Collected Works of Hayao Miyazaki is a great package that collects all of the feature-length films he's directed, plus the pilot episode of Yuki's Sun, a 1972 anime series; three episodes of another anime series, Little Samurai; an uncut version of his retirement press conference; plus a big book on the director. Unfortunately it comes at a great price (and by "great" I mean a lot, not awesome). The purchase of this set may depend on how much you want to double dip. Personally, I own the majority of these films already and I can't quite see spending the extra cash on this big set (Amazon has it listed at $215) just to get the ones I don't have and the cool extras. Still, I'll be adding it to my Christmas wish list so if anybody has a couple of extra hundred laying around you know where to find me.
Gordon S. Miller
For the sports fan or anyone who enjoys a well-told tale, 30 for 30: Season II (that's two not eleven) is amazing set of 30 documentaries, films 31-60 in the series. Highlights include 9.79*, a fascinating story about Canadian sprinter Ben Johnson that sheds light on the possibility that he wasn't the one who was actually cheating; Elway to Marino about the 1983 NFL Draft in which six quarterbacks were selected in the first round, still the most ever; the words No Más will forvere be associated with the rivalry between Sugar Ray Leonard and Roberto Duran; and many other biographies about heroes and villians, depending on if they were on the team you were rooting for, such as Bo Jackson, surfer Eddie Aiku, Greg LeMond, Christian Laettner, and the Detroit Pistions of the late '80s/early '90s.
In his introduction, J.B. Kaufman reveals he considers Walt Disney's Pinocchio a member of "the fraternity of true epics," alongside films such as D.W. Griffith's Intolerance, Erich von Stroheim's original Greed, and Abel Gance's Napoleon, and he certainly makes the case with his definitive examination, Pinocchio: The Making of the Disney Epic. The book is slightly intimidating in appearance due to being the size of an upper-level college class' textbook, but Kaufman takes readers on a journey so wonderfully immersive and informative about all things Disney's Pinocchio, the reader will walk away enriched as if taking an independent studies course.
The Library of American Comics' King of the Comics: 100 Years of King Features celebrates the centennial of the newspaper comic strip started by William Randolph Hearst. From Archie to Zippy the Pinhead, the book is filled with the legends of the medium. They are presented chronologically, allowing readers to not only learn the history of comic strips but also see how the medium has changed in terms of style and the popularity of genres.