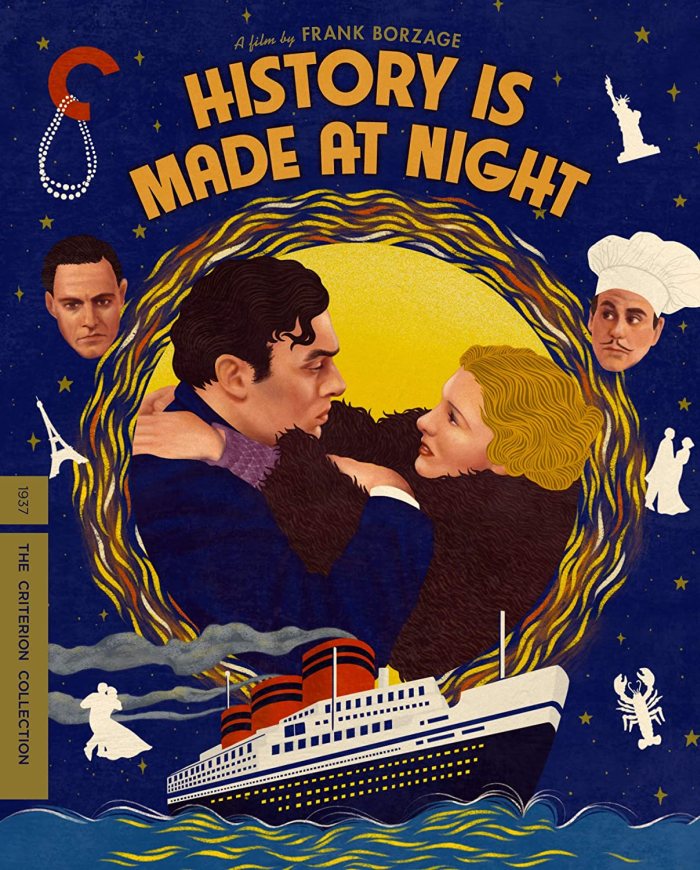 Director Frank Borzage, who grew up with Hollywood, making (and acting in) silents from 1916 and remaining active up to the late '40s, was known for his uncynical belief in love. He made romances… but so did everybody else in those days when directors weren't always so specialized and compartmentalized as they might seem today. But he believed in them. He believed in love. He believed, and he etched every frame of his romantic films with that belief.
In History is Made at Night, we open with the dissolution of a marriage, but clearly not the end of love. Wealthy industrialist Bruce Vail (Colin Clive, the original Dr. Frankenstein himself) never loved his wife, Irene, but he'll be damned if anyone else can lay their hands on her. So, on the eve of their divorce becoming final, he arranges to have his driver forcibly seduce his wife so he can walk in on them, and contest her claims of fidelity. How this would keep them married I don't know since fidelity would generally be grounds for a divorce, not for stopping one, but that doesn't matter. He has a dastardly plan.
But while it's underway, the driver's machinations are overheard by the Parisian Paul, who just happened to be on the neighboring balcony. He dashes into the room just in time to punch out the driver, and improvises a jewelry-thieving scenario when the husband charges in. This evolves into a kidnapping, and, once Irene understands none of it was in earnest, into a date.
This elaborate "meet cute" becomes an even more elaborate date, but since this is a romance and not a romantic comedy, the story unfolds with intimacy and connection. This is interwoven with comedic bits, but they're never the foreground. Even when Paul has a conversation with Irene through a hand puppet, it's sweet and touching rather than off-putting, goofy, or frankly all that funny.
The pair hit it off famously, of course, fall deeply in love, and so most of the rest of the film contrives that they be split up and engage in elaborate schemes in order to try and reconnect with one another again. All the while her husband creates some serious obstacles, essentially holding Paul's life in his hands if his wife doesn't come back to him.
More details than that would ruin the melodramatic surprises and twists of the plot, which are the fun of History is Made at Night. Paul and Irene fall immediately, desperately in love, and so must have obstacle after obstacle thrown in their way. That way, their love can prove its power by overcoming them. It's the formula, and it's a powerful one.
Colin Clive's menacing business tycoon is an excellent foil for the suave Paul. His mendacity reaches astonishing heights as he grows madder for control over his would-be ex-wife. The plot to have her in peril of rape and then accuse her of infidelity is just his first step in villainy.
History is Made at Night has a reputation for being a genre spanning work. For most of the film, this is a bit of an exaggeration. Whenever there's a hint of crime with some chiaroscuro lighting in a black and white movie, critics seem to fall over themselves to call it "film noir." History has elements of a thriller, of comedy, and in the last act on a cruise ship even veers towards disaster movie and special effects extravaganza. But all of these elements are propelled forward on the wave of the romance between Paul and Irene.
Jean Arthur is effortlessly charming as Irene. She seems mostly sweet and easy going, but suffuses Irene was an iron core of strength. Claude Boyer, who plays Paul, was a French actor who came to Hollywood in the '30s, but still made films on both sides of the Pond before the outbreak of World War II. His Paul has all the stereotypical French sophistication and confidence the movies have always told me women swoon for.
History is Made at Night is a gem of '30s Hollywood system filmmaking. It has a high budget excellently expended on attractive sets, a briskly paced story that barely holds still long enough to question some shaky plot logic. It's decidedly old-fashioned, as one would expect from an old movie. All it needs from a modern audience is the patience that it takes to enter the mindset of a filmgoer of the era… and maybe a little non-cynical belief in love.
History is Made at Night has been released on Blu-ray and DVD by the Criterion Collection. Extras on the disc include a conversation between Herve Dumont (Borzage's biographer) and Peter Cowie (24 min), and an interview from 2019 with critic Farran Smith Nehme about Borzage (14 min), audio excerpts from a 1958 interview with Borzage (31 min), a radio adaptation of the film starring Charles Boyer (27 min), and a demonstration of the film's 4K restoration (9 min). The included booklet has an essay on the film by Dan Callahan.