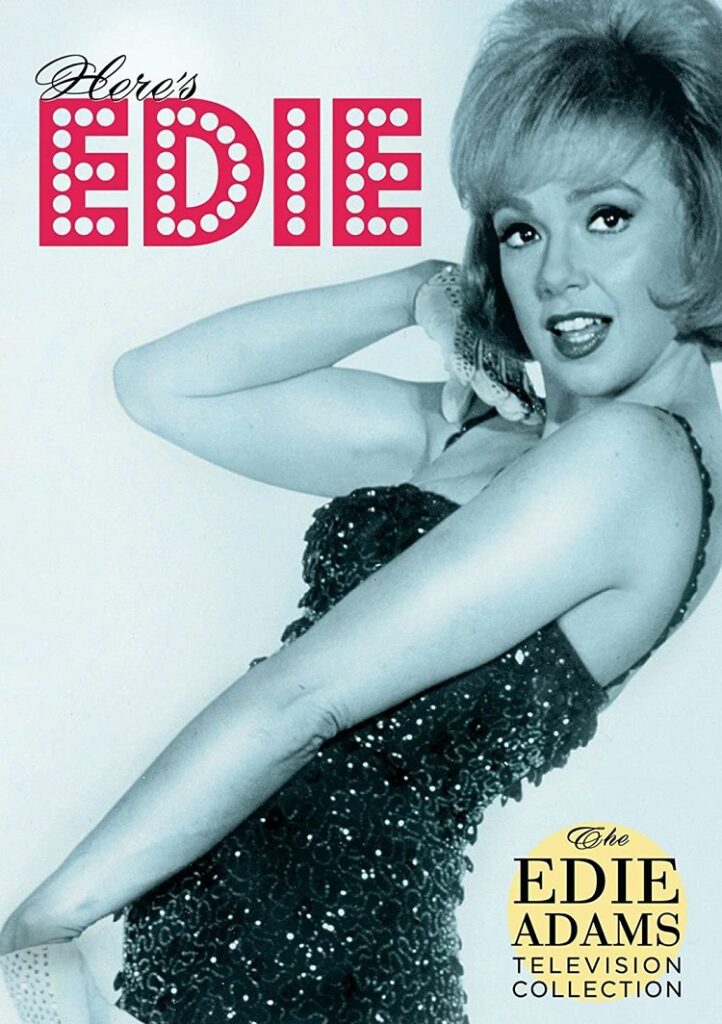 After Ernie Kovacs' untimely death in a car crash in 1962, his widow, actress/singer Edie Adams, devoted herself to preserving his legacy – and tying up some loose ends Saddled with Kovacs' unpaid tax bill, she set out to work to pay the IRS and ended up building an entertainment and business empire of her own. Her variety show, Here's Edie (the name was changed to The Edie Adams Show for the second season) ran from April 1962 to March 1964, alternating with the Sid Caesar Show Thursdays on ABC. MVD Visuals four DVD Set, Here's Edie: The Edie Adams Television Collection brings this classic, Emmy-nominated variety show to the public for the first time since its initial broadcast.
Adams, the spokeswoman for Muriel Cigars, appeared in promos and commercials for the brand throughout the 1960s. She purred the ad slogan, "Why Don't You Come Up and Smoke One Sometimes" in a sultry Mae West voice while the rest of her channeled Marilyn Monroe. According the box set's liner notes, Consolidated Cigar Corporation, put up the cash for Edie's TV show. This gave her free reign to do what she wanted with her half-hour variety show. The result blended Broadway, jazz, Big Bands, torch songs, bossa nova, and comedy sketches. Unlike the variety shows that followed in the mid-'60s, (like Barbra Streisand's specials), the show had the laid-back appeal of a night at a local jazz club.
Adams studied voice at Julliard and drama at Columbia, and she brought a touch of class to the musical numbers. In one sequence, Adams sings Weill/ Brecht's "Surabaya Johnny" in a cabaret setting that could have been taken straight off Broadway. Adams' Julliard roots and artistry shine through on both the musical numbers and comedy skits. It's easy to see why she was hailed as one of the most versatile female performers of the 1950s and early 1960s.
Adams' guest stars included some of the biggest names in jazz and popular music. Stan Getz provides the soundtrack for a show dedicated to Bossa Nova. Duke Ellington and His Orchestra perform on a show dedicated to New York, which also features Peter Falk's impersonation of a New York cabbie on a break. Pete Fountain joins Adams for a musical tribute to New Orleans. Spike Jones and his City Slickers perform a comedic symphony, complete with car horn and shooting pistols, and Bobby Darrin is her sole guest star on one of the last shows, joining Edie for a duet and yukking it up during a Western-themed skit. Sammy Davis Jr. jokes around with Adams during a skit on a backstage prop room, sings and dance and, does impressions of Cagney and Brando. Johnny Mathis, Bob Hope, Al Hirt, Count Basie and his Orchestra, and baseball player Maury Wills also share the stage with Edie.
Alan Sues and Rowan and Martin star in comedy bits far removed from the paisley psychedelics of Laugh-In, but you can sense the tide turning after the vaudeville stylings of skits in earlier shows. Soupy Sales even manages to get a few gasps from the studio audience during a sketch about a show-biz reporter with a remark that would seem harmless to an audience today.
The extras include songs and skits from The Ernie Kovacs Show and its predecessors, Ernie in Kovacsland and Kovacs on the Corner. There's also a Muriel Cigar promo film from 1965. The box set's accompanying booklet features quotes from Edie's co-stars (Shirley MacLaine, Don Rickles, etc.) and fans (Pee-Wee Herman, Ann Magnuson).
Adams' Ediad Productions owned the show, and all copies of it were kept under lock and key until they were restored for The Edie Adams Show Collection. This four-disc collection showcases one of the "buried gems" of early TV variety shows.