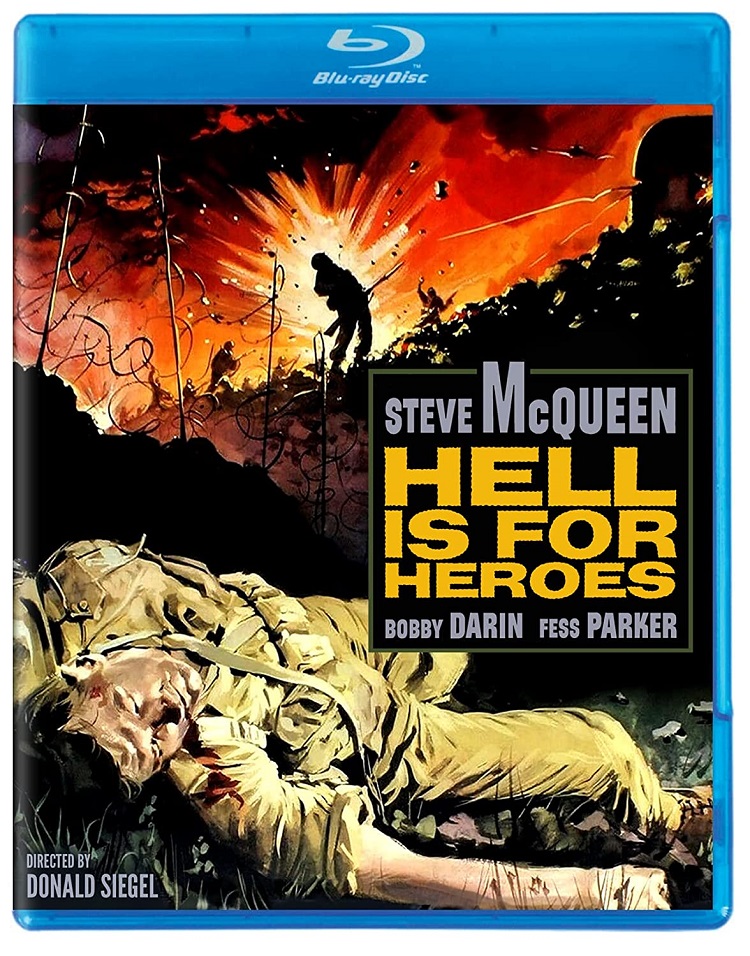 Have you ever come upon a movie that you are sure you must have seen before, but just can't remember?  Then you watch it and recall how disappointed you were the first time you saw it.  Welcome to Hell Is for Heroes.  A star-studded. forgettable film filled with one-dimensional performances.  How could a World War II action movie starring Steve McQueen, Fess Parker, Bobby Darin, Harry Guardino, James Coburn, and Bob Newhart be forgettable?  Well, ultimately, it's the script by Robert Pirosh and Richard Carr.  Director Don Siegel does an adequate job with the limited budget, but there simply isn't enough of a story here to be told.  The script is efficient, but the characters lack depth and motivation.
In this 90-minute outing, Sgt. Pike (Fess Parker) leads a squad of weary soldiers back to the line after they thought they were going home.  Reese (Steve McQueen) transfers into the squad just as their orders come in.  He is a loner who seems to be mad at the world.  Though he has served with Pike before, we discover little about their relationship or what is bothering Reese other than he does not want to go home.
The squad makes it to the action but find themselves holding the line though they are completely outnumbered.  They rig up a few tricks to make the Germans think there are more of them than there are. Bob Newhart shows up and is able to help and conveniently work some material from his act.  Though contrived, Newhart does manage to supply a bit a of levity where ultimately it doesn't belong.  McQueen remains stoic throughout, Guardino yells a lot, Fess Parker is well…Fess Parker.  It's the performance of Bobby Darin that actually stands out amongst these heavyweights.  He manages to show range in a script that paints its characters with few strokes.
One can't help but respond to the end of the film with a puzzled. "That's it"?
The Blu-ray of Hell Is for Heroes hit shelves on April 11 with a whimper instead of the bang one would expect.  The brand-new HD Master from a 4K Scan of the 35mm original camera negative looks and sounds great.  The bonus material includes new audio commentary by filmmaker/historian Steve Mitchell and Combat Films: American Realism author Steven Jay Rubin, the Theatrical Trailer (newly mastered in 4K), Optional English Subtitles, and trailers from numerous other films that include cast members from Hell Is for Heroes.
The new release of the 1962 World War II action-drama Hell Is for Heroes sadly receives Ron's Rejection.  Hard to say something bad about a Steve McQueen film, but this just doesn't compare to his other work.  It's a film that slowly draws one in just enough to guarantee disappointment when the credits roll.  Surprisingly we haven't seen a more in-depth telling of this tale, considering how Hollywood loves remakes.  Unfortunately, Hollywood seems to prefer to take a classic and give it a weak retelling rather than giving Hell Is for Heroes the effort it deserves.