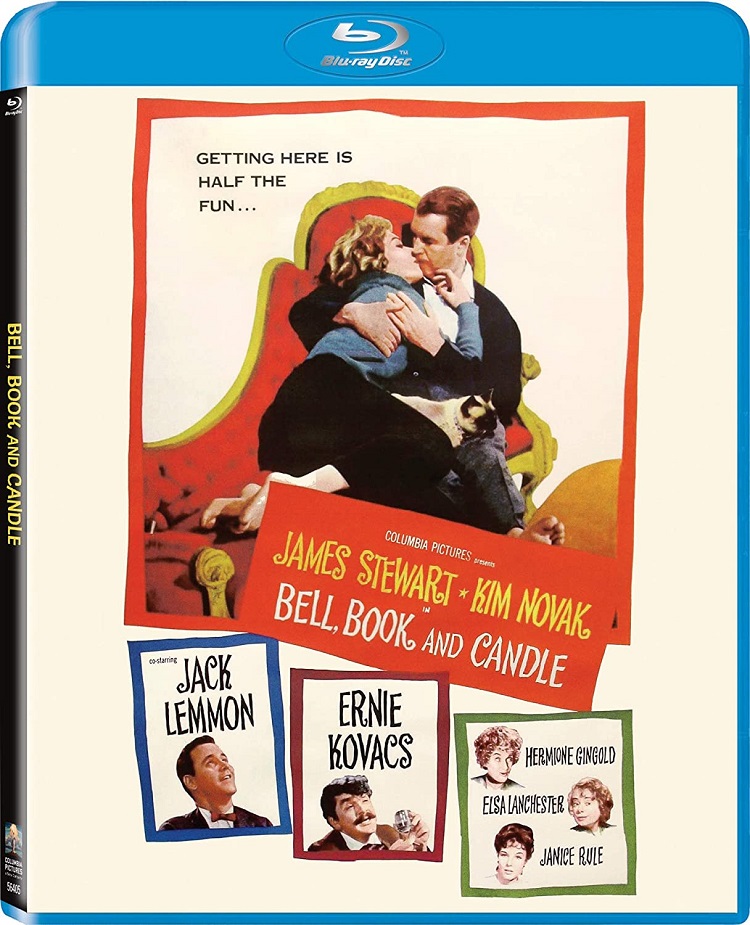 I know it's one of those things that we all hate hearing about, but nevertheless, it's true: the economy in the last couple of years has really made for some hard times. Though it's not as awful as, say, losing your house or job, the world of home media was not immune to the downfall of the financial system. Nearly a decade ago, we were treated to the digital disc debuts of titles we never even thought we'd see on videocassette back in the '80s. Once things started to take a turn for the lesser, however, we lost many of our glorious indie DVD distributors and the gems that they would have surely presented us with.
And yet, just like a phoenix rising from the ashes, industry veterans Brian Jamieson and Nick Redman started up a small label called Twilight Time. Emerging out of the blue in 2011 (as a DVD only affair), Twilight Time started licensing titles from major studio labels who were just too busy releasing the latest forgettable theatrical or direct-to-video hit they had on their hands to bother with an obscure, long-forgotten relic from the past. Two years on, Twilight Time – whose releases are limited to 3,000 units each – has become a collector's saving grace, bringing us some true classics (as well as the occasional guilty-pleasure of a turkey) to Blu-ray.
Sadly, I have been sitting on the fence for a while now when it comes to highlighting Twilight Time's titles. Thus, I have decided to compile a collection of capsule reviews for their fabulous releases from the last year or so. It's the least I can do, folks!
While movies about cross-country races are all but a dime-a-dozen in all the annals of filmdom, there's something about a cross-country race on horses that positively captivates the imagination. And Richard (Cat on a Hot Tin Roof, Blackboard Jungle) Brooks' epic 1975 western/adventure, Bite the Bullet is just as entrancing as it sounds. Gene Hackman and James Coburn take the lead as an incredible pair of ex-Rough Riders determined to win the arduous 700-mile competition on horse hoof in 1906 America, with Candice Bergen, Jan-Michael Vincent, and Ben Johnson also shooting for the finish line. Covering ground as smooth as silk and as a rugged and dangerous as can be, our contestants risk their lives for a more-than-generous cash prize — while a manipulative businessman (Dabney Coleman), plants his own crooked racer in the event, intent on claiming the winning victory as his own. Brooks crafts a tale that expertly weaves the quintessential elements of comedy, drama, and action — stirring up viewers' emotions as he moves to such negative (and hard-hitting) subjects as racism and animal cruelty to convey what some people will do in order to win. Ian Bannen and Dabney Coleman co-star in this recommended (and over-looked) item featuring music by Alex North.
Though I have a soft spot in that region of my inner anatomy that passes for a heart for Italian peplum (sword and sandal) movies, I must confess I've always had a bit of a hard time swallowing their American counterparts: the usually religious big-budgeted adventure epic. Demetrius and the Gladiators is no exception for me. A follow-up to the 1953 hit The Robe Delmer Daves' Demetrius and the Gladiators focuses on the plight of our titular hero (Victor Mature, reprising his role from the previous film), who has been entrusted with guarding that Jesus of Nazareth guy's robe following his crucifixion at the hands of the Romans. Losing his religion (he's a big R.E.M. fan, you know) after his beloved Lucia (Debra Paget) is murdered, Demetrius eventually becomes a gladiator for the wicked Emperor Caligula (Jay Robinson). Of course, since it's an American religious epic, our hero soon sees the error of his way and rekindles his love for the guy that owned the robe. Susan Hayward (as Messalina), Michael Rennie, Ernest Borgnine, William Marshall (yes, Blacula!), and Anne Barcroft also star. Franz Waxman provides the epic orchestrated score.
If we learned nothing else from Alfred Hitchcock, it was that the pairing of James Stewart and Kim Novak was as superlative as an onscreen romantic couple could be. Fortunately, Hitchcock was not the only director to realize this, and – just a few months after Vertigo premiered – director Richard Quine paired the two together again for Bell, Book and Candle. In what surely helped to create the long-running television sitcom Bewitched, Novak plays Gillian Holroyd: a free-spirited witch who owns an art gallery in Greenwich Village. With her love life in an even sorrier condition than that of my own, she sets her eyes on a handsome – engaged – publisher (Stewart), and casts a harmless little love spell upon him. As it turns out in this universe, however, witches who fall in love lose their powers – so Gillian must decide if she wants to keep tormenting the poor fellow, or become one of those darned mortals. Jack Lemmon (in a delightful supporting role) plays Novak's warlock brother, Ernie Kovacs is the author on misinformed novels about witchcraft, and Elsa Lanchester takes on the Anges Moorehead-type role in this enchanting, underrated classic. Music by George Duning.
Brando. Marlon Brando. Bonaparte. Napoleon Bonaparte. Yes, it's one short legend portraying an even shorter one in Henry Koster's historical drama centering on the life and times of Napoleon and his relationship with one Désirée Clary (Jean Simmons) – whom the famous French leader was once engaged to, but never married. In Désirée, we witness the first meeting of the general to the young lass in 1794 Marseille, at the hand of Napoleon's brother, Joseph, as played here by Cameron Mitchell. Wait, a movie with rising A-Movie king Brando and future B-Movie legend Cameron Mitchell as brothers? We've just hit a vein of solid gold with that one right there, kids! Michael Rennie co-stars in this period piece as General Bernadotte (whom Désirée later married, in case your history classes failed you), and Merle Oberon takes on the role of Napoleon's legendary (first) wife, Joséphine. Alan Napier, Carolyn Jones, and John Hoyt are also in there somewhere, in this big-budgeted movie (which only raked in about twice as much as it cost to make at the box office) written by Daniel Taradash From Here to Eternity) and with music by Alex North (again).
Though Twilight Time has released many a moody, atmospheric drama since their inception, The Big Heat marked their first bona fide film noir flick. And their selection could not have been a better one. Directed by the one and only Fritz Lang (Metropolis), The Big Heat stars the larger-than-life combination of the talents of Glenn Ford, Gloria Grahame, and Lee Marvin. Here, Ford plays a likeable, honest homicide sergeant named Dave Bannion – whose life goes from bad to worse once he starts prying into the supposed suicide of a fellow policeman. But in a city with an underbelly as seedy as this one, nothing is as routine as a self-inflicted death, and many more bodies start turning up – including Bannion's poor wife, which sets good ol' Dave down the dark path of vengeance. Lang's natural talent for a gloomy ambiance sets the stage, and Lee Marvin positively oozes evil as a baddie, with Gloria Grahame taking on the role of a damned femme fatale in this surprisingly violent '50s thriller with an appropriately brassy and musical score by Henry Vars (though music director Mischa Bakaleinikoff is the only one to be named in the movie's credits).
Towards the end of the '50s, Hollywood filmmakers' obsession with cranking out over-budgeted religious epics began to wane, and a horse of a different color came to ride the horizon for a spell: the adventure epic – a variety of moving picture that still outsells its religious predecessor to this day. And one of the best examples from the early days of this genre is Henry Levin's adaptation of Jules Verne's Journey to the Center of the Earth from 1959. At the core (heh) of this classic are James Mason and top-billed recording artist Pat Boone, who do exactly what the name of this feature implies – with a widow (Arlene Dahl) and the required deceitful fellow (Thayer David) in tow – where they discover the land that time forgot (oh, wait, wrong movie). Naturally, Pat Boone finds time to croon out a tune or two, though the original release print is said to have contained even more of the same. Oy vey. The great Bernard Herrmann lends his skill to the this 20th Century Fox hit, though beware: this title went out of print two months after its release date – so it you fancy finding a copy, you should be prepared to pay what could very well end up being a sizable amount.
It seemed like too "new" of a film to release to me, but then, I think it was just plain hard for me to fathom that it had been a whopping fifteen years since VHS copies of James L. Brooks' As Good As It Gets dominated the shelves of the video store I once managed. Jack Nicholson and Helen Hunt – both of whom walked away with Oscars for this one – star in this dysfunctional romance set in an imperfect modern world. Nicholson simply shines as a misanthropic author with a debilitating form of obsessive-compulsive disorder, who takes a liking in a miserable, poor waitress (Hunt) with a highly asthmatic son. Greg Kinnear delivers a terrific performance as Nicholson's gay artist neighbor, who is assaulted by a pack of thieves (including Skeet Ulrich, aka the short-lived Johnny Depp 2.0) and whose filthy dog Nicholson has to take care of at the demand of Kinnear's boyfriend, played by Cuba Gooding, Jr. – still riding high from his own Oscar win in that Jerry Maguire flick from the year before. The great Hans Zimmer composed the score for this hit, with Art Garfunkel turning in a sublime cover of the Monty Python tune, "Always Look on the Bright Side of Life."
Lastly for this piece, we visit yet another motion picture from the fabulous fifties. In the instance, it's a cinematic adaptation of a John Steinbeck novel. That right there doesn't exactly instill me with an overly large dose of confidence, as Steinbeck was one of those authors I was never really a terribly huge fan of. Now, either somebody else on the production side of the camera on The Wayward Bus wasn't a big admirer, either, or this movie just didn't have enough panache to begin with – because, well, it's not a very hot item. It didn't exactly make a killing at the box office, either. Even Steinbeck himself hated the final cut (a common trait amongst writers) – so much so, that his widow later bought back the rights to the film to prevent anyone else from seeing it. Alas, it managed to find its way to Blu-ray thanks to Twilight Time – so now we can all this rarely-seen title starring Jayne Mansfield and Joan Collins (and the titular bus, of course) in all its strange, decidedly un-Steinbeck-like glory. French director Victor Vicas (who reportedly shot two versions of some the movie's "steamier" scenes) kissed his American career goodbye with this one, with famed Disney tunesmith Leigh Harline providing the music score to go along with Ivan Moffat's screenplay.
Much like the varied products mentioned above, the transfers for these eight Blu-ray releases do tend to differ to some degree – all depending on how much love the studio licensing out the movies in question felt like exalting unto their titles. In the case of Demetrius and the Gladiators, we are given a rather loveless affair that presents said film in a rather shallow transfer (e.g. muted colors, murky shadows). But then, when you get a peek at the far less popular The Wayward Bus (both titles hailing from the same company as the one before) we get a truly remarkable and jaw-dropping presentation that is even deeper as my high school English teacher perceived Steinbeck's work to be. That said, the rest of the 1080p/MPEG-4 AVC coded transfers from this lot are quite beautiful, with As Good as It Gets, The Big Heat, and Bite the Bullet standing out slightly more over the equally-wonderful looking Bell, Book and Candle; Journey to the Center of the Earth; and Désirée.
Audio-wise, each release features a well-balanced DTS-HD MA soundtrack, ranging from Mono (The Big Heat, Bell, Book and Candle, The Wayward Bus) to 4.0 (Journey to the Center of the Earth, Désirée, Demetrius and the Gladiators) and 5.1 (Bite the Bullet, As Good as It Gets). Each Blu-ray also contains a DTS-HD MA 2.0 soundtrack containing the movie's soundtrack with music by its respective composer (whether credited onscreen or not). Optional English (SDH) subtitles are included with Bite the Bullet; The Big Heat; Bell, Book and Candle; and As Good as It Gets, and common special features include each film's original theatrical trailer (sometimes in High-Def, sometimes not) and liner notes by well-read historian Julie Kirgo.
While most Twilight Time releases are limited solely to isolated scores and trailers as the only extras, it's delightful to see a few more odds and ends incorporated into a couple of the releases above. The Wayward Bus features an audio commentary by film historian James Ursini and his colleague, Alan Silver; while Bell, Book and Candle houses two featurettes with the oft-reclusive Kim Novak recounting her career for us. Additionally, Journey to the Center of the Earth has a Spanish-language theatrical trailer in addition to its native English-language one.
Happy viewing, boys and girls.