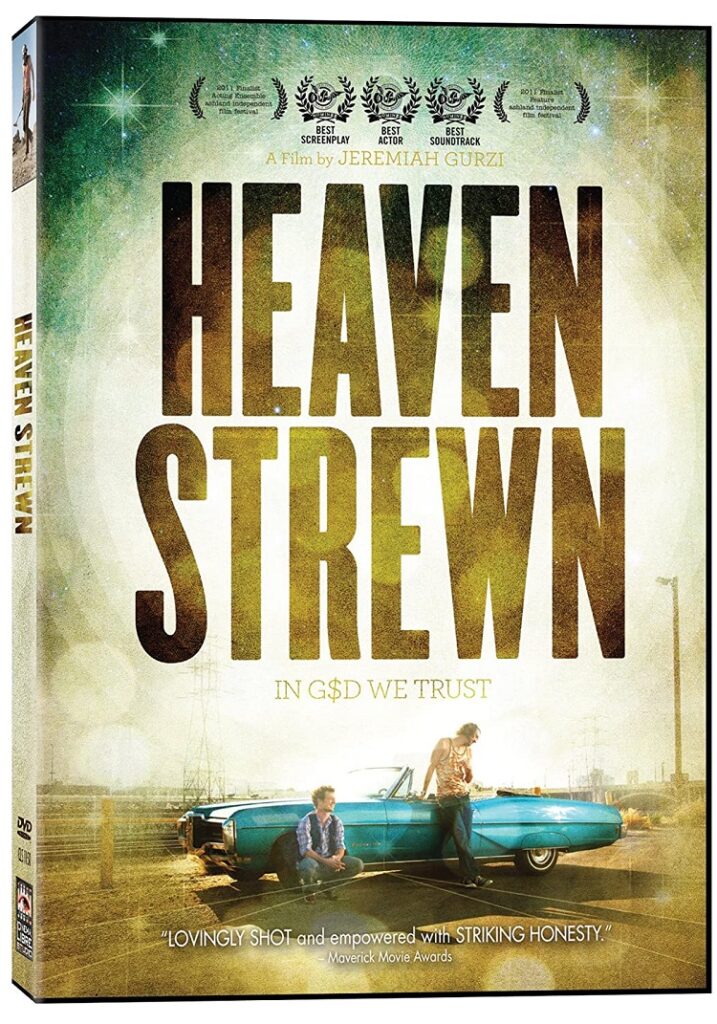 Directed, written and produced by Jeremiah Gurzi, Heaven Strewn is a well-made motion picture with some interesting cinematic touches. It is a fairly average film overall, but Gurzi shows potential in rendering characters and capturing environments in a somewhat classic sense. His approach is somewhat old school and that benefits the soft, desert-kissed noir a fair bit.
Gurzi, a member of the International Alliance of Theatrical Stage Employees, received the 2010 Panavision first-time filmmaker grant package. Through this, he gathered support from the Eastman Kodak Company and showed Heaven Strewn completely in 16mm Eastman Kodak film stock using anamorphic prime lenses created just for the project by Panavision. After the completion of the film, Panavision scrapped the lenses.
The picture stars Wyatt Denny as Mickey, a "professional grifter." He is friends with Jasper (Rob Tepper), a columnist for the Los Angeles Chronicle. Jasper, now sober, is trying to get his life together. He has a pregnant girlfriend (Alexandra Williams), but seems to suffer some form of anxiety that is probably only heightened by his general lethargy.
When Mickey confronts Jasper with word of a search for meteorites in the desert, the two friends head out into the unknown. Mickey has crafted a bit of a myth, though, and Jasper is unknowingly thrust into a dark world of crime, drugs, and deceit. Their friendship is put to the test – and not for the first time – and their very lives are in danger.
The look of the film appears to be the paramount concern for Gurzi. While it does look sharp in parts, there's nothing overly dazzling about the cinematography. It is indeed refreshing to see muted colours when so many modern films tend to use colour filters, but Heaven Strewn doesn't live up to its visual potential.
The performances are good, with Denny and Tepper playing a perfect pair of hipsters. Denny's Mickey is a desperate, nearly-unhinged character. He tires of seeing his friend's successes, but he doesn't come across as jealous. Instead, he's a character who has taken many wrong roads in life and isn't sure about the next path. Jasper is trying to piece it together, although we know less about his past and character.
Gurzi's film is brief, clocking in at just less than 80 minutes, and it feels underwhelming overall. While the trio of criminals is menacing enough, the broader sense of threat doesn't seem present. At times, Heaven Strewn seems slightly influenced by No Country for Old Men and other similarly unpredictable pictures about the mistakes and hidden natures of common men, but this 2012 movie seems to be holding back.
Heaven Strewn is at its very best when it presents something distinctive. The telephone calls that form the beginning of the picture are presented intelligently, with the audience only able to hear the words of the person on screen. And the shots inside the hotel room are cunningly framed using mirrors, so that Mickey and Jasper always appear to have some sort of separation between them.
Gurzi's motion picture does have some good elements, as mentioned, but it's a mediocre picture overall. There's a lot of potential and this Nevada-bred filmmaker is well worth keeping an eye out for, but this movie lacks a certain something in the end.
The DVD is lean on features, with only a handful of Cinema Libre trailers to be seen.