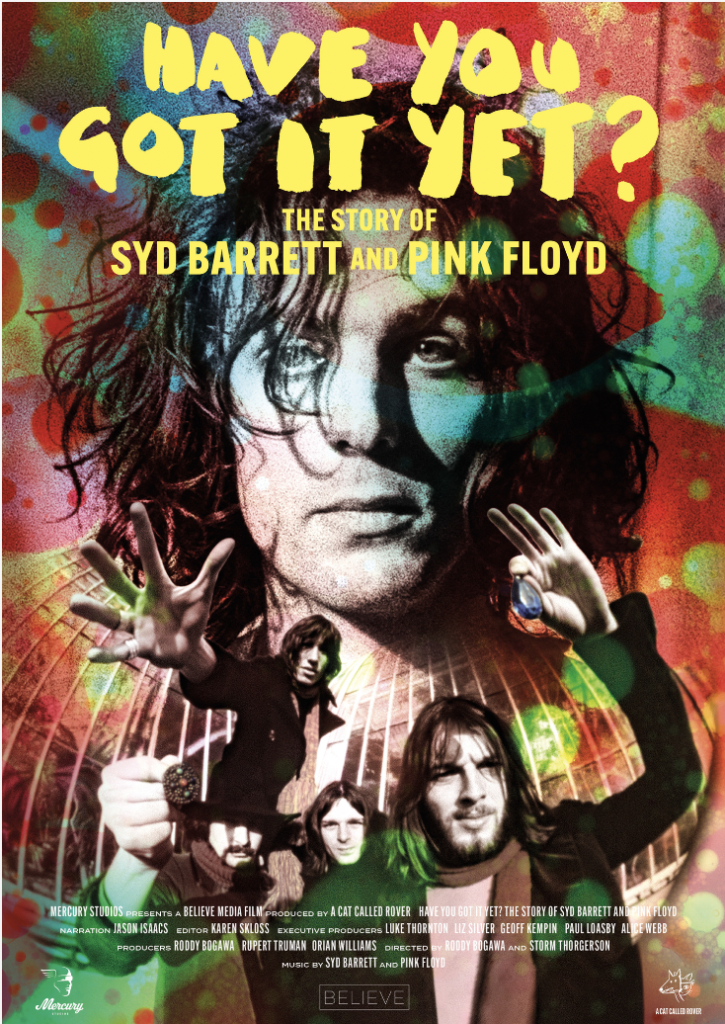 Before Pink Floyd became stadium rock giants during the 1970s, they were at the forefront of the London psychedelic music scene, guided by the brilliant, if troubled, vision of original singer, guitarist, and primary songwriter, Syd Barrett. His rise with Pink Floyd would prove to be all too brief however, lasting for just a few singles, one complete album, and part of a second, after which he was ousted from his own band. Depending on whom you ask, Barrett suffered from mental illness, excessive drug (particularly LSD) use, an inability to cope with the rigors of touring and stardom, or all of the above. A new documentary, Have You Got It Yet? The Story of Syd Barrett and Pink Floyd aims to take a deeper dive into the legend of Barrett and answer some of these questions.
Directed by Roddy Bogawa and Storm Thorgerson (in one of the last projects in his lifetime), Have You Got It Yet? tells the story of how aspiring art student Roger Barrett remade himself as Syd Barrett after quitting art school and discovering rock and roll. The film includes interviews with many important people from Barrett's life, including his sister, ex girlfriends, musical peers such as Pete Townshend, photographer Mick Rock, and his Pink Floyd band mates Roger Waters, David Gilmour, and Nick Mason.
The film describes Barrett as having a brilliant mind with a great sense of humor. Like many creative types in London during the 1960s, Barrett attended art school and displayed a passion for painting that never left him throughout his life. It was there that he met what were to become his band mates in Pink Floyd and where he made the decision to drop out and change his name to Syd after a nickname he got from a jazz bassist he liked. Waters states that Barrett's mind made connections no one else's did when songwriting and that he "wouldn't have existed" had it not been for Barrett. He goes on to state that he'd have been like thousands of other bands playing blues covers and "Louie Louie" without him. Mason added that Barrett's importance could not be over emphasized, but Gilmour cautioned that while Barrett was intelligent, that life was "too easy for him," something that may have become an issue when he could not handle the pressures of fame.
After forming, Pink Floyd soon became regulars on the London psychedelic club scene, gigging four to five nights a week. Peter Jenner and Andrew King liked what they saw and heard and, after promising to buy the band new equipment, became their managers. The group recorded a demo and was soon signed to EMI and released their first single, "Arnold Layne," which became a hit. The film suggests that Barrett took months to write "Arnold Layne," taking his songwriting craft seriously, and that he did not just "roll out of bed, take acid, and write hits."
"See Emily Play" became the group's second single and second hit, garnering them three appearances on England's Top of the Pops. The cracks in the armor were already beginning to show for Barrett though and, by the third appearance, he was in bad shape, collapsing under the pressure of being a hit maker, frustrated that he had to mime the song week after week, stating that John Lennon didn't have to do that, and suffering from a mental breakdown, partially, if not completely, by his increasing drug intake. Mason says that the rigors of being in a successful rock band were not for Barrett, stating that the rest of the group were committed to being a pop group but that was not what Barrett wanted. The group recorded their first album, The Piper at the Gates of Dawn to much fanfare but, after a somewhat disastrous U.S. tour with some strange television appearances from Barrett, he was not in much shape to contribute to its follow-up, writing songs such as "Vegetable Man," about himself, and presenting a song, "Have You Got It Yet?" with impossibly hard-to-follow chord changes as a result of his frustration with having to be a hit maker. Gilmour, who was now in the band as an extra guitarist, says that Barrett had lost his spark. One day before a gig, the band decided to just not bother picking Barrett up, effectively ending his time in the band.
Barrett was not completely done with music yet, however, recording two solo albums with assistance from Gilmour and Waters, and attempting to do some live shows here and there in the 1970s. It was to be short lived though, with Barrett becoming a recluse after some bad reviews of a show. Barrett famously visited his old band during the sessions for "Shine on You Crazy Diamond," a song written about him. His appearance had changed so much that the group did not recognize him at first and they were shook up once they did.
Soon Barrett resumed his interest in painting and Syd became Roger again. Much is made of his mental state during this time and the documentary points out that he would make these paintings and often take pictures of them, but then would often destroy the paintings themselves. Gilmour laments not visiting Barrett at his home during this period and suggests that none of the band visited him. The film also attempts to dispel some of the rumors about Barrett, such as the one where his coffee was dosed with LSD on a daily basis, leading to his breakdown, suggesting that was not the case and that Barrett's drug use was due to his own desire to seek out drugs.
The film attempts to tell a balanced story about Barrett. His influence is obvious and continues to this day, with Townshend and Rock, among others, raving about him during the film. No one is fully certain whether it was the drugs, the mental illness, or the inability to handle the pressures of stardom (or a combination of all three) that led to the musical demise of Syd Barrett and the movie is careful not to blame one event over the other. The one constant is that Barrett is treated lovingly throughout the film. Everyone interviewed cared deeply about Barrett for one reason or another and Have You Got It Yet? The Story of Syd Barrett and Pink Floyd paints a fascinating picture of a musician whose star shone brightly, if only for a little bit.
Have You Got It Yet? The Story of Syd Barrett and Pink Floyd Open in NY Theaters This Friday July 14th & in LA Theaters July 21st. Additional Cities to Be Announced.