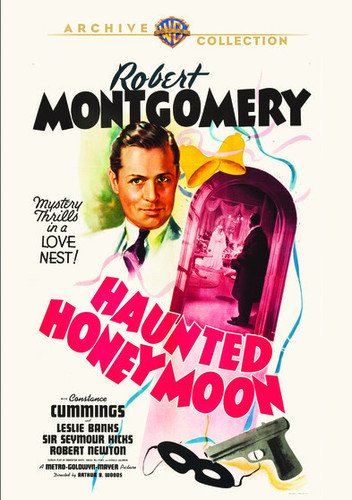 A fairly forgotten German synthpop group known as The Twins once declared "Love is a dirty word if you're not in love." Other musicians who were more successful in the continental US have similarly declared love hurts, stinks, and that they don't believe in it (although some will tell you quite the opposite). Were you to ask anyone who has ever had the reportedly good fortune of being in a relationship for more than a weekend-long stretch, they might just tell you there are bound to be a few bumps in the road ‒ which brings me to this trio of oddities now available from the Warner Archive Collection, which were all made outside of the US, center on couples (for better or for worse, as you will soon discover) and were re-titled for their American releases.
We begin at the start of the timeline itself, 1940. The setting is the UK, where ‒ despite the presence of something called World War II ‒ rations of regular movies were being manufactured. The film in question, Busman's Honeymoon, was given the name Haunted Honeymoon for its debut in the U.S., and its second-billed star was given the big on-screen credit (which resulted in the opening title card proudly, humorously stating "Haunted Honeymoon with Constance Cummings"). Our feature film itself stars the great Robert Montgomery (filling in for Robert Donat, who dropped out of the production at the last minute), who stars here as Dorothy L. Sayers' legendary sleuth Lord Peter Wimsey (without any accent whatsoever).
The very second film adaptation of the character ever (and the first version of Busman's Holiday to hit screens), our tale finds Montgomery and co-star Constance Cummings as a newlywed coupling. He's an eagle-eyed detective, she's a mystery writer. Deciding to swear off the crime-solving once they tie the knot, the pair instead wind up knee-deep in a murder when the owner of the charming small-town manor they purchase is found lifeless in the basement. Leslie Banks is the investigator who pleads with Lord Wimsey to help, naturally; Sir Seymour Hicks is Wimsey's faithful manservant; and Robert Newton plays a feller named Crutchley in this fun, lighthearted mystery (which was reportedly trimmed for its US release) from director Arthur B. Woods.
Next up is a look at life once the romance in a relationship begins to wane. Coincidentally, A Fine Pair ‒ originally issued to its native Italian shores as Ruba al prossimo tuo ‒ is also a Fine example of what happens when your career as an actor begins to wane. One of two flicks the great Rock Hudson made for Italian filmmakers (the other, Hornets' Nest being a USA/Italian co-production), A Fine Pair finds a half-sedated Hudson, looking like he was channeling his inner seasoned Cary Grant and sounding like voice actor Edward Mannix was doing all of the hard work for him, as a married, no-nonsense NYC detective who gets more than he bargained for when his friend's hot daughter comes to town.
Not only is the visiting Claudia Cardinale very beautiful and free-spirited (it's the late '60s, after all), but she is also very interested in her daddy's old pal (it's a European film, after all). She's also, as Rock learns a little too late, a jewel thief ‒ one who wants to take advantage of more than just his body. Imagine what might have happened had the Italians made a rough draft of Entrapment in the late '60s ‒ one that is just as bad, mind you ‒ and you're pretty much got this one down. Even a small role by the great Tomas Milian and an appropriate score by Ennio Morricone (as conducted by Bruno Nicolai) doesn't lend much to this dull (and very fantastical) caper from Francesco Maselli, which also stars Leon Askin, Ellen Corby, and Tony Lo Bianco.
Lastly, our excursion into reverse power flux couplings (you're welcome, Star Wars fans) lands us on the doorstep of a threshold most would prefer not to cross. For the joint 1970 UK/US outing Country Dance ‒ or, Brotherly Love, as we called it here just to exploit the subject matter as much as possible ‒ centers that timeless taboo known as incest. But of course, when a movie is set in rural Scotland, the subject of incest is about as shocking and surprising as the notion of two older guys hooking up at a Jim Nabors concert. And yet, somehow, even with Peter O'Toole and Susannah York leading a tale of very close knit Scots, this tale is about as bland and uninteresting as, well, two older guys hooking up at a Jim Nabors concert.
And that's because nothing really happens in J. Lee Thompson's Brotherly Love. Peter O'Toole is the last male heir in an aristocratic family, who has but three passions in life: drinking, making a drunken spectacle of himself in public, and his sister (York). For some reason, his married sibling leaves her husband (Michael Craig) in favor of her devoted brother, and a lot of over-the-top acting and drunken shouting occur. Harry Andrews, Cyril Cusack, Judy Cornwell, Brian Blessed, and Robert Urquhart also star. Playwright/author James Kennaway (Battle of Britain, The Shoes of the Fisherman) transformed his own novel and play into the screenplay for this feature film version, but died before the film could be produced and completed.
Of the three titles, the Warner Archive Collection's presentation of Haunted Honeymoon is the best of the lot, not only in terms of storytelling, but also with its DVD presentation. The film is presented in its original 1.33:1 aspect ratio and is quite clear and crisp. A Fine Pair and Brotherly Love, on the other hand, are less attractive ‒ again, not only as far as their stories go, but their A/V aspects as well. Each of the latter two titles, presented in matted widescreen transfers, are both pretty murky and flat. A Fine Pair looks like it was cropped from a wider-screen print; Brotherly Love fares slightly better, but, ultimately ‒ like the characters of the film itself ‒ is something only a mother could love. Trailers are included with most of these selections
These WAC releases mark the first time all three moving pictures have been released on home video in the USA. So, if nothing else, they deserve some sort of brouhaha for that alone. Enjoy.