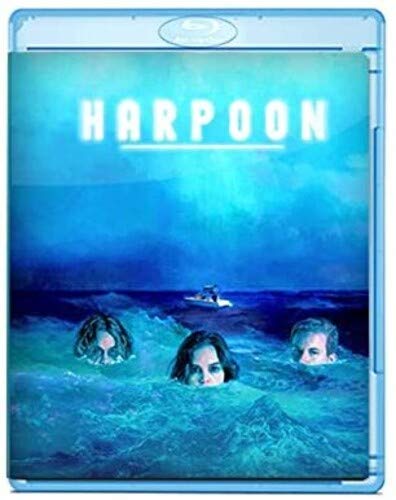 Written by Michael Frank
The first 15 minutes of Rob Grant's Harpoon are slow. Grant is methodical in the way he introduces each character, using archival footage and flashbacks to give all the exposition one needs for a good story. We understand each of our three protagonists, or antagonists by the end of the film, and can plainly see where they fit within the interlocking friendships. The roles are set. The pecking order is established. And with that, Harpoon doesn't just walk or run to the next conflicts, it sprints at breakneck speed, shattering everything in its path.
The film centers around three friends, Jonah (Munro Chambers), Sasha (Emily Tyra), and Richard (Christopher Gray), and a boat trip they decide to take. Richard, who is quite rich, and Sasha have been in a long-term relationship, one we learn is fraught with cheating and violence, while Jonah is Richard's poor best friend. That's all of the context Grant gives us and that's all the context we need.
Richard decides to take these two on his boat for a day trip to make up for (correctly) thinking that Sasha and Jonah were sleeping together. The sun is shining, the beer is flowing, and our characters' emotions are bubbling below the surface. The two give Richard a harpoon for his birthday, and Grant's dark-comedy-turned-slasher is born.
Something to note: this movie is short. It's 83 minutes of pure adrenaline. While the first 15 minutes attempt to build these characters into fully realized people, the last 65 minutes are twists and turns galore. Grant wades into cannibalism, infection, murder, abortion, infidelity, lust, obsession, and delightful old-time tales of drinking blood.
You don't realize you're terrified until you're curled up with your sweatshirt covering half your face, and that's the beauty of Harpoon. It sneaks up on you, much like the characters' madness. To top it all off, the sarcastic voice of Brett Gelman is narrating the whole affair. It's controlled chaos, constructed to terrify and excite the viewer with a rapidly changing tone.
Most important of all: Grant constructs a picture that is pure fun. If you buy in, this sea chantey will burn your memories with all too memorable images of unadulterated absurdity. The acting, especially by Chambers who's film-long transformation is just fantastic, feels committed to the script. Everyone seems to have bought into this movie, and once I did, it was a bloodthirsty joyride.
Grant's film is scrappy, rough, and seems to be operating under a tight budget. The majority of the film is shot in one location, which is actually adding to the suspense of the story. These characters can't escape their situation, and it's tough to take your eyes away from the screen, as you feel sucked into the rocking boat that is floating somewhere in the middle of multiple genres. At times, Grant's vision doesn't hit with the effectiveness he wants, and he can't choose between genres, aimlessly gliding from comedy to drama to horror to slasher. Additionally, some of the gore was unnecessary and unrealistic, as the characters were surviving much longer than they should have.
I won't remember all of that six months from now, though. All I'll remember is how much fun I had while watching Harpoon and the large amounts of uncomfortable laughter I wasn't able to silence. I'll remember that the film was bloody, of course, but I'll more fondly recall that this film didn't take too much of my time, energy, or focus to be enjoyable, and in that regard, Grant has succeeded with flying colors.
Harpoon is in select U.S. cinemas October 4th and comes to Blu-ray/VOD October 8th from Dread