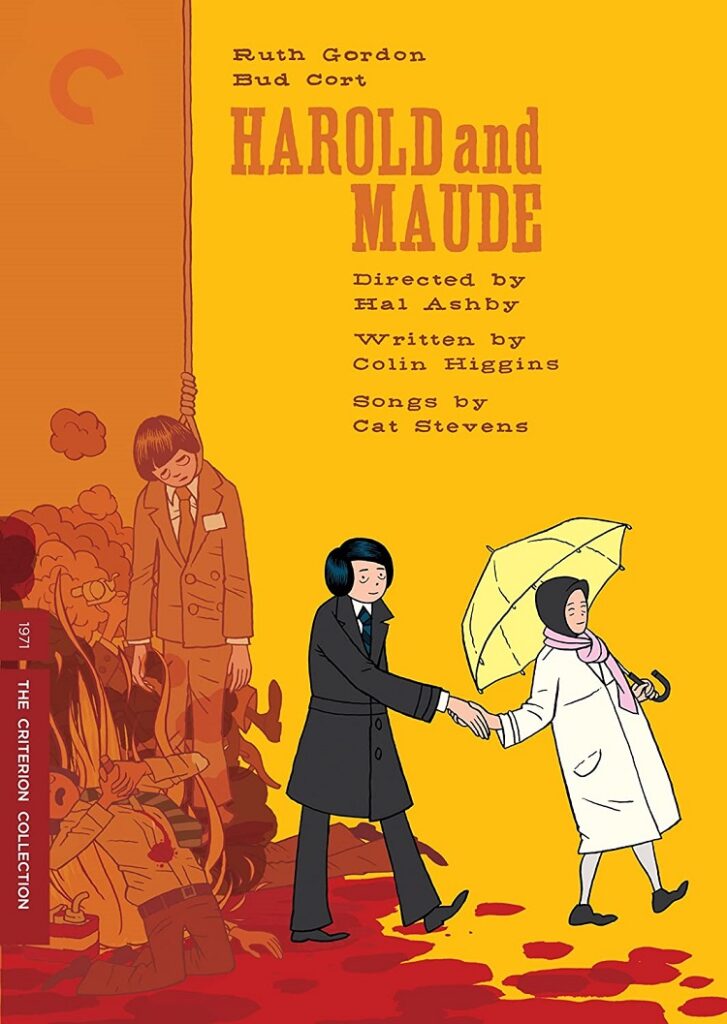 There are a few really interesting titles coming out this week, and I had a hard time deciding which one to pick, but in the end I had to go with my heart. Harold and Maude is a film that I had heard about for a long, long time before ever getting around to watching. When I did watch it, it was more of a whim than a conscious decision. Due to complicated circumstances, my wife and I were living with my parents when my aunt and uncle let us house sit for them while they went on holiday. We jumped at the chance of being on our own and grabbed a bunch of movies from the local library to celebrate. Okay, writing that I realize it's weird to celebrate the off-chance of being out from under my parents watchful eyes by getting movies from the library, but I never pretended not to be weird. Anyways one of those flicks was Harold and Maude and after we watched it I wondered what ever took me so long to do so.
It is such a wonderful, funny, poignant, and beautiful film. So many movies try ever so hard to make you feel joy at living, and so many movies fail at doing so, but Harold and Maude has such buoyancy it lifts you right out of your chair and makes you so completely happy you forget all your troubles. At least it did for me, if only for a little while. And that soundtrack, my god, I was singing "If You Want to Sing Out. Sing Out" for weeks afterwards.
The new Criterion Blu-ray features a new high definition transfer, with an uncompresed mono soundtrack. Extras include an optional remastered stereo soundtrack, audio commentaries, Illustrated audio seminars by by Hal Ashby and Colin Higgins, a new interview with Cat Stevens (now Yusuf Islam) and a booklet featuring an essay from Michael Wood.
Also out this week of interest:
The Gold Rush (Criterion Blu-ray): When I was a kid, my cousins all loved the Three Stooges and they used to watch their movies and shorts obsessively and talk about how they were the greatest comedy act of all time. I usually agreed when I was with them, but silently to myself and loudly to my mother I would argue that Charlie Chaplin was much better. The Stooges, I thought, were just about gags and hitting each other, while Chaplin had style, and you know, an actual plot. Sadly, in my adult years I seem to have given up on them both. Not intentionally, not really, but it seems I prefer to watch all sorts of other films and while I keep telling myself I need to go back and watch the old Chaplin films, I never do. Well now with Criterion rereleasing them all, I guess I have no excuse. The Gold Rush is one of his more popular and acclaimed films and our very own Shawn Bourdo has all the details on the Blu-ray in his review.
Shallow Grave (Criterion Bu-ray): Danny Boyle's first film is also getting the Criterion treatment. Extras include Digging Your Own Grave, a documentary on the film directed by Kevin MacDonald; two audio commentaries; interviews with the main actors; a video diary about trying to get financing for the film at the Edinburgh Film Festival; and an essay by Phillip Kemp.
Meatballs (Blu-ray): A classic early Bill Murray comedy that I've never managed to see.
Sherlock Holmes: A Game of Shadows (Blu-ray/DVD/Digital Copy): I prefer the new BBC produced television show to these films, but this sequel was much better than the first one and all around enjoyable. Although I think I'm in the minority in that opinion. Either way its out now on Blu-ray with these extras: Maximum Movie Mode with Robert Downey, Jr., a movie app that features behind the scenes footage, maps, script-to-screen comparisons, and more, plus a few short features on the making of the film.
Entourage: The Complete Eight and Final Season: I have something of a love/hate relationship with this show. It isn't good by any means, in fact its often quite dumb, but its also really entertaining and I just can't not watch Jeremy Piven chew the scenery. I'm still several seasons behind this one, but I'll get to it just as soon as I finish with all the other shows I need to watch first.