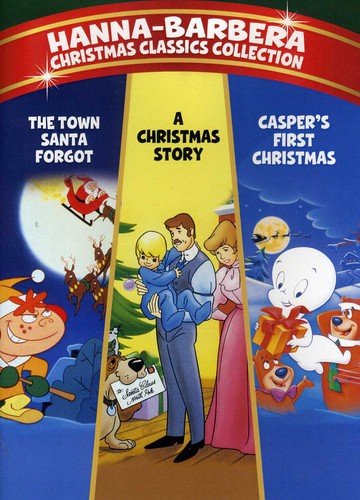 Written by Brandie Ashe
Yeah, yeah—Christmas is over, the holidays have passed once again, and it's too late (or too early, depending upon how you look at it) to start thinking about them once again. But, hey—there's never a bad time of year for a great Christmas cartoon, right? Right …?
Christmas specials are an indelible part of the holiday entertainment for many families. Over the years, gathering around the television to watch Charlie Brown learn about the true meaning of Christmas, or to witness the Grinch's heart grow three sizes with love, or to sympathize with Rudolph as all of the other reindeer act like jerkholes just because his nose glows, has become as much a tradition as Christmas ham and visits from Santa Claus. There are a seemingly endless number of specials from which viewers can choose every year, from animated classics to cheesy Hallmark television movies, some undeniably much more popular and beloved than others.
But that's not to say that the ones that are somewhat lesser-known are not deserving of your attention every year. Recently, Warner Archive has collected seven of these more obscure animated specials on two Manufacture-on-Demand discs, from two of the biggest names in television animation: Hanna-Barbera and Rankin/Bass. And while the discs (per the MOD norm) offer no frills, presenting these specials without remastering or any special features to speak of, the features themselves are, for the most part, worth a look.
The first disc, the Hanna-Barbera Christmas Classics Collection, perhaps uses the term "classic" loosely. There are three specials included here: A Christmas Story (1972, unrelated to the 1983 film of the same name); Casper's First Christmas (1979); and The Town Santa Forgot (1993), the latter of which is arguably the strongest of the three. Based on a Seuss-esque book by Charmaine Severson and narrated by Dick Van Dyke, Town tells the story of a spoiled, selfish boy named Jeremy Creek, whose enormous wish list to Santa leads to a misunderstanding that ultimately teaches Jeremy to recognize the true spirit of Christmas. Story is also a solid entry here, relating the tale of a dog named Goober and a mouse named Gumdrop, who together embark upon a quest to deliver a young boy's letter to Santa on Christmas Eve. The only bum note in the collection is Casper's First Christmas, a thinly plotted combination of stars from Hanna-Barbera (Yogi Bear, Huckleberry Hound) and Harvey Comics (Casper) that feels more like a blatant attempt at cross-merchandising than a genuine case of entertaining storytelling.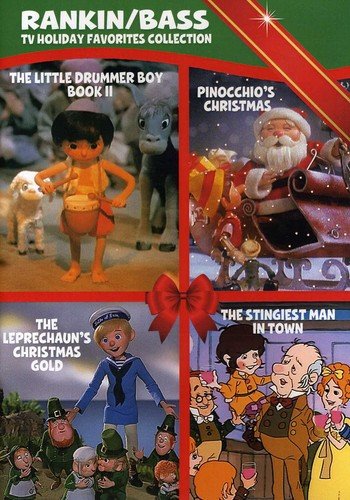 The second set, the Rankin/Bass TV Holiday Favorites Collection, contains four entries from that purveyor of ever-present Christmas specials. Though the studio was best known for its stop-motion animated classics like Rudolph the Red-Nosed Reindeer (1964) and Santa Claus is Comin' to Town (1970), they also produced some traditionally animated specials like Frosty the Snowman (1969).
Of the four specials presented on this disc, one is cel-animated—The Stingiest Man in Town (1978)—while the other three—The Little Drummer Boy, Book II (1976), Pinocchio's Christmas (1980), and The Leprechaun's Christmas Gold (1981)–feature the typical stop-motion style that most people associate with Rankin/Bass. Of the four, Stingiest Man is perhaps the best of the lot—a retelling of Charles Dickens' ubiquitous A Christmas Carol, it features Walter Matthau as the voice of Scrooge (and if that weren't enough, the character is even animated to resemble Matthau quite a bit, at least to my eyes!). The other three features, however, are admittedly somehow lacking. Drummer Boy picks up where its 1968 predecessor left off, with Greer Garson returning as the narrator—this time, the titular boy, Aaron, joins up with one of the Wise Men to go in search of "silver bells"; definitely a case where the original far surpasses the sequel. Pinocchio is a rather bland outingwhich finds Carlo Collodi's classic children's character getting into more misadventures due to his gullibility and naiveté (this one especially feels like it just drags on and on and on–and at more than 45 minutes, there is quite a bit of filler). And Christmas Gold is just plain odd, depicting the tale of a young sailor lad who unearths a banshee who sets out to steal the gold of a leprechaun voiced by Art Carney (seriously—I can't make this stuff up).
Ranging from genuine pleasures to entertaining (and strange) curiosities, these Christmas specials will likely never challenge the popularity of their better-known brethren. But I would venture that they are, nonetheless, worth a viewing, for there is still a sense of heartwarming spirit underlying most of these cartoons that speaks to the wondrous child in all of us.