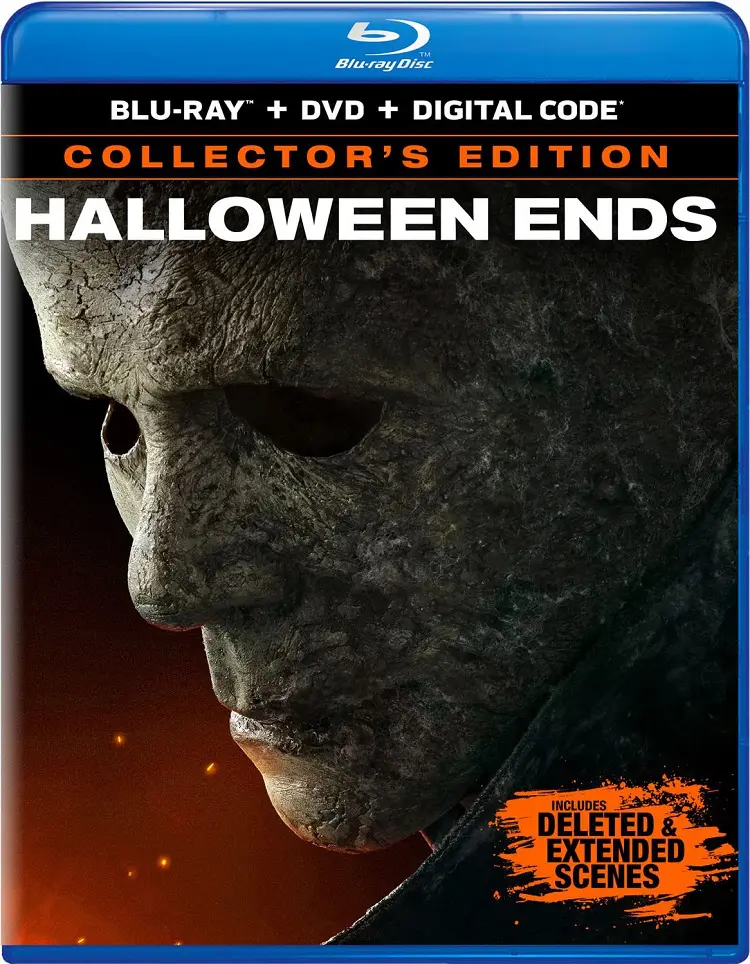 2018's Halloween was basic but effective because it erased the bad taste left by many of the original franchise's questionable sequels and was a direct (and promising) sequel to the original 1978 classic. Unfortunately, last year's Halloween Kills took what made that one great and pissed all over it with its unlimited shortage of too many characters, plot holes, sour approach to hysteria/mob violence, and that now infamous "Evil Dies Tonight" catchphrase, but this year's Halloween Ends rights many of the wrongs committed by Kills, to tell a much different story, but one that brings the trilogy back to a much needed and weirdly solid conclusion.
After the events of Kills, which includes the unfortunate death of Karen (played by Judy Greer in the first two films), Laurie (Jamie Lee Curtis) is now living with granddaughter Allyson (Andi Matichak). After the supposed four-year disappearance of Michael Myers (James Jude Courtney), Laurie has now distanced herself from fear, rage, and regret to finally embrace life again. But some of the residents of Haddonfield can't seem to let her forget the tragic events that have shaped the town for over 40 years. Things get even worse when she decides to befriend Corey (Rohen Campbell), a teenage babysitter who accidentally kills a child during a prank gone terribly wrong. Because of this, they're now both social pariahs.
When Corey gets bullied by local teen goons and gets injured, she takes him to the hospital, especially to introduce him to Allyson, who now works there. Allyson, herself a survivor, connects with him and they begin a relationship where they both want to escape Haddonfield. It's not long before that Laurie recognizes Corey's deepest and darkest impulses, and tries to stop them from being together. It's also definitely not before long that Michael shows up to continue his reign of terror, which leads to a final, deadly confrontation between him and Laurie.
Yes, the film has received some decisiveness, especially with introducing Corey as perhaps a new Michael Myers, one that also creates Laurie as a pseudo-Dr. Loomis (a role made famous by the original franchise's Donald Pleasence). She wants to help him and also find help for him. They both have plenty of demons between the two of them, and this helps make their dynamic much more grounded I think. I dug this strange but unique direction and the risks the film takes. Yes, Michael Myers still exists and kills people, but throughout most of the film until the second half, he takes a back seat and lets Corey be the new killer.
I also found the romance between Corey and Allyson a nice surprise. They are both people who have the same amount of trauma and isolation, and I totally bought it, especially since Campbell and Matichak have great chemistry. I really admire that Green allows this relationship to grow, which makes this the first Halloween film in quite awhile to have characters that we actually care about.
Of course, the kills and gore are outstanding, but they are kind of a flaw because they nearly take away from the emotional and humanistic aspects of this new film's story. There are also characters that I could have done without, especially the bullies and Corey's mom (Joanne Baron).
However, the good definitely outweighs the bad with this one. Once again, Curtis nails the trauma but ultimate strength of Laurie, and gives her more complexity not seen since both the original and 2018 film. Her confrontation with Michael at the end is downright ferocious and very intense, and is one of the best moments in the entire Halloween saga. Matichak is also stellar and has made Allyson another iconic final girl in the franchise. Campbell is a knockout as Corey and makes you root and sympathize with him, even as he grows more and more sinister as the film plays out. In this long franchise where most of the men are one-offs, I think Corey is one of the very few complex and humanized male characters in the franchise, besides Dr. Loomis. There's also some good supporting work from Will Patton as former Deputy Frank Hawkins, Laurie's love interest.
Do I think that this will be the final film in this famous (and infamous) horror saga? Who's to say, but if it should be, then Halloween Ends is definitely a good one to go out on.
Special features include deleted and extended scenes, gag reel, several behind-the-scenes featurettes (including Ending HALLOWEEN, Final Girl, Twisted Deaths, and more) and feature commentary with Green, Matichak, Campbell, co-producer/first assistant director Atilla Salih Yucer, and production assistant Hugo Garza. There's also a trailer at the beginning for The Black Phone.