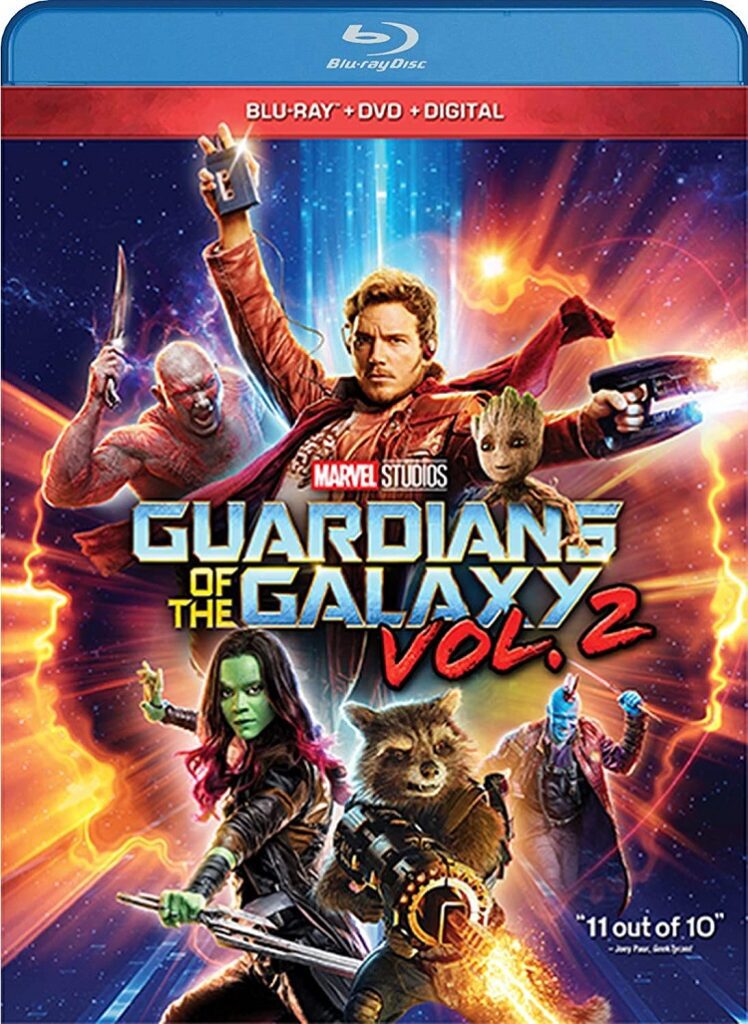 Guardians of the Galaxy Vol. 2 sees Marvel's space-faring heroes called upon to save not just a galaxy but the entire universe while some members work through troubled familial relationships. Writer/director James Gunn returned and gave fans more of what they enjoyed about the previous Guardians movie with the characters back in action set to new collection of cool tunes. This time the adventure has greater stakes, but the movie also runs longer, feeling a tad sluggish at times.
The prologue opens in Missouri 1980 on a summer's day with a couple, who will become Peter Quill's mother and father, the latter an alien in human form. Thirty four years later, and a few months after Vol. 1, Peter's father comes into his life and reveals that he is a Celestial named Ego (Kurt Russell). Peter (Chris Pratt) is skeptical, but he, Gamora (Zoe Saldana), and Drax (Dave Bautista) go with Ego and the empath Mantis (Pom Klementieff), to his homeworld to learn more.
Family plays a major factor in other storylines as well. Continuing from Vol. 1, Nebula (Karen Gillian) still wants to kill her sister Gamora (Zoe Saldana) and also their adoptive father Thanos. Yondu (Michael Hooker) deals with multiple families. He brought Ego's children to him, which led to being exiled by the Ravagers, "the only family [he] ever had." He became Quill's surrogate father after refusing to turn over young Peter when his mother died because he could help thieving. Their connection leads to a mutiny by Yondu's crew.
Vol. 2 is filled with many thrilling action sequences and a lot of humor. Yondu taking out his mutinous crew with his "magic" arrow is particularly memorable because of the visuals. Drax contributes a lot of the latter thanks to Bautista's delivery of the character's blunt and ignorant dialogue. Rocket (voiced by Bradley Cooper) and Baby Groot (voiced by Vin Diesel) also deliver laughs while moving the story along.
The video has been given a 1080p/MPEG-4 AVC encoded transfer presented at an aspect ratio of 2.39:1. The image looks impressive throughout thanks to many elements on display. There is a rainbow of vibrant colors and inky blacks seen among the characters and settings. The texture detail is outstanding, as seen in Rocket's fur to Drax's tattoos and Yondu's ship and Ego's world, which helps creates authenticity.
The audio is available in DTS-HD Master Audio 7.1 and the track immerses the viewer. The surrounds fill with the songs and Tyler Bates' score. The effects follow suit, augmenting the big battle scenes as the roar of ship engines and weapons cross channels while also letting quieter ambiance add to the realism of scenes. The subwoofer rumbles along in support without distorting.
The HD extras include "James Gunn Visionary Intro" (2 min) where he talks about some of his ideas about the film. Under Featurettes is Bonus Round: The Making of Guardians of the Galaxy Vol. 2 (38 min), a four-part making-of that focuses on Gunn, the music, visual fx, and the cast. There is a "Guardians Inferno" Music Video (4 min), four Deleted Scenes (5 min), and an enthusiastic audio commentary by Gunn.
How much one enjoys the Guardians of the Galaxy characters will be a major factor in determining how much they like the movie. But there is no doubt how well the HD presentation succeeds, which is why it will likely be on year-end lists honoring Best Blu-rays.