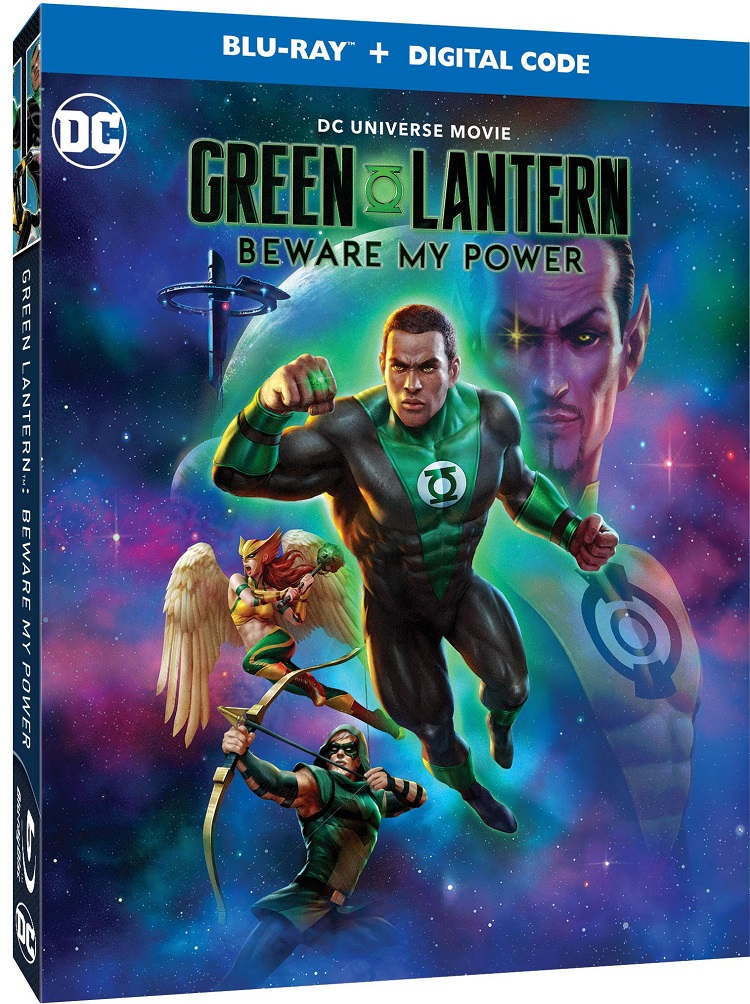 Green Lantern: Beware My Power re-tells how John Stewart became the Green Lantern amidst a larger Justice League story. It is part of the DC Universe's Rebirth shared universe about the heroes' early years. Previous installments were Superman: Man of Tomorrow, Justice Society: World War II, and Batman: The Long Halloween, Part One and Part Two.
A guardian from OA delivers Hal Jordan's Green Lantern power ring to Afghanistan war veteran John Stewart (Aldis Hodge), who doesn't want it, but the ring ignores his protests. After John requests help in understanding the ring, it takes him to the Justice League's Watchtower who aren't sure what to make of this new person wearing Hal's ring. Paired with a distrusting Green Arrow (Jimmi Simpson), John heads to OA to learn more. What they find leads them into the Rann-Thanagar War. Teamed with opposing fighters, Adam Strange (Brian Bloom) and Hawkgirl (Jamie Gray Hyder), they seek the truth about what started the war as each side has their own version.
Although a reluctant hero, John proves to be worthy of the ring even though he sometimes fades into the background as the story's scope expands. DC diehards might not like some of the changes made to the characters, but as this is a reboot of sorts, it worked.
The video has been given a 1080p/MPEG-4 AVC encoded transfer displayed at an aspect ratio of 1.78:1. The video delivers strong colors including a spectrum of greens, inky blacks, and accurate whites. The audio is available in DTS-HD Master Audio 5.1.
Dialogue is clear. Kevin Riepl's score and the effects fill the surrounds and move across channels. The battle scenes are bombastic, which the subwoofer helps with. They could be better served with some nuance to make the experience more immersive beyond being loud.
Special Features include:
John Stewart: The Power and the Glory (HD, 31 min) – An exploration of the character's history told by a number of comic book/cartoon creatives, such as artist Dave Gibbons, writer Geoff Johns, screenwriter John Semper, DC honcho Jim Lee, writer Christopher Priest, voice actors Phil LaMarr and Aldis Hodge.
Justice League – the two-part episode "In Blackest Night" finds Green Lantern (JS) put on trial. Flash serves as his lawyer while the League seeks the truth.
Previews of past releases: The Death of Superman (7 min) and Batman: Bad Blood (12 min)
Green Lantern: Beware My Power is an action-packed, enjoyable adventure for John Stewart's first outing as the Green Lantern, even if it comes within a much larger story that would more accurately be placed under the Justice League banner. The Blu-ray delivers a satisfying high-def experience that is typical of these DC Universe animated films. The movie and new feature have me interested in learning more about the character.