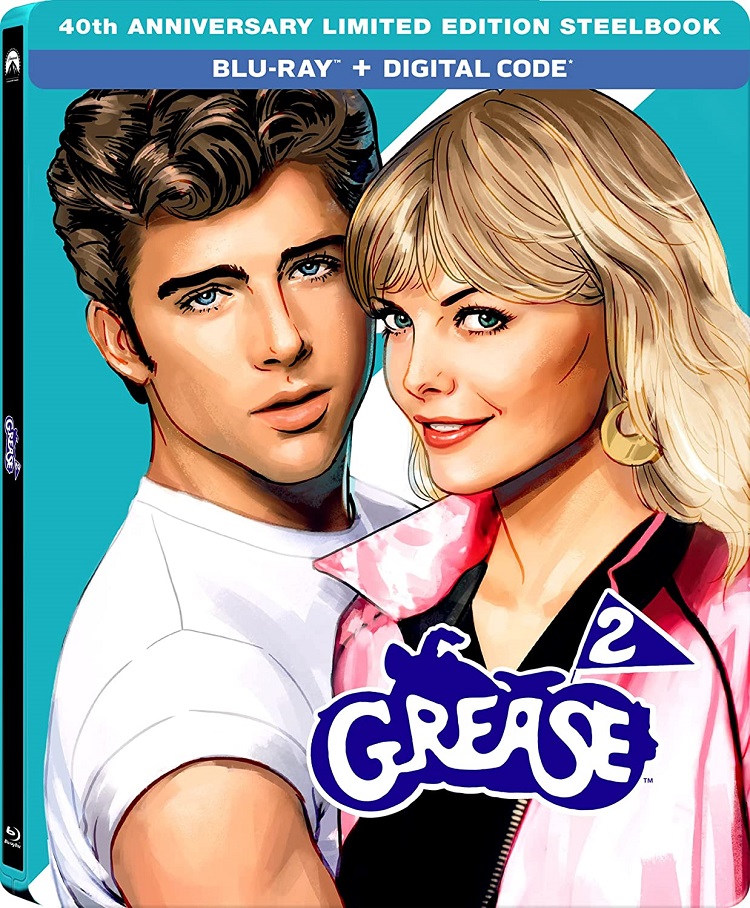 It is hard to believe that Grease 2 came out 40 years. Released four years after the massive hit Grease, there were high expectations for this sequel. It did not live up to the expectations of many people but I enjoyed it more and have re-watched it many times. When it was originally released, I saw it several times at the drive-in and would beg my Aunt to keep taking me every night it was running. The main reason for my obsession was Michelle Pfeiffer. She was beautiful, smart, and independent. She was everything that I wanted to grow up to be.
A new school year is underway at Rydell High. Stephanie Zinone (Pfeiffer), Sharon (Maureen Teeft), Paulette (Lorna Luft), and Rhonda Ritter (Alison Price) make up the Pink Ladies, who are considered the property of the T-Birds, heading into their senior year. Johnny Nogerelli (Adrian Zmed) leads his fellow T-Birds: Goose (Christopher McDonald), Louis (Peter Frechette), and Davey (Lief Green).
Over the summer, Stephanie broke up with Johnny creating conflict between the two groups. The other Pink Ladies try to convince her to stay with him until graduation. Enter Michael Carrington (Maxwell Caulfied), a new exchange student. This is the main connection to the original film as he is introduced as the cousin to Olivia Newton-John's character, Sandy Olsson, along with returning characters Frenchy (Didi Conn), Principal McGee (Eve Arden), and Coach Calhoun (Sid Caesar).
Michael is quickly labeled as the smart kid and not cool enough for the likes of the T-Birds or Pink Ladies. However, Michael is smitten with Stephanie and is determined to win her affections. When he learns that she would only be interested in someone who can expertly ride a motorcycle, he quickly buys one to fix up and learns to ride.
The overall soundtrack of Grease 2 does lack from the number of memorable songs as compared to Grease. "Cool Rider", which is Pfeiffer's big number, is still a song I listen to often today. "Back To School Again", "Who's That Guy", and "We'll be Together" are the other standouts.
While Grease 2 may not be considered a solid sequel to Grease, what struck a chord with me is the main story about a woman not willing to settle for anything less than what she wants. Even when she rejects the popular boy, it costs her her friends, her popularity, and has her deemed crazy. My favorite line from the film is when Stephanie says to a fellow Pink Lady, "Maybe I'm tired of being someone's chick". She stands up for herself and doesn't need a guy to validate who she is. In Grease, Olivia Newton-John is constantly chasing John Travolta and is willing to change who she is to get him.
The video has been given a 1080p/MPEG-4 AVC encoded transfer displayed at an aspect ratio of 2.35:1. Colors appear in rich hues, particularly on display in the costumes. Blacks are inky. The image has a sharp focus and reveals depth and fine texture details.
The audio is Dolby TrueHD 5.1. Louis St. Louis's score and the songs are robust. The instruments come through with good clarity. Ambiance can be heard in the surrounds, limited in the rears; however, in trying to make the most use of the surrounds, some of the effects sound phony, such as a car screeching to a stop across the fronts.
The Grease 2 (40th Anniversary) Limited-Edition Blu-ray Steelbook only offers a digital copy of the film as an extra. It is unfortunate that they were not able to put anything else together.