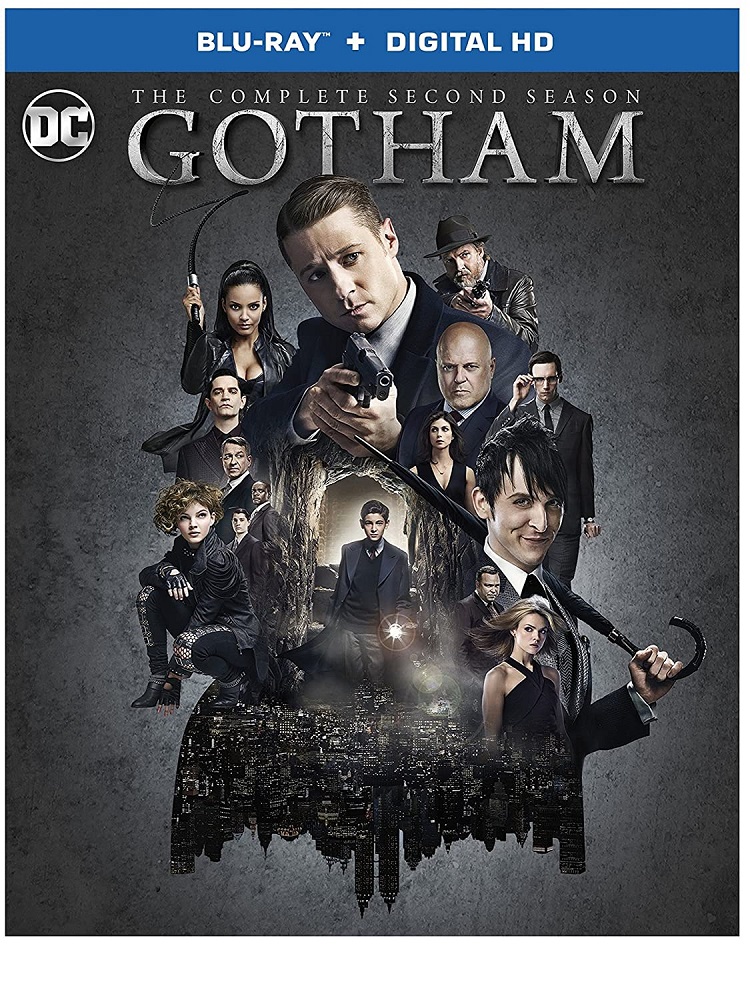 The ascension to success is quite often a very bumpy climb. Just ask Gotham's hero Jim Gordon (Ben McKenzie). Poor Jimbo was continuously getting bumped up and down the police department ladder of rank and popularity ‒ random punishments sentenced to him by his corrupt superiors that even included a brief stint as a security guard at the infamous Arkham Asylum, where all sorts of video game scenarios are formed. In Gotham: The Complete Second Season, things are even more wild for both Jim Gordon and the residents of Arkham. Our hero gets demoted and promoted and hired and fired so many times, it's almost impossible to keep Jim Gordon's employment résumé accurate and up-to-date.
But Gordon's work history is hardly the thing to worry about the most here. Things also grow crazier throughout every borough of Gotham itself. With all of its perfunctory initial character beginnings from the previous season done and over with, Season Two wastes very little time further developing its already-established DC Comics villains. In fact, it only adds more contestants to the Gotham City freak show, by dividing its 22-episode run into two 11-episode arcs. The first half, subtitled Rise of the Villains, quickly ties up a few loose ends from the Season One finale, before bringing James Frain into the fray as cunning billionaire Theo Galavan, who has an age-old family grudge against Bruce Wayne (David Mazouz), to settle.
Meanwhile, our fine feathered friend Oswald Cobblepot (Robin Lord Taylor) ‒ having become the reigning crimelord of Gotham City as The Penguin ‒ finally makes a friend (but nevertheless, awesome) in Gotham City Police Department forensics guy Edward Nygma (Cory Michael Smith), who, after an unfortunate accident, begins to embrace his question mark-riddled destiny. Back at the GCPD itself, a run-in with Galavan's special gang of Arkham escapees ‒ including Barbara Kean (Erin Richards) and a certain young devil with a maniacal smile (Cameron Monaghan) ‒ results in the GCPD getting a new captain. Said new captain is played by an old hand at that sort of character: Michael Chiklis (The Shield), making his Marvel/DC Comics crossover.
And, after appearing in That One Fantastic Four Movie That Didn't Suck as Bad as the Others and a heap of other television shows I never watched, it's nice to see Chiklis as the hard-nosed, no-nonsense Capt. Nathaniel Barnes. He's determined to wipe out corruption and clean up the streets of Gotham City, which is just the type of feller Jim Gordon has been waiting for. But is it too late for Jim, especially once he has to execute a task for The Penguin? Galavan's deadly religious cult takes up much of the first half story arc, which eases into the Wrath of the Villains, wherein things really start to get crazy (and gory), most notably in the land of the crazies themselves, Arkham ‒ where the cells are chockful of lunatics and monsters.
What's that? Monsters?! Yes, indeed, kiddies: Arkham Asylum has become Gotham's quintessential breeding ground for the various sorts of humanoid odds and ends many a DC Comics reader (or at least anyone who ever seen a Batman-related movie) may recognize. Behind the whole mutant-making machine is none other than Professor Hugo Strange, whose addition to the cast was not as thrilling to me as the casting of the addition itself: B.D. Wong. Yes, with the mystery of what happened to him in the Jurassic Park series finally answered and the tarnishing stain of Slappy and the Stinkers scrubbed away (it only took twenty years), Mr. Wong has at long last been given a role as a supporting supervillain to feast heavily upon.
In-between the main two story arcs, young Bruce Wayne begins to form a second (as yet unnamed) identity, which increases as the faithful Alfred Pennyworth (Sean Pertwee) starts to train the lad to fight both physically and mentally, and further still when he comes face-to-face with the man who murdered his parents. Bruce himself is growing fast, as is Selina Kyle (Camren Bicondova, who will either look like Michelle Pfeiffer or Robert Z'Dar if she grows up any faster). Gordon's relationship with Dr. Leslie Thompson (Morena Baccarin), on the other hand, starts to wither, as does The Penguin's toxic "friendship" with henchman Butch Gilzean (Drew Powell), who, hand down, gets the very best scenes in the entire season all to himself ‒ with an RPG.
Donal Logue returns as Harvey Bullock, Chris Chalk reprises (and expands) his role from the previous season as Lucius Fox, and the lovely Jessica Lucas makes her debut as one of Gotham's deadliest beauties. In short, there's a lot going on in Gotham: The Complete Second Season, the bulk of which is quite enjoyable (right up to the point where Jada Pinkett Smith returns and promptly says "I'm Fish Mooney, bitch" ‒ twice in a row!). A guest appearance highlight is committed by that of Paul Reubens (aka Pee-Wee Herman), who performs an homage to his earlier (subtle) cameo in the the Tim Burton Batman films.
In fact, there's so much going on here, you might have to watch it (or at least a number of its episodes) more than once, but that won't be much a problem, now that Gotham: The Complete Second Season is available to own on Blu-ray and DVD. The four-disc Blu-ray set from Warner Bros. presents all 22-episodes in full HD glory. Each episode is presented in its 1.78:1 aspect ratio with DTS-HD MA 5.1 sound accompanying. Portuguese DD 2.0 and nearly a dozen subtitles from all over are also included.
In terms of its special features, however, Gotham: The Complete Second Season doesn't have a whole heck of a lot to offer. Well, permit me to rephrase that: there are special features aplenty, but they don't bring a whole heck of a lot to the table in terms of substance. The bulk of these are character featurettes, which are essentially glorified EPK pieces. Several meatier featurettes ‒ again focusing on characters, presumably in order to appease the very same audiences who actually thought the last couple of big-screen DC Comics adaptations were good ‒ are also included, as is a mini-doc exploring Gotham's ode to film noir. Lastly, there is a bit from the 2015 Comic-Con Panel, which will, again, more than likely only appeal the most to diehard DC fans.
Either way, Gotham: The Complete Second Season still packs quite a punch. Several times over. It's a bloody good blast that evolves quickly, and it should be interesting to see how our still-forming rogues gallery of supervillains progresses in Season Three. Recommended.