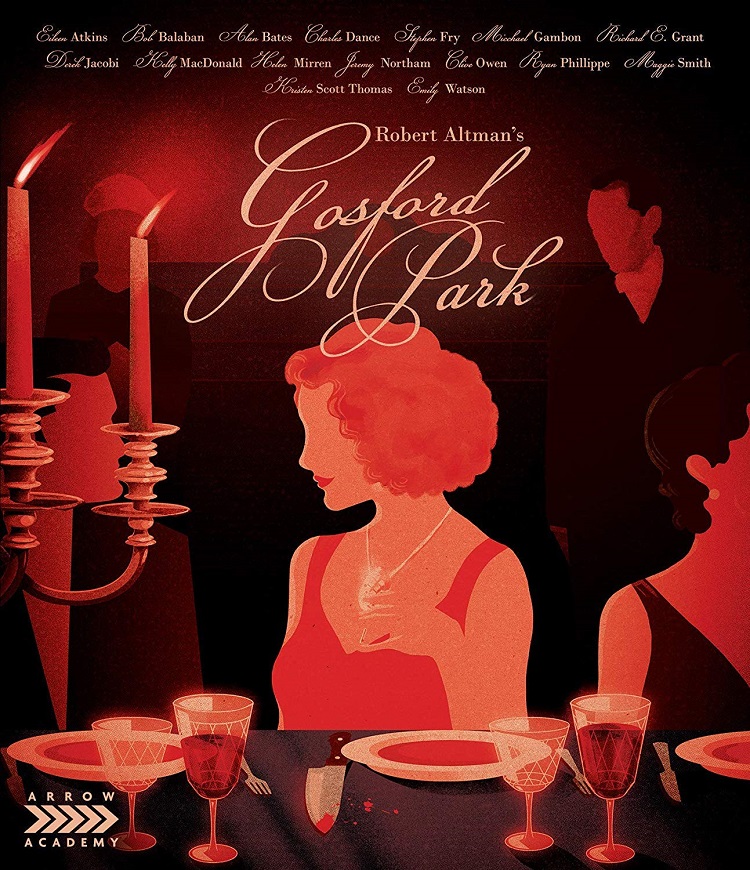 Robert Altman's Gosford Park is his take on an Agatha Christie murder mystery. Set in 1932 during a shooting party held at the estate of Sir William McCordle (Michael Gambon), the film is a wonderful immersion into the worlds of those who live upstairs and those who work downstairs in an English manor. It's made all the more believable by Altman's trademark stylized naturalism.
Mary MacEachran (Kelly Macdonald) is newly hired as a maid to one of the guests, Constance, Countess of Trentham (Maggie Smith) and cousin of Sir William. Mary serves as the audience's conduit, conveying the inner workings of the household as she learns them. She is also the story's de facto detective who solves the case for the audience.
Sir William is such a retched person almost no one cares when he was murdered and he gives plenty folks reason to kill him. He's a lothario with women both upstairs and down and has a history of it, including at his factory. However, that doesn't concern his wife, Lady Sylvia McCordle (Kristin Scott Thomas), who has her own affairs, including one with the visiting Henry Denton (Ryan Phillippe), valet to Morris Weissman (Bob Balaban), an American producer of the Charlie Chan films. Sir William considers cutting off Constance's allowance, backs out of a business deal that will ruin Commander Anthony Meredith (Tom Hollander), and treats his staff poorly, such as knocking an unrequested cup of coffee to the floor brought to him by head housekeeper, Mrs Wilson (Helen Mirren).
The script by Julian Fellowes, based on an idea by Altman and Baladan, and the way Altman shoots the film convey a lot of information to those paying attention. If the viewer spends too much time focusing on a conversation in the foreground, they may miss characters interacting in the background. The camera also focuses on items that may not seem important but are later revealed to be clues.
Fellowes would go on to create the TV series Downton Abbey, which was almost continuation of Gosford Park, but instead was set at an earlier time with a different characters. Fans will enjoy seeing familiar faces like Smith, Richard E. Grant, and Jeremy Swift and noticing little tidbits like names and ideas that were repurposed.
Arrow's booklet reveals that the video is "presented in its original aspect ratio of 2.35:1. The original 35mm camera negative was scanned in 4K resolution on a pin-registered Arriscan. Picture grading was performed on a Da Vinci Resolve. Picture restoration was completed using a combination of digital restoration tools and techniques. Grading was supervised and approved by Director of Photography Andrew Dunn." The colors come through in strong hues, such as lush reds and golds that match the opulence of the settings, as do the texture details. Inky blacks are accurate whites help show a solid contrast. Skin tones look accurate and stay consistent. Film grain is noticeable.
Also from the booklet, "the stereo and 5.1 mixes were remastered by Capitol Films." The latter is not a showy mix, but it serves its purpose. "Dialogue heavy" is an understatement with Altman as there is a lot of crosstalk, and the track captures it well. Mild ambiance and Patrick Doyle's score can be heard in the surrounds. The subwoofer augments the thunderstorms and shooting party well.
New extras include:
Audio commentary by writers Geoff Andrew and David Thompson.
Executive Service (HD, 21 min) – A new interview with executive producer Jane Barclay gives an overview of her career before discussing the film.
Acting Upper Class (HD, 11 min) – A new interview with Natasha Wightman (Lavinia Meredith). It was her third film.
Old extras from Universal's 2002 DVD release include:
Two commentary tracks, one by director Robert Altman, production designer Stephen Altman and producer David Levy and one by writer Julian Fellowes, dig into the film's creation.
The Making of Gosford Park (SD, 20 min) – Altman, Fellowes, and cast talk about working on the film. Get to see Altman directing on set and talking about his approach.
The Authenticity of Gosford Park (SD, 9 min) – Altman wanted the film to be authentic so technical advisors, who had all been in service, were hired, who are interviewed here.
Cast and Filmmaker Q & A Session (SD, 25 min) – Gathered together at this pre-Oscar event on March 8, 2002 after a screening at the Academy of Television Arts & Sciences Foundation are Robert Altman, Julian Fellowes, David Levy, Bob Balaban, Kelly Macdonald, Helen Mirren, Jeremy Northam, and Ryan Philippe. A great piece of archival material.
Deleted Scenes (SD, 20 min) with optional commentary by Altman, Altman and Levy.
Trailer (HD, 2 min)
Gosford Park is the last standout film by a director whose resume includes many standout films. Kudos to Arrow for bringing it to Blu-ray and producing a satisfying high-def experience. Highly recommended for Altman and Fellowes fans as well as mystery buffs.