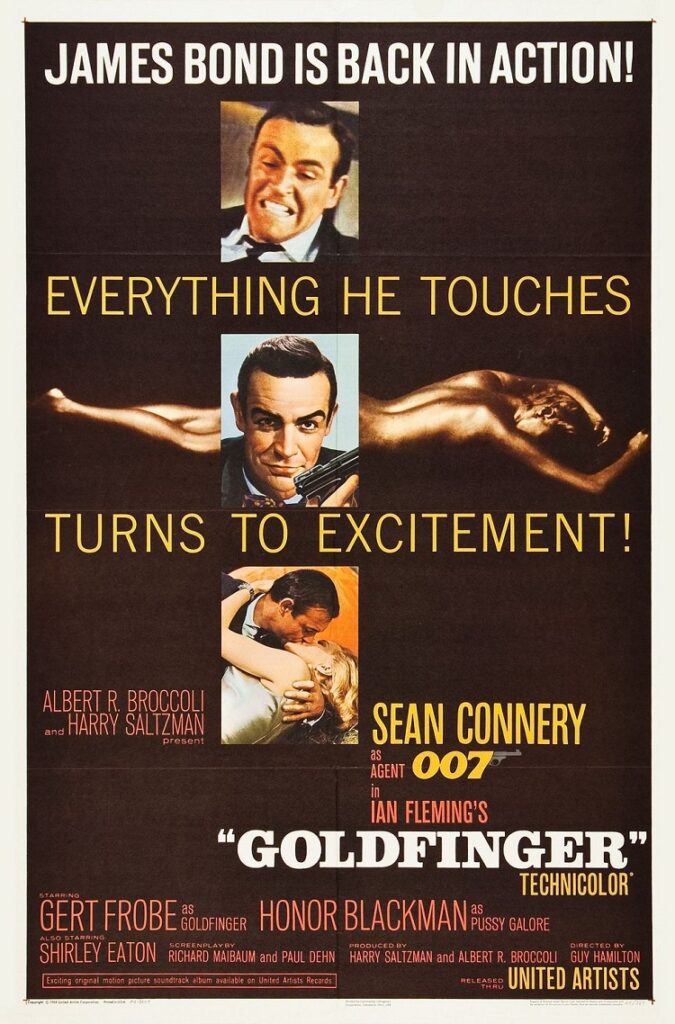 The third James Bond movie, Goldfinger, swung the franchise into full gear after Dr. No and From Russia with Love. Sean Connery's suave performance and Guy Hamilton's direction steer the Bond films into the foolproof template that they've followed for every succeeding film. The convergence of elements that carried over to the rest of the Bond films – the explosive pre-title sequence, the smart feisty Bond girls, dry humor even in the face of unspeakable danger, outrageous gadgets, and exotic locales. By the time Goldfinger became a hit, James Bond, his girls, and his gadgets spawned trading cards, comic books, and toy cars. (The outrageously bedecked Aston Martin BD5 makes its debut in Goldfinger.)
Connery's James Bond encapsulated the essence of the cool, calm collected sophisticate – the uber-playboy with a dash of snarky humor. Bond's quick thinking gets him out of the most harrowing situations in Goldfinger. Even when he's tied spread eagle to a table with a laser beam perilously close to his groin, he outwits Goldfinger – and keeps the family jewels intact.
Bond's nemesis in this film, Auric Goldfinger, is arguably Bond's most high-profile villain. Goldfinger is an old-fashioned, one-dimensional villain. He has no back-story – he lusts for gold and power and that's that. Goldfinger, as portrayed by German character actor Gert Fröbe, is a greedy gold dealer and gambler with enough money and power to incapacitate Fort Knox and a slew of gangsters. Fröbe was chosen to play Goldfinger after Orson Welles and other big-name actors were passed over for various reasons. Fröbe, who spoke only German, delivered his lines phonetically. Despite a valiant attempt to learn English during the filming, Fröbe's English pronunciation was too slow to keep pace with the rest of the cast. Actor Michael Collins dubbed in Goldfinger's dialogue for the final film.
Goldfinger sets his nefarious plan into motion when he addresses a room of Mafia kingpins and douses them with nerve gas. The gangsters meet their fate in a malevolent version of a rec room, complete with sliding floors. Goldfinger's ultimate scheme centers around more than a mere robbery of Fort Knox. It's not simply a cash grab but an all-encompassing plan that will contaminate the Fort Knox gold and cripple the world economy. Farfetched, but in the world of James Bond villains, anything is possible.
Femme fatale Pussy Galore (Honor Blackman) is an unapologetically feminist character – and a perfect foil – for Bond. "You can turn off the charm. I'm immune." She tells Bond during their first meeting on Goldfinger's plane. The husky-voiced Blackman was already a TV star, playing Cathy Gale on The Avengers and she transferred some of that leather-clad spark to her role as Goldfinger's pilot/henchwoman. Blackman's real-life judo expertise was written into the script, as we see when she tosses Bond onto the hay when he's held prisoner on Goldfinger's horse farm. Pussy doesn't show much flesh (expect for one low-cut top). She resists Bond's charms til the very end on a deserted tropical island. In Fleming's novel, the Pussy Galore character was a lesbian. That wouldn't fly, so to speak, with censors in the 1960s, so the character was toned done for the film.
Pussy's all-female pilot corp, the Flying Circus, carry out the deadliest portion of Goldfinger's plot. Even minor "blink and you'll miss 'em" female characters are memorable. Bond's long-suffering secretary, Moneypenny (Lois Maxwell) invites James over for dinner gets turned down again. The shotgun-toting Swiss gatekeeper/housefrau (Varley Thomas) slings bullets with zeal. Bond surprises Jill Masters (Shirley Eaton), as she's spying on a card game for her boss, Goldfinger. Unlike Pussy Galore, she can't resist Bond's charm, and trysts with him. Shortly thereafter, she suffocates to death after being covered in gold paint.
Goldfinger's henchman Oddjob (former Olympic weightlifter Harold Sakata), makes his first clandestine appearance, attacking Bond in a Miami apartment. Oddjob, with his steel-rimmed hat and menacing silence, appears as immune to Bond's cunning as Pussy is to his charm. The final showdown in Fort Knox between bond and Oddjob is one of the most harrowing of Bond fight sequences. (Sakata was badly burned during the filming of this scene.)
Several of the location scenes were filmed with rear projection due to the fact that some actors were unavailable for location shots. It wasn't particularly noticeable to a causal fan when the film was released. A lot of movies and TV shows in the 1960s employed those methods. It would be several decades before CGI and digital filmmaking made such transitions seamless.
Although certain scenes may cause one to suspend disbelief more so now than in 1964, Goldfinger is one entertaining, but slightly bumpy, ride. Bond films are driven by character and acting as much as action, sex, and gadgets. The quirky portrayals of characters like Bond, Goldfinger, Jill Masters, Oddjob, and Pussy Galore form the core of what makes these films work. The best Bond films remind us that lots of explosions may give audiences a momentary thrill, but the performances leading up to the action that make us remember it decades later.
Operation: BOND will return in Thunderball.