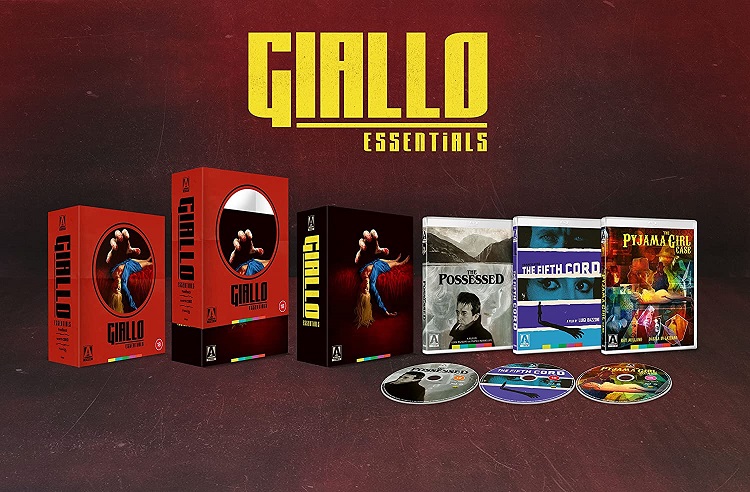 Despite their basic plots and sometimes slow pacing (deliberate or otherwise), I do enjoy the giallo films of Italian cinema. These are atmospheric, highly stylized, and influential works steeped in atmosphere, mystery, and a sense of dislocation (an aspect that increases the suspense of the experience). Iconic filmmakers such as Dario Argento, Mario Bava, and Lucio Fulci may have made them famous, but there are others (like Luigi Bazzoni and Flavio Mogherini) that deserve to be recognized as well. Luckily, the great folks at Arrow are now releasing the Giallo Essentials [Red Edition]: the first volume of underrated but important films that truly represent the flavor and the mystique of the giallo.
The first film is 1965's The Possessed (by Bazzoni and Franco Rossellini), which is an eerie B&W mixture of early giallo and art house, and is based on one of Italy's most infamous crimes. It concerns a depressed and disconcerted author who is trying to find his ex-girlfriend, whom he learns has committed suicide. He knows otherwise, that she's been murdered. So he does his own investigation, and finds that she wasn't the woman he thought she was.
The Fifth Cord (1971, directed by Bazzoni), the second film, stars Italian icon Franco Nero as Andrea Bird, an alcoholic journalist, who finds himself the main suspect behind a series of grisly murders committed by a black-gloved assailant (where a glove is found at each crime scene with victims' fingers cut off). To clear his name and find the culprit, he becomes a sleuth to solve the case.
The third and final film included, 1978's The Pyjama Girl Case, is a disturbing story based on a grisly real-life crime that happened in Australia. Film legend Ray Milland plays a former inspector who comes out of retirement to solve the brutal murder of a beautiful young woman, one whose badly burned body is found in a bag on the beach. The film flashes back to moments of her life that would eventually lead to her tragic demise.
What I noticed about each film is that they all have a certain sadness to them. Characters are often lost souls swallowed up by the claustrophobic emptiness and isolation of their lives. Sometimes the good guys are bad guys; the bad guys turn out to be good guys. There is enough underneath the surface to make them complex, despite the often limited acting of the actors. As I mentioned in the first paragraph, the dislocation seems architecturally dream-like, where the viewer seems unaware of where they are or they are seeing. And in terms of the violence, it is often stylized, meaning that it looks cool and shocking, but is also completely ridiculous and unrealistic. However, you want to define giallo, you are going to get a type of cinema that still feels original and less dated than you think.
As with most Arrow box sets, this one is stacked with tons of special features, such as audio commentaries by critics Tim Lucas, Travis Crawford, and Troy Howarth; video appreciations and essays by Richard Dyer and Rachael Nisbet; new and vintage interviews with actors Nero, Howard Ross, makeup artist Giannetto De Rossi, art director Dante Ferretti, composer Riz Ortolani, and more. There are also Italian and English trailers and image galleries. This limited edition comes in a box with newly designed artwork by Adam Rabalais in a windowed slipcover.
If you like giallos, or need a good starting point to understand them, then this box set is definitely a must-have. Be sure to look for the Yellow Edition with three more entertaining and suspenseful works of the genre in December!