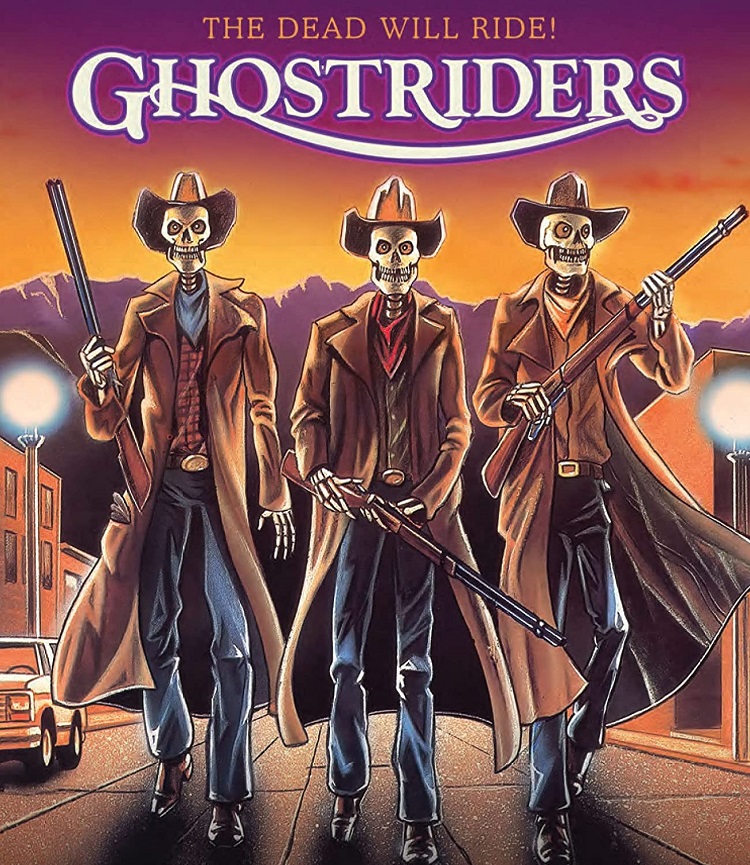 MVD Visual brings to Blu-ray a refreshingly clear, remastered print of director/producer Alan Stewart's Ghostriders (1987). A low budget action/horror movie set in Texas that revolves around a long dead outlaw gang seeking revenge on the living. For a film completed in two weeks with $58,000, it's way better than expected. Truthfully, I wasn't expecting much at all.
In 1886, outlaw Frank Clements (Mike Ammons) and his gang were killed by townsfolk led by Reverend Sutton (Bill Shaw). While on the gallows, Frank and the Preacher exchange curses before the lever is pulled sending Frank to Hell. Fast forward 100 years and ol' Frank and his gang return as ghosts to wreak havoc on the living descendants of Preacher Sutton. Those descendants include renowned Texas historian Professor Sutton (also Bill Shaw); his stunt pilot son, Hampton (Jim Peters); and Hamp's younger pal, Cory (Ricky Long). Also pulled into the haunted dust-up are Cory's lust interest, Pam (Cari Powell), and his friend Tommy (Arland Bishop), the goofball who steals every scene he's in. The ghosts seem to be hunting Frank's prized possession, a sawed-off shotgun, passed down for generations by the Preacher's offspring for some odd, unknown reason.
Ghostriders plays as more a modern western than a horror movie with the ghosts making their return as flesh and blood spooks not flaming-headed skeletons, zombies, or wispy specters. There's more good shootouts than there are scares. Thanks in part to the cowboys who were part of a team that worked at a ghost town where Stewart had previously shot some commercials. The cowboys were able to provide their own wardrobe, horses, and equipment which look good, not totally 1880s correct but good. They also handle their parts well. Not Hollywood blockbuster level good, but for sure better than some other more recently made westerns with big name players I've seen.
As with most other low budget movies, there's lots of character-building scenes to soak up time before the riders hit full gallop on their reign of terror. It works here and doesn't drag the pace to a complete crawl. Some of the dialogue is a bit hokey and over acted at times but again, better than expected, especially from a cast of first-time actors.
The sound is a bit weak and too low at times, no surprise in this type of production. Special effects and make-up on the other hand are well done for the allotted budget and mostly handled by students from Baylor college's film school where the director and producers had some connections. Many of the cast and crew would go on to work behind the scenes with some major production teams on big budget movies.
I thought Ghostriders was going to be complete garbage and a total misfire; it's actually not bad. "Better than expected" repeatedly haunted my thoughts as I sat enthralled for 85 minutes of ghoulish delight. Ghostriders is a simple story that sprang from a good idea to blend western outlaws with then-modern horror tropes. It's a low-budget gem that stays within its bounds and shines because of it. Alan Stewart and his writers lived by the rule of using what you have available; if it's not available, don't write it into the script. This philosophy helped them bring this haunting oater to completion for the money on hand. It is decently written and acted for what it is with some good jump scenes, comic moments, and well-paced action. With a bigger budget, Ghostriders may have benefited more at the box office or video store although the producers say it did well considering, making full returns plus some as far as capital spent and earned.
Special Features are:
Audio Commentary with director of photography/producer Thomas L. Calloway, writer/producer James Desmarais, and moderator Steve Latshaw. (The sound is a bit inaudible at times throughout the commentary)
Bringing Out the Ghosts: The Making of Ghostriders: (a fun and entertaining new original documentary)
Low Budget Films: On the Set of Ghostriders: (informative and insightful vintage documentary)
Theatrical trailers (one new, one old)
Production and behind-the-scenes stills
Loaded with action, including a rockin', barrel-rolling biplane scene'; some decent scares; and a great sunset framed and captured during the obligatory dream scene, Ghostriders works best in its low budget state. Although suspension of disbelief is a must. Hell, the whole movie is a stretch of reality yet fun to watch. Edward D. Wood, Jr. would be proud and perhaps a bit jealous at how well Ghostriders plays out.