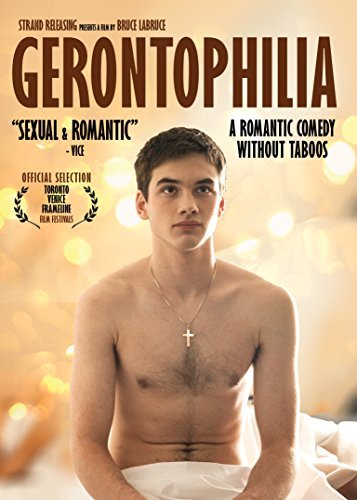 When Harold and Maude premiered in 1971, it wasn't a box-office hit, but it did break new ground of how certain relationships are viewed. It also became one of the greatest cult films of all-time, not just because of its taboo subject matter, but because it was just so damn funny. Forty-three years later, director Bruce LaBruce decided to take the subject a step further in his controversial romantic comedy, Geronotophilia, a refreshing and frank depiction of generational conflict, race, sexuality, and aging. LaBruce is no stranger to controversy, making films of rebellious eroticism, with such cult movies as Huster White (1996), No Skin Off My Ass (1991), Sugar (2004), and Otto; or Up with Dead People (2008). But in Geronotophilia, he tones down the explicit nature of those eariler works and go for a more sensitive, but also erotic take of older-younger love.
The film stars French newcomer Pier-Gabriel Lajoie as Lake, an 18-year-old, bisexual with a radical intellectual girlfriend named Desiree (Katie Boland) who is also bisexual. He is a determined guy with a rather unorthodox attraction for elderly people. Fate intervenes when his boozy, but stern mother, Marie (Marie-Helene Thibault), helps him get a job at a nursing home where he falls in love with Mr. Peabody (veteran actor Walter Borden), a smart but somber patient past his prime. After Lake finds out that the patients, including Peabody, are being over-medicated to make them more reasonable, he helps Peabody escape, resulting in a road trip that deepens their newfound relationship, but eventually leads to tragedy.
What makes Geronotophilia stand out amongst its queer brethen is that although the sexual tone of the story is implied, it is not exactly salacious in that area. Some times that is needed because queer films do not always have to be sexually explicit to be memorable. They can go deeper than you're capable of going, and move you in the end. The plot of the film may be rather queasy on paper, but the overall result is extremely sad and emotionally involving.
The cast is what makes the movie special, because although the performances may be a little awkward, they manage to be really heartfelt and tender. Lajoie is pretty great as Luke, but the real wonder is Mr. Bordern, who gives the best performance because you get the sense of a man who misses his youth, but has come to understand the meaning of life. The supporting performances by Boland and Thibault are also amazing, and give equal weight to the film.
DVD Special Features:
An interesting Q&A with LaBruce at New York's Museum of Modern Art where he talks about how he came to make the film, the overall result, his friendship with legendary cult director John Waters, and humorous antidotes of making movies.
The film's original theatrical trailer
Other Strand Releasing Trailers: Futuro Beach (2014), Otto; or Up with Dead People (2008), Love is the Devil (1998) and Lifting (2014)
Make no mistake, Gerontophilia is a great film with moments of pure hilarity, but also with scenes of emotional intensity. It teaches you that love has no limits, boundaries, or age; it can go deeper into raw reality and that is pretty rare in film: mainstream or independent.