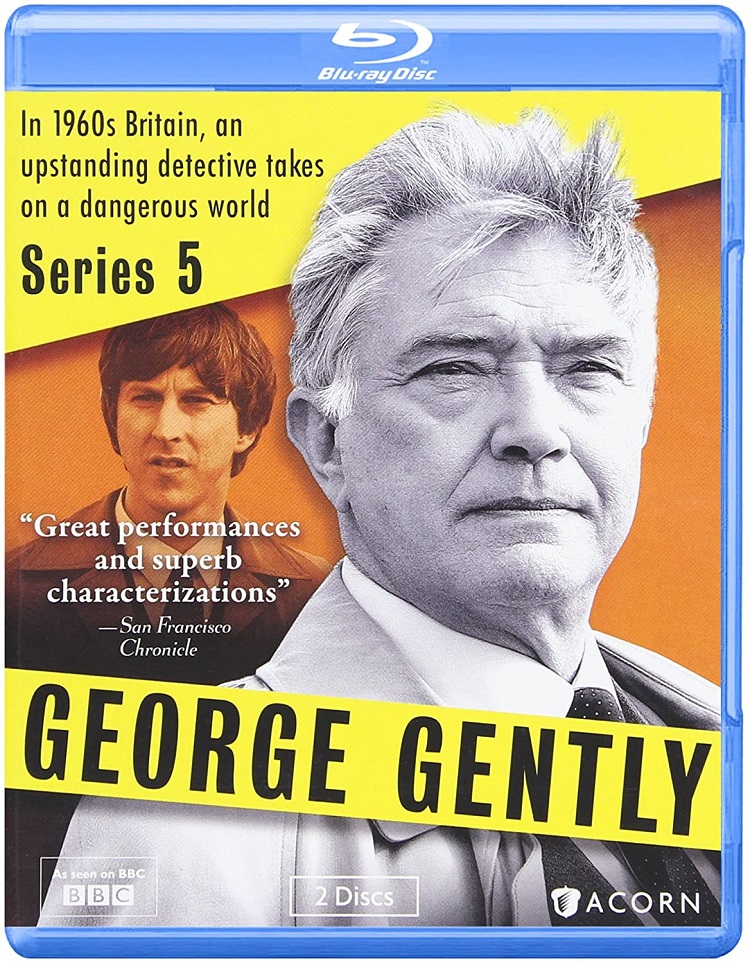 With a seemingly unending stream of British mystery series in play, it's becoming increasingly difficult for relatively recent arrivals to our shores to distinguish themselves. George Gently attempts and succeeds by setting the action in 1960s Northern England, giving it a welcome retro slant in technology and fashion. It's great fun to watch our lead detectives attempt to solve crimes without the assistance of modern advances, getting by on their wits and moxie. Also, the series is instantly accessible to new viewers even in this Series 5 release thanks to its standalone movie format and lack of principal character development.
George Gently (Martin Shaw) is a veteran inspector from Scotland Yard who has been transplanted to the quaint northernmost English county of Northumberland. He's a humorless, wise, world-weary soul who is dedicated to his profession but seemingly passionless about it, going through the motions as he inches closer to retirement. He's aided by a somewhat bumbling young local detective named John Bacchus (Lee Ingleby), a politically incorrect and tragically fashionable kid who is the fire to Gently's ice. The pair are a compelling team, although Bacchus makes for a far more entertaining figure than his superior due to his often outlandish and doltish behavior.
The four feature-length episodes presented in this set have uniformly high production values that shine on Blu-ray, with exquisite photography and attention to period detail. I noticed a bit of troubling horizontal banding in parts of the first episode, seeming like a botched conversion from PAL DVD, but the rest of the episodes maintained consistent hi-def image precision. The sole bonus feature is an achingly brief 3-minute making of featurette that is only notable for the surprising sight of the stoic Shaw cracking a wide smile as he talks about the action sequences in the final episode.
As for the episodes, the writing varies from adequate to far-fetched, with the first episode Gently Northern Soul my high point. Gently and Bacchus investigate the murder of a young woman that leads to Bacchus exploring the racial tension inherent in a Northern Soul dance hall, giving the story some added musical and cultural heft. Being Human UK's Lenora Crichlow guest stars as the object of affection for Bacchus.
Sadly, I found the weakest episode to be The Lost Child, in spite of the usually awesome Mark Gatiss (writer/actor on Sherlock, League of Gentlemen, and occasional Doctor Who episodes) as a grieving parent. When a young child goes missing, Gently and Bacchus investigate a shady orphanage as well as its clients as they race against time to save her. There's very little mystery and quite a bit of melodrama, resulting in a subpar final product.
The remaining two episodes find the men exploring an upper class murder and getting into a shootout at a cathedral, with passable but not particularly memorable stories. I still enjoyed them for the lush photography and further misadventures of Bacchus, with the plots almost secondary to those continued highlights.