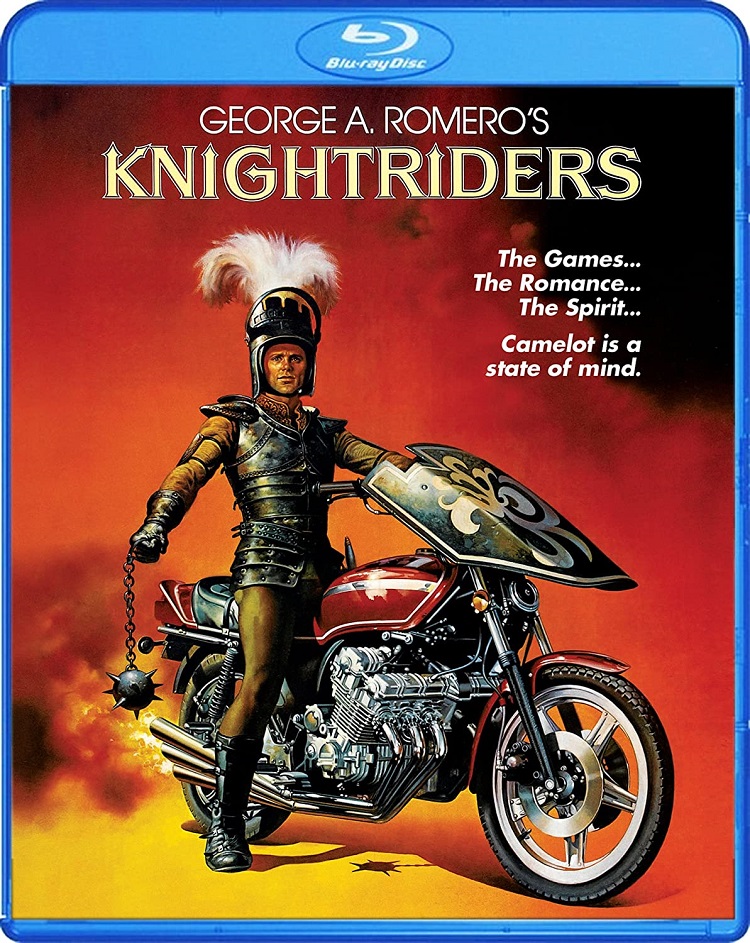 The setting is a quiet forested area, with a gentle, calming body of water nearby. A king awakens completely nude on the ground – his slumber distributed by a vision of a black bird – with his just-as-bare queen lying next to him. He goes about his ritualistic afternoon: bathing in the water, lightly lashing himself in the back with a small, flexible branch, only to then don his tunic, his sword, his armor and helmet, and then – as if a moment had been pulled straight out of the pages of a forgotten Monty Python screenplay, the king and queen mount a motorcycle and head down the road in contemporary early '80s America. What's wrong with this picture? Absolutely nothing.
In fact, in my opinion, George A. Romero's Knightriders is quite possibly the most sincere, underrated drama about adult outcasts ever made. You see, way back in 1980, Romero – primarily known for his zombie horror films and the social/political commentaries they are founded upon – took a break from the film fare he is best known for (by both today's standards and yesteryear's) to write and direct this poignant tale about a traveling medieval reenactment troupe. Journeying from one town to another, the people of this particular renaissance faire joust their fellow opponents on motorcycles – donning fake armor and wielding simulated weaponry that sometimes comes frighteningly close to being far too real for their own good.
Everyone in the troupe is an outcast. These are men and women who no doubt ever found a place to fit in within the confines of a greedy, materialistic world that more than likely shunned them for simply being the way they were made. Romero proudly displays his characters as the human beings they are, from interracial and gay couples to tomboys and a near-mystical physician everybody calls Merlin (incredibly brought to life by the late Brother Blue). Of course, no Camelot is complete without its own King Arthur. And here, leading this kingdom, is King William – as played by the great Ed Harris, in his first theatrical starring role. He is the King Arthur of the story – and takes his role very seriously. He handles the recurring image of a black bird most sincerely, as well: which he sees as a sign of things to come – much like the Arthur of legend saw his fate.
Billy's kingdom is not the happiest one in the land, though. Tensions have begun to mount, from the real life financial burden that it take to both handle and insure such a monarchy, to the fictional dissention amongst the heroes and villains in this seemingly-imaginary empire. Billy's faithful knight Alan (Gary Lahti) has his king's back one-hundred percent, but Billy's own stubbornness to keep on performing whilst he should be recovering from a recent injury prevents him from having full faith in his leader. Meanwhile, Morgan (Tom Savini, in his most genuine performance) – the Black Knight of the group – is ready to take charge of the realm, feeling he is better leader material than Alan. Morgan gets his chance to pilot his own craft when a showy promoter (Martin Ferrero) pops up with promises of all the riches in the land – while Alan begins to slip away from the others after meeting a young busty temptress (Patricia Tallman).
The 145-minute runtime might dissuade those of you with attention spans unworthy of viewing honest cinema to begin with (and to you folks I recommend a twice-daily prescription of book-reading), but the length gives Romero's Knightriders an opportunity to truly get to know its characters. We witness Pippin (Warner Shook), the company's ringside announcer, learning to accept his own homosexuality; Morgan's refusal to be tied down to the woman (Christine Forrest, who later became Mrs. Romero) who loves him; the plight of Queen Linet (Amy Ingersoll) and her uncertainty of both her king and her feelings for a certain knight; the abusive beating of Bagman (Don Berry) at the hands of some greedy redneck police; the arrival of a silent and unnamed Native American lad (Albert Amerson) with a blackbird on his homemade armor, who joins Billy's Camelot and serves as his shadow. There's more going on, too – and it's, thankfully, as truthful and believable as a zombie apocalypse is not.
Essentially, Knightriders is a film about a family: and it's chockfull of Romero's own filmmaking family to boot. Dawn of the Dead stars Ken Foree and Scott Reiniger are in there, as are Day of the Dead stars Anthony Dileo, Jr. and Joe Pilato (the latter has a very small, but extremely-audible part), and the wonderful John Amplas – who portrayed cinema's last truly credible vampire in Romero's disturbing cult classic Martin – is cast here in a silent part as a mime. And, while I must confess I never thought I'd say this about anyone in whiteface, he makes a darn cute mime, too. Also appearing are John Hostetter as Tuck (the self-proclaimed "funky friar"), one of the film's funnier characters, and the future screenwriter of both Morgan Stewart's Coming Home and Inventing the Abbotts – Ken Hixon – as the troupe's lawyer.
Speaking of writers, the one and only Stephen King appears in the film's opening show – along with his real life wife, Tabitha – as a cynical audience member. Composer Donald Rubinstein – the brother of the movie's producer, Richard P. Rubinstein – also plays a part onscreen as a musician. Additional crewmembers from the Romero School include Director of Photography Michael Gornick, Production Designer Cletus Anderson, Editor Pasquale Buba, and, many, many more: I think you really have to rub Romero the wrong way to never warrant working with him ever again.
My first exposure to Knightriders (which went largely ignored by the world when originally released in 1981) occurred when I was in high school – and it couldn't have been a better time in my life to view it. There I was, an insecure kid unsure of where his place was in life (alright, so things haven't changed much, I confess), witnessing a group of grown men and women who were still in the same boat – but who had managed to find each other. And, while I admittedly am still seeking a Camelot to claim as my own, I know I can always rely on Knightriders to remind me that perhaps such a place exists. Such is one of two major reasons for my recommending the film to anyone with enough intelligence to appreciate such a film – the other reason being that it's a damn good film. It's also one of the two most personal projects Romero has ever made (the other being Martin, which you should also see if you haven't for some reason – just to witness the previously mentioned John Amplas' tragically transcendent performance).
George flat-out states Knightriders is an item that he holds very dear to his heart at the beginning of the audio commentary which is included on this release from UK distributor Arrow Video. Joining George for the commentary are actors Tom Savini, John Amplas, and Christine (Forrest-)Romero, and the four are moderated by film historian Chris Stavrakis. The commentary is a fun and informative one, though those of you who had purchased or rented the Region 1 Anchor Bay DVD from 2000 will recognize this as the same track (it's still a good listen, though). New features for this Region B Blu-ray release include interviews with Ed Harris, Tom Savini, and Patricia Tallman. All three featurettes run between 13-18 minutes in length, and give each performer admirable time to discuss their work on the film or with their director. A US trailer and TV spots are also on-hand here, as is a 36-page booklet and reversible cover art.
Like most Arrow Video releases, Knightriders is quite a joy to behold visually (as well as artistically). The UK-based company presents the cult classic in a 1080p/MPEG-4 AVC transfer and with a 1.85:1 aspect ratio, and – certain scenes aside (i.e. the opening credit shots) – looks positively beautiful, with strong colors, and strong contrast and detail for the most part. Accompanying the main feature is a LPCM 2.0 audio track, which started out sounding a little tinny to my tired, aging ears, but improved a few minutes into the film (it could've just been my setup, too). English (SDH) subtitles are also included in this Blu-ray/DVD Combo set of a truly remarkable movie from filmdom's first (and only true) King of the Living Dead.