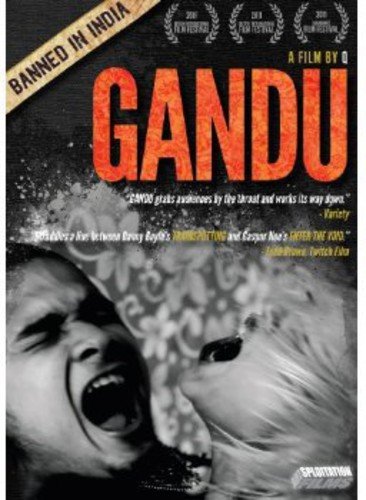 Directed by Q (Qaushiq Mukherjee), Gandu is an interesting but not entirely convincing Bengali film. It arrives packed with danger, having been "banned in India" and received a number of transgressive descriptors. Indeed, the motion picture may well blast away the boundaries of the sort of mainline cinema most are used to when it comes to India. It may even be "anti-Bollywood," as advertised.
The trouble doesn't lie in its excesses or even its transgressions; the problem lies in determining whether or not Gandu is a good movie. Q seems to use the 2010 flick as an experiment, stating a desire "to make a film without the boundaries of morality that my society has built around us…I wanted to make a punk film – pungent, noisy and dirty, something that is prohibited in Indian society."
Gandu introduces us to the title character (Anubrata Basu), an aspiring rapper in a poor neighbourhood in Kolkata. He lives with his mother (Kamalika), who is banging Dasbabu (Silajit) and suffers under the weight of economic difficulty and an ostensibly lazy son. Because of difficulties at home, Gandu spends most of his life between an Internet café and the streets.
One day, Gandu runs into a rickshaw driver and Bruce Lee-obsessed punk named Ricksha (Joyraj). The two become friends and Gandu finally has someone to discuss his rap ambitions with. They also begin to take drugs, which leads to some hallucinations. Gandu also finds himself increasingly fascinated with a girl (Rii), who shows up in various forms as a girl in the Internet café and as an apparent prostitute.
Released on DVD by the good people at Artsploitation Films, Gandu is at times a bold vision of life on the streets. The music, delivered by alternative rock band Five Little Indians, is the driving engine of the film and lies very close to Q's heart. Scenes are broken up by musical interludes, allowing Basu's character to run through his personal feelings with ferocity and skill.
Unfortunately, Gandu runs out of steam about halfway through and turns into a windy and dull tale (it even features opening credits twice). It's only when the drugs kick in that Q shifts to a glare of colour and sex, plunking a scene into the mix that wouldn't be out of place in a porno. This sequence appears to be the reason for its banning in India, a notion that Q explores as the convergence between the taboo of porn and "an explosion of interest in smut."
Q continually walks the line between gratuitous and arty, sometimes plodding along with one foot in each. It's hard to discount the sex scene as anything less than explicit and needless, but it's also impossible to question the filmmaker's idea of wanting to blast away the status quo. In that Gandu is a film made "purely out of frustration," it makes sense that its assiduously bold desires would land as they do.
But what will that do for the audience? It's hard to say. On one hand, Gandu is well-crafted with a high definition digital camera and a sense for getting down and dirty in the streets. On the other hand, its "dare you to watch this" attitude feels infantile as it gingerly pokes at "the establishment." In sum, it tries to be punk rock more than it is punk rock.
The DVD release from Artsploitation is pretty sweet. There is an extensive booklet that features an introduction by Q, a write-up by film writer Travis Crawford and an interview with the director. There is also a 30-minute behind-the-scenes feature and a few other features that explore the general tone of the picture. A music video and trailer flesh out the rest.