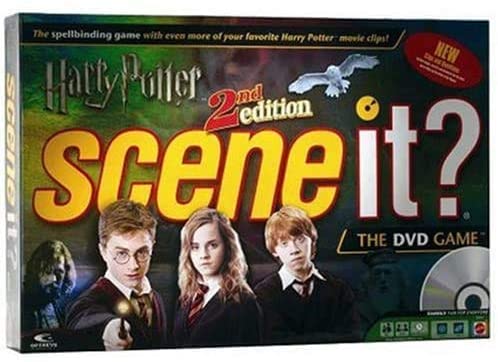 Screenlife's Scene It? is the first classic game of the 21st century. It combines aspects of Trivial Pursuit with the capabilities of a DVD technology to show video clips and feature an array of puzzles. Their first release in 2002 dealt with movies and sold more in its first year than the combined first-year totals for Trivial Pursuit, Pictionary, and Cranium. Expansion games were created dealing with other pop-culture subjects both generally (Music, Sports, and TV, the latter of which won the Toy Industry Association's 2005 Game of the Year) and specifically (Disney, James Bond, and Marvel Comics).
Quite possibly the biggest name in pop culture over the past 10 years has been Harry Potter, so it's no surprise that he was been included in the Scene It? catalog. Screenlife has discontinued making both the original game and this second edition, but they can still be found online from resellers. The second edition expanded the source material used in the first by including movie clips from Harry Potter and the Goblet of Fire as well as images, questions, and puzzlers about Harry Potter and the Order of the Phoenix.
The game is a great challenge to see who is the most knowledgeable about all things Harry Potter, yet is also enjoyable to play for those who know nothing about the world of the boy wizard and his nemesis He-Who-Must-Not-Be-Named, so I won't name him. For example, even though I was only familiar with SpongeBob Squarepants, I held my own against my nephew when we played the Nickelodeon Edition with its questions about TV series I had never seen like Avatar: The Last Airbender, Zoey 101, and Drake & Josh. The answers to some of the puzzles on the DVD can be answered just by watching the scenes, such as what hand did Dobby cast a spell with. General movie fans can do well in the Muggles category, which asks questions about other movie roles played by actors from the Harry Potter films, and drawing a House Points card may allow you to advance, if it doesn't send you back.
There were two versions of Scene It? Harry Potter 2nd Edition, standard and also deluxe, which was accompanied by four trading cards.