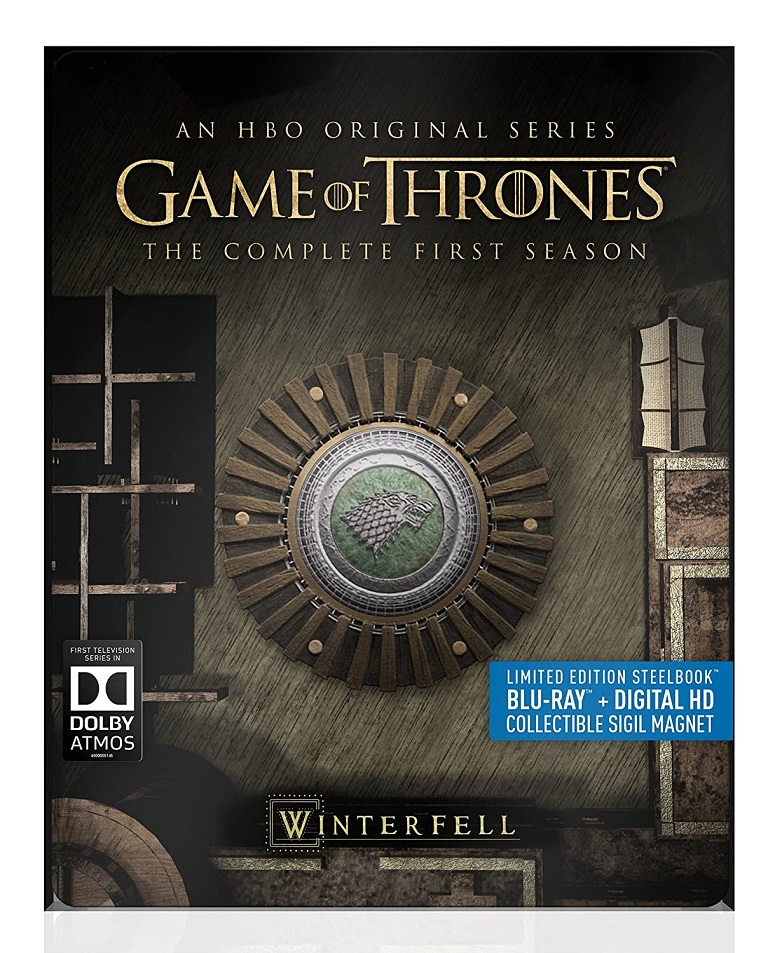 I got about half-way through Game of Thrones when it first came out before tuning out. This was not long after my daughter was born so I was a bit distracted and so there were large chunks of the series that I wasn't quite grasping. Also my wife was on maternity leave and the gratuitous nudity, violence, and general HBO adultness was a bit much for her. I did like the show and vowed to return to it sometime later. In fact I went and bought the book, promptly devouring it. I'm normally the sort of person who prefers to watch the film before I read the book but in this case the book helped me to understand all of the intricacies of a very plot and character-heavy story. Once read, I returned to the series, rewatching from the beginning, and loved it.
The story does include a myriad of characters and an enormous tangle of plot threads, but the series does a marvelous job of bringing them all to life and creating a truly spectacular new fantasy series. The DVD includes many extras including profile clips of 15 characters, features on the Dothraki language, the Night's Watch, translating the book to the screen, and the marvelous credit sequence, plus seven audio commentaries. The Blu-ray also includes a complete guide to Westeros, an in-episode guide, hidden dragon eggs, and an Anatomy of an Episode featurette. All of which serves to make Game of Thrones: The Complete First Season my pick of the week.
Other titles out this week of interest:
Monty Python and the Holy Grail (Blu-ray): This classic comedy is filled with tons of extras including features, audio commentary, Lego recreations and sing-alongs.
To Catch a Thief (Blu-ray): Hitchcock's beautiful film is supplemented with some nice extras including several features on the movies, its writing, the Hollywood moral code, and the French Riviera. Also included is a lecture Hitchcock's daughter and grand-daughter did at the University of Southern California and audio commentaries.
Duets II: The Great Performances: I caught part of this on PBS and it was really lovely. It is a companion piece to Tony Bennet's album Duets II and features performances by the singer and many of the stars he sings with on the album.
Plan 9 From Outer Space (Blu-ray) Because if there was ever a movie in need of a Blu-ray upgrade it is this Ed Wood sort-of classic that has often been rated the worst movie ever made. Early reviews do say that the image and sound quality has been cleaned up quite a bit and it sports a few extras including some Ed Wood commercials, home movies, and commentary from Mike Nelson best known for his work on Mystery Science Theater 3000.
Universal is celebrating its 100th birthday this year and with it come a slew of DVD releases. My Google-fu failed me and I couldn't find any real information about these sets, most of them appear to be pretty bare bones (and are priced to sell) some have digital copies and some appear to have real extras. Here's what I liked out of this week's bunch:
Duck Soup
The Deer Hunter
The Jerk
My Man Godfrey
Out of Africa
Sullivan's Travels
Charade
The Blues Brothers
Parenthood