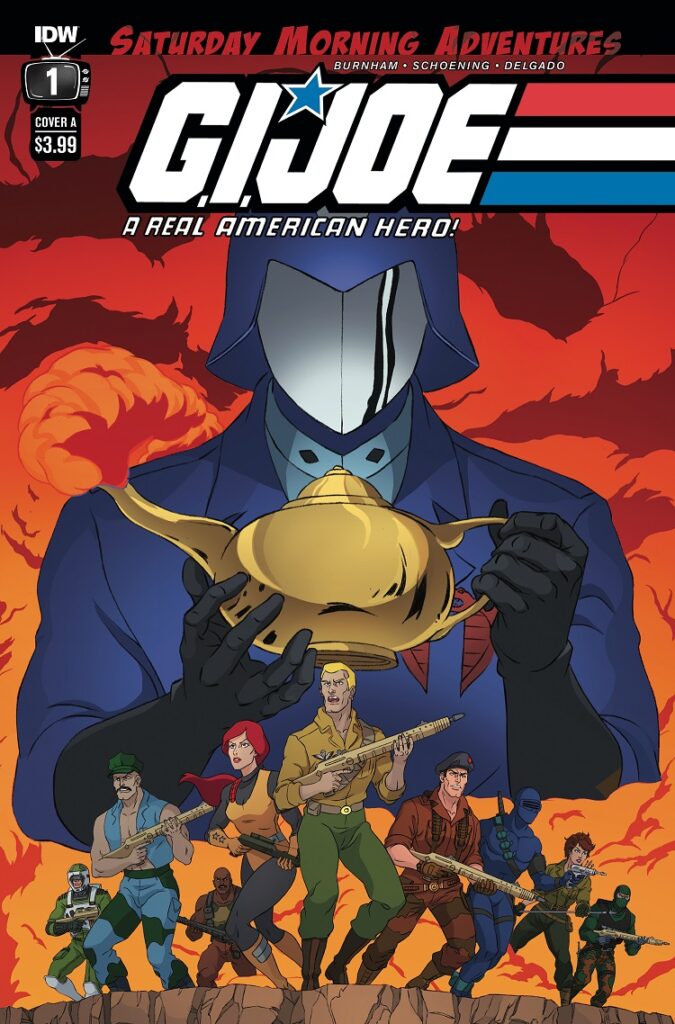 With the nostalgic appetite for '80s pop culture as powerful as ever, IDW is giving fans what they want with the February debut of G.I. JOE: A Real American Hero—Saturday Morning Adventures, a special send-up of the classic cartoon, shipping monthly and featuring the fan-favorite creative team of writer Erik Burnham, artist Dan Schoening, and colorist Luis Antonio Delgado.
Everyone knows that G.I. JOE is the code name for America's daring, highly trained special mission force, and that their purpose is to defend human freedom against Cobra, a ruthless criminal organization determined to rule the world. But now, Cobra has launched the Aladdin Initiative, their most versatile weapon yet… challenging Duke, Scarlett, Snake Eyes, and the G.I. JOE team like never before!
"I loved how straight-up weird cartoons can be," says Burnham. "The G.I. JOE: A Real American Hero cartoon allowed for gremlins, Egyptian gods, and of course, a ninja dressed in an 80's New Wave outfit, wig and all. You never knew where the show might take you. Writing a story set in that universe, you can do anything… and I'm partnered with artists like Dan Schoening and Luis Antonio Delgado, who can draw anything. The idea we came to felt right at home within the world of the cartoon, and I can't wait to share it with everyone."
"As a child of the '80s, I always had a healthy dose of the G.I. JOE: A Real American Hero animated show, not to mention the vast line-up of action figures. It's an honor to take the cartoon that I enjoyed (and still do) so much and visually translate it into the comic book medium," says Schoening.
"So many times, we fondly remember our past favorites from the world of pop culture through a skewed nostalgic lens, only to find disappointment when we revisit them… but in the case of G.I. JOE: A Real American Hero, the loyal fandom is still very active, the classic comics and cartoons still hold up, and the only skewed lens is Dr. Mindbender's patented monocle," says editor Tom Waltz. "The superstar creative team of Erik, Dan, and Luis are here to bring us a brand-new adventure that reminds us of why G.I. JOE: A Real American Hero is the exception to the nostalgia rule!"
G.I. JOE: A Real American Hero — Saturday Morning Adventures #1 will be available with multiple cover variants for retailers and fans to enjoy, each illustrated by fan-favorite artists long associated with IDW Transformers comics: Cover A by series artist Dan Schoening, Cover B by Megan Huang (Tartarus, Rangers of the Divide), and a Retailer Incentive edition by Billy Penn.
Additionally, fans can check out full episodes of the G.I. JOE: A Real American Hero animated series on the official Hasbro YouTube channel.
For information on how to acquire G.I. JOE comics and graphic novels from IDW, please contact your local comic shop or visit www.comicshoplocator.com to find a store near you.