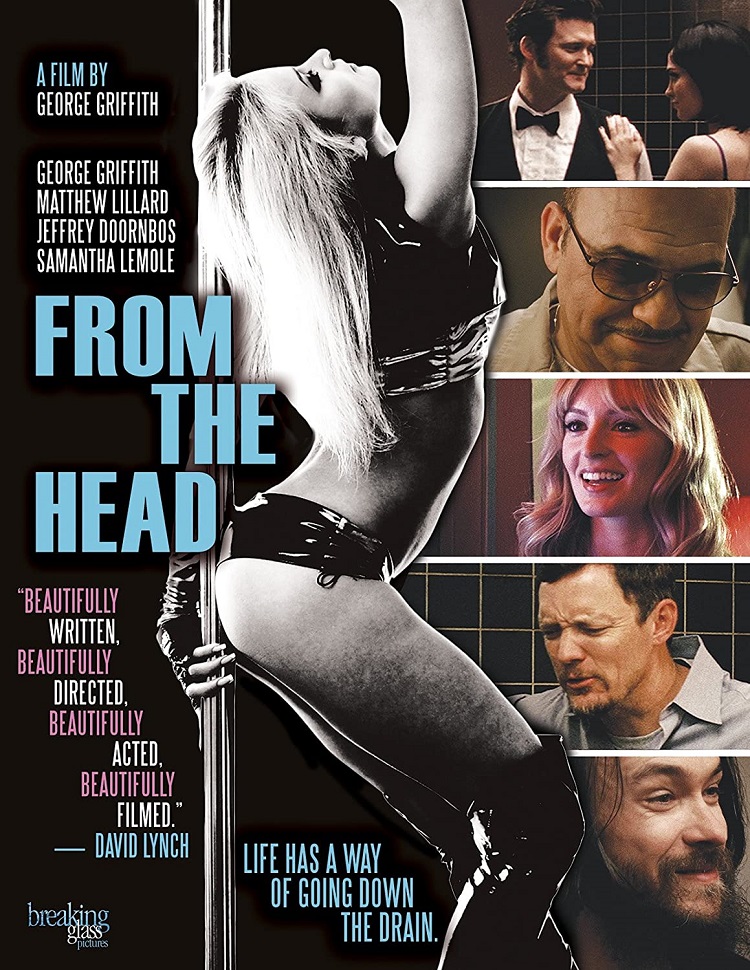 If you want to see truly raw, unadulterated portrait of humanity, you don't go to a church or a library. You go to the haunts of the seedier, more colorful elements in society. In what I consider to be an excellent companion piece to Diablo Cody's autobiographical Candy Girl: A Year in the Life of an Unlikely Stripper, George Griffith wrote, directed, and stars in From the Head, the story of a few hours in the life of a strip club bathroom attendant whose anecdotes are based on Griffith's real-life experiences doing that very job.
Shoes (Griffith) is working a double shift on the day of his third anniversary at the club where he works. Despite constant congratulations from both employees and customers alike, Shoes begins to have doubts about what he's doing there and where he really belongs. Meanwhile, he does everything he can to milk lucrative tips from patrons — everything from telling jokes to offering relationship advice to bolstering the fictional backstories of the girls out front when a client really buys into the idea that she's "into" him and he's "not like the other guys." And of course he has to coyly dodge revealing what actually happens in the Champagne Room. It's a skillful balance of charade, repartee, sincerity, and professionalism that makes everybody like Shoes, but he's better than this, conflicted about his station in life, and turns to the same troubled psyches of those he serves to try to make sense of it all.
The camera is on Shoes at all times. If he's in the bathroom, the viewer is right there with him. He pops outside once in a while to help when the girls need something or to call for a clean-up crew, offering brief glimpses of the writhing meat market on display on the other side of his wall. Some customers are repeat visitors who've gotten to know Shoes pretty well, and vice versa. He's helped some of them out of a jam, everything from picking an incriminating stray blonde hair off someone's jacket to warning of the permanence of body glitter to vouching for a customer who had bumped into a stripper who recognized him while his wife stood by asking probing questions. One of the patrons has a gambling problem. Shoes' brother shows up asking him to cover the rent this month (yet again) until things start to pan out for him. Another guy comes in with every bit of print a particular dancer has appeared in to get her to sign them for him. Heck, one guy heads to the club while his wife is giving birth to their child in a nearby hospital because he couldn't handle the stress. When faced with this much chaos, sometimes there's comfort in being the calm center of it all. That's Shoes, but for how much longer is anyone's guess.
The simple sets and extensive dialogue really let the story come together in an enjoyable way. There aren't any unrealistic surprises here, no superheroism or major climaxes, and it's that down-to-earth feel that makes each character more believable and enjoyable than the last. On top of that, the picture attracted a bit of talent among its expansive cast. Just to name a few alongside their notables…
Jon Polito (Miller's Crossing, The Big Lebowski, The Crow)
Ahna O'Reilly (The Help, Forgetting Sarah Marshall)
Matthew Lillard (Scream, SLC Punk, She's All That, Hackers)
Jay Giannone (The Departed, Gone Baby Gone, Safe, Confidence)
Amy Sloan (The Aviator, Gothika, The Day After Tomorrow)
Samantha Lemole (Swingers, Legally Blonde, Saw V and VI)
Joe Hursley (Fast & Furious, Resident Evil: Extinction, Accepted)
Jack Conley (Fast & Furious, L.A. Confidential, Payback)
Nick Jameson (Beowulf, EuroTrip, Along Came Polly, Blades of Glory)
Each one appears for a few minutes tops, but each leaves an indelible mark on the scene and reveals just a little bit more about Shoes' true character.
It's unfortunate that this movie will likely miss having mass market appeal due to its setting, as the subject matter is engaging and well executed before the camera. If you're up for a peek at some interesting, quirky, and sometimes desperate characters who let prurience occasionally take their reins, From the Head offers a ride worth taking.